posted on 10 October 2017
Written by Econintersect
Early Bird Headlines 10 October 2017
Econintersect: Here are some of the headlines we found to help you start your day. For more headlines see our afternoon feature for GEI members, What We Read Today, which has many more headlines and a number of article discussions to keep you abreast of what we have found interesting.
---
Please share this article - Go to very top of page, right hand side for social media buttons.
---
Global
U.S.
Will tax cuts add to the deficit?
How will the tax cuts be paid for?
Should the cuts be permanent or temporary?
Should the estate tax be repealed?
How much benefit goes to the wealthy?
Will some middle-income households pay more?
What process should be used?
Cannabis harvests threatened by Sonoma County's Tubbs Fire (SFGate) Hat tip to Sig Silber. California marijuana growers north of San Francisco were facing mandatory evacuation orders as well as potentially tens of millions of dollars in crop damage and loss amid widespread wildfires in the region. The California Growers Association holds a regional check-in call every Monday morning, and today, six of their 18 regional leaders were under evacuation orders or helping neighbors who were. Valuable vineyards are also threatened, as pictured below. See also Sonoma and Napa wineries hit hard by Wine Country fires.
Without Power Until Next Year, Puerto Ricans Are Leaving - Maybe Forever (The Daily Beast) Puerto Rico has seen a stream of people leaving for decades to the point that more Puerto Ricans live in the mainland U.S. than the island. The blow Hurricane Maria dealt the island has supercharged the exodus. Only 8% of Puerto Rico's electricity has been restored as of Sunday, and the old grid is irreparable in many places, aside some quick fixes.
Without a massive infusion of federal aid, Puerto Rico will only be able to temporarily fix the cracks but not overhaul the whole system. And with no reserves - the island filed for bankruptcy last May, unable to meet its obligations on a $77 billion external debt - it's like borrowing from Peter to pay Paul. It's status as a commonwealth deprives it of the customary waivers and block grants other hard hit areas like Texas and Florida received after their hurricanes.
The vast majority of Americans (85%) say they would support restricting workforce automation to jobs that are dangerous or unhealthy for humans to do, including 47% who support the idea strongly, according to the survey, conducted May 1-15 among 4,135 U.S. adults. A smaller majority (62%) would favor giving consumers the option to pay extra to interact with a human, rather than a robot or computer, when purchasing products or services.
Spain
Catalans Face Day of Reckoning Over Independence (Bloomberg) The Catalan government's determination to break from Spain faces its moment of truth, as the regional parliament meets to consider a declaration of independence that risks an ironclad backlash from Madrid, the threat of economic meltdown and international isolation.
Catalan President Carles Puigdemont is due to address lawmakers in Barcelona at 6 p.m. on Tuesday on the outcome of the Oct. 1 referendum ruled illegal by the Spanish courts. The Catalan administration says voters defied police violence to deliver a resounding "Yes" to independence that cannot be ignored; Prime Minister Mariano Rajoy has dismissed the ballot as meaningless and vowed to defend the unity of Spain using all means at his disposal.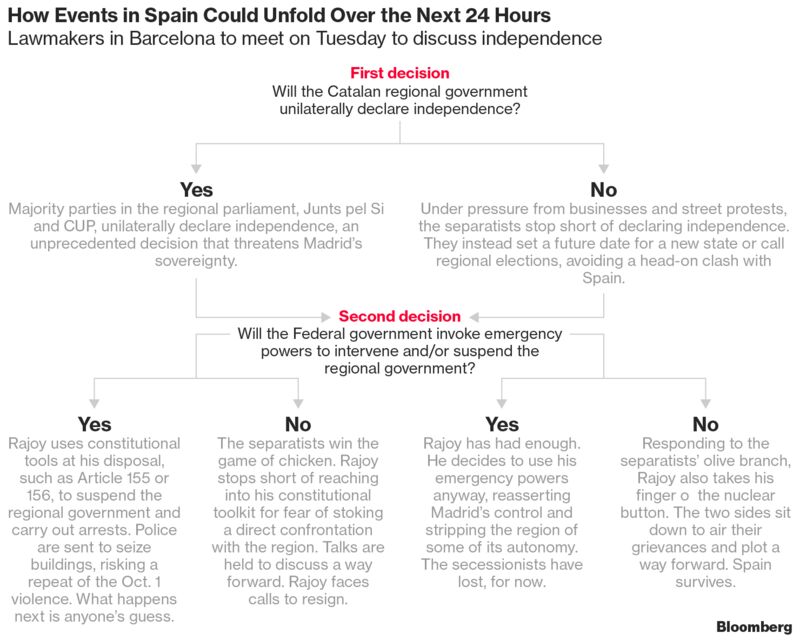 Turkey
Old Grudges Blow Up in the Turkey-U.S. Feud (Bloomberg) With its arrest warrants and visa freezes, the Turkey-U.S. standoff looks more like a flashpoint between enemies than a difference of views among friends. That's because the crisis, which sent Turkish markets reeling on Monday, blew up only after years of tension and mutual recrimination. The two countries have been trading accusations that are increasingly hard to square with their status as NATO allies. Resentments over the foiled 2016 coup and Syria clashes underlie the tension.
India
Japan
The company's stock was untraded in Tokyo, poised to slump by the daily limit, as customers including Toyota Motor Corp., Honda Motor Co. and Subaru Corp. said they had used materials from Kobe Steel that were subject to falsification. Boeing Co., which gets some parts from Subaru, said there's nothing to date that raises any safety concerns.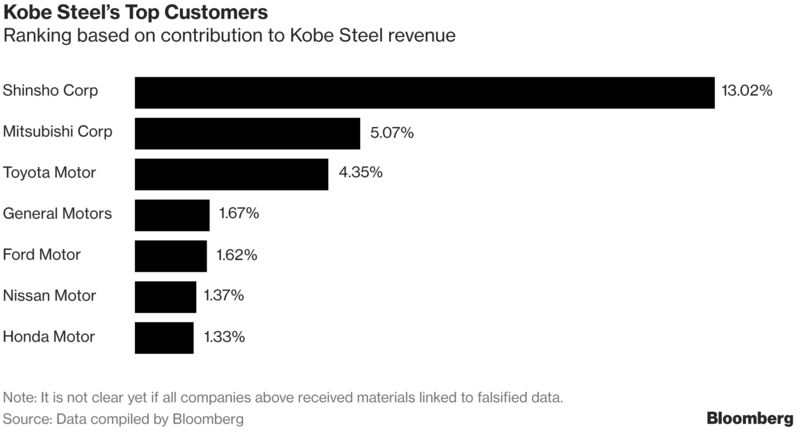 North Korea
Defense Secretary James Mattis calls on the U.S. Army "to be ready" with North Korea "military options that our president can employ, if needed."
Speaking at an Army convention in Washington, Mattis said diplomatic efforts and sanctions continue "to try to turn North Korea off this path."
Mattis also criticized Congress for not doing more to invest in the U.S. military and said America's advantage is being "eroded."
The secretary also called for open communications with Silicon Valley and American industry to help the military get more advanced equipment and capabilities.
China
The People's Bank of China (PBOC) was likely attempting to provide "overriding stability" ahead of the 19th Community Party Congress on Oct. 18, one market watcher said
PBOC governor Zhou Xiaochuan told financial magazine Caijing that China must press on with a "trinity of reforms"
>>>>> Scroll down to view and make comments <<<<<<
Click here for Historical News Post Listing
Make a Comment
Econintersect

wants your comments, data and opinion on the articles posted. You can also comment using Facebook directly using he comment block below.
---
Econintersect Contributors
---
---
---
---
---
| | |
| --- | --- |
| Print this page or create a PDF file of this page | |
---
The growing use of ad blocking software is creating a shortfall in covering our fixed expenses. Please consider a donation to Econintersect to allow continuing output of quality and balanced financial and economic news and analysis.
---
---
---
---
---
---
---
---