posted on 07 October 2017
Written by Econintersect
Early Bird Headlines 07 October 2017
Econintersect: Here are some of the headlines we found to help you start your day. For more headlines see our afternoon feature for GEI members, What We Read Today, which has many more headlines and a number of article discussions to keep you abreast of what we have found interesting.
---
Please share this article - Go to very top of page, right hand side for social media buttons.
---
Global
Oil's Stint Above $50 Ends (Bloomberg) Was $50 a barrel for oil just a passing fancy? West Texas Intermediate, the U.S. benchmark, skyrocketed above $52 a barrel at the end of September, teasing investors. But the rally didn't last long. After hedge funds sliced their net-long position on WTI and pulled back from record bets on rising Brent prices, oil had slipped as low as $49.10 on Friday as production continues to edge upward.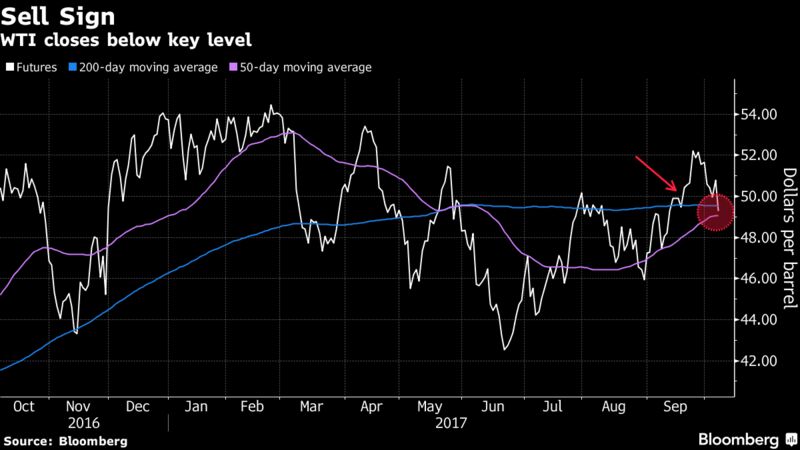 U.S.
Twenty states have committed or sent help to Puerto Rico through the Emergency Management Assistance Compact, which runs most state-to-state disaster response. By comparison, 35 states sent help to Texas for Hurricane Harvey, and 39 sent help to Florida for Hurricane Irma.
The Fight For Single-Payer Health Care Intensifies In California (International Business Times) This autumn could prove decisive for the question of whether California may again be on track to enjoy what the rest of the industrialized world has long taken for granted - universal, government-provided health insurance, a dream that dates back to the Truman administration. Although the Affordable Care Act was spectacularly successful in lowering the state's uninsured rate from 17.2% to 7.3%, according to the latest census data, that still represents a roughly 2.8 million-person gap in California's health coverage. And health care advocates argue that too many with private insurance continue to fall victim to the catastrophic failure of a for-profit health care model plagued by extraordinary complexity and costly administrative inefficiency.
White House Wants a Fed Chief Willing to Revisit Financial Rules (Bloomberg) The White House team leading the search for the next generation of Federal Reserve leaders is seeking contenders willing to roll back financial regulations, but also with experience in monetary policy and the consensus-building skills to run a large organization, according to three officials familiar with the process.
President Donald Trump is working with a shortlist of five names for Fed chair: former Fed Governor Kevin Warsh, Stanford University economist John Taylor, current Fed Governor Jerome Powell, National Economic Council Director Gary Cohn and the current chair, Janet Yellen.
Criminal Defense Firm Bankrolled Manhattan DA Cyrus Vance, Kept Clients Out Of Prison (International Business Times) A New York City criminal defense firm and its partners together gave more than $42,000 to Manhattan District Attorney Cyrus Vance, Jr., according to an International Business Times review of campaign finance records. Vance's office negotiated deals that resulted in light sentences for some of the firm's clients, and in certain cases allowed them to avoid prison time altogether.
New York state records show that attorneys at the criminal defense firm Clayman & Rosenberg LLP have been contributing to Vance since the Democrat started running for office in 2008. Over $24,000 of the donations came straight from the company's coffers, and another more than $18,000 came from individual lawyers at the firm.
Last month saw a surge in people jumping straight to jobs

Fewer people are going from out of labor force to unemployment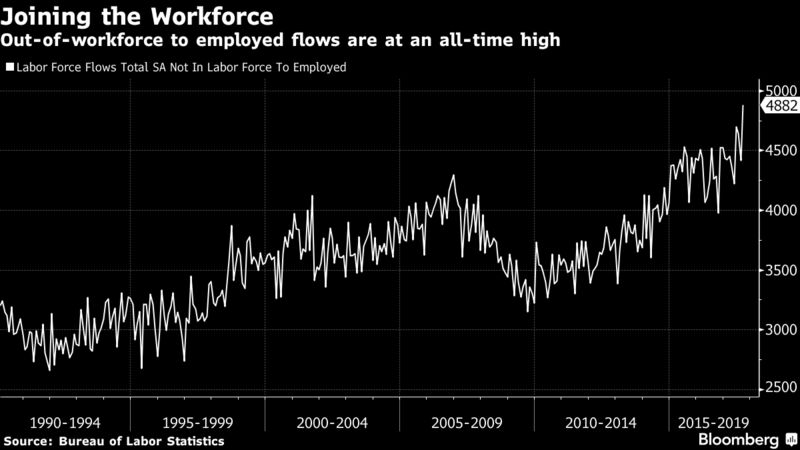 EU
Europe Could See Another Brexit-Like Rupture - Beyond Spain (Bloomberg Businessweek) Some of the great moments of history sneak up on businesspeople. Two years ago, Britain looked to be Europe's most economically rational country; now its companies seem to be rolling from one economic earthquake to another, with Brexit looking increasingly likely to be followed by the election of a near-Marxist prime minister, Jeremy Corbyn. Meanwhile, populist authoritarians of Eastern Europe are in a position to produce further fragmentation of the EU.
Russia
As Putin Turns 65, His Power Is Slowly Waning (Bloomberg View) Putin's vulnerability would be hard to pinpoint if officials weren't pointing to it with their clumsy actions. Alexei Navalny, the anti-corruption activist who would like to run for president against Putin in next year's election, planned a rally in St. Petersburg, the president's hometown, for Oct. 7. City authorities withheld permission for the gathering, but since he refused to change his plans Navalny is now serving yet another 20-day detention; it's been calculated that he has spent every fifth day of his "presidential campaign" behind bars. His campaign manager Leonid Volkov was also sentenced to 20 days on Thursday, ostensibly for tweeting calls for an illegal rally in Moscow.
North Korea
North Korea Gets Second Route to Internet Via Russia Link (Bloomberg) North Korea now has two ways to get on the internet, thanks to a new connection from Russia, according to cybersecurity outfit FireEye Inc. Russian telecommunications company TransTeleCom opened a new link for users in North Korea, Bryce Boland, chief technology officer for the Asia-Pacific region at FireEye, said in an interview on Monday. Until now, state-owned China United Network Communications Ltd. was the country's sole connection. Boland was confirming an earlier report by website 38 North that said the Russian connection went live on Sunday.
China
Excluding one-off gains, Sunac recorded a core loss of 530 million yuan ($81 million) in the first half, almost double the loss of 283 million yuan a year earlier, CIMB Securities Ltd. estimated. Sunac reported core profit of 1.4 billion yuan, a figure that included some one-off gains, while saying its first-half net income surged 1683 percent to 1.3 billion yuan.
>>>>> Scroll down to view and make comments <<<<<<
Click here for Historical News Post Listing
Make a Comment
Econintersect

wants your comments, data and opinion on the articles posted. You can also comment using Facebook directly using he comment block below.
---
Econintersect Contributors
---
---
---
---
---
| | |
| --- | --- |
| Print this page or create a PDF file of this page | |
---
The growing use of ad blocking software is creating a shortfall in covering our fixed expenses. Please consider a donation to Econintersect to allow continuing output of quality and balanced financial and economic news and analysis.
---
---
---
---
---
---
---
---