posted on 05 October 2017
Written by Econintersect
Early Bird Headlines 05 October 2017
Econintersect: Here are some of the headlines we found to help you start your day. For more headlines see our afternoon feature for GEI members, What We Read Today, which has many more headlines and a number of article discussions to keep you abreast of what we have found interesting.
---
Please share this article - Go to very top of page, right hand side for social media buttons.
---
Global
U.S.
Inspector general: IRS may have targeted liberal groups (The Hill) A new report by Treasury Inspector General for Tax Administration (TIGTA) has identified as many as 146 cases in which the Internal Revenue Service may have put liberal-leaning groups under heightened scrutiny, The Washington Post reported. The report examined cases between May 2010 and May 2012. A similar report by TIGTA from 2013 claimed that the IRS had singled-out conservative-leaning groups, sparking accusations from Republicans that the Obama administration had improperly targeted political opponents.
Rex Tillerson Will Neither Quit Nor Deny He Called Trump a 'Moron' (The Daily Beast) Secretary of State Rex Tillerson on Wednesday reaffirmed his support for President Trump in a public statement from the Treaty Room of the U.S. Department of State. But he failed an obvious opportunity to deny that he had called the president a moron. Following the presser, MSNBC reporter Stephanie Ruhle clarified:
"My source didn't just say he called him a moron. He said he called him an f-ing moron."
How Ivanka Trump and Donald Trump, Jr., Acoided a Criminal Indictment (The New Yorker) In the spring of 2012, Donald Trump's two eldest children, Ivanka Trump and Donald Trump, Jr., found themselves in a precarious legal position. For two years, prosecutors in the Manhattan District Attorney's office had been building a criminal case against them for misleading prospective buyers of units in the Trump SoHo, a hotel and condo development that was failing to sell. Despite the best efforts of the siblings' defense team, the case had not gone away. An indictment seemed like a real possibility. The evidence included e-mails from the Trumps making clear that they were aware they were using inflated figures about how well the condos were selling to lure buyers.
Judge Declines to Release Iraq War Veteran Fighting Deportation (The Daily Beast) An immigration judge in Washington on Wednesday rejected a request to release from custody an Iraq War veteran fighting deportation. Immigration authorities arrested Chong Kim, a green card holder from Portland, in April and transported him to a detention center in Tacoma. The South Korean immigrant, who moved to the U.S. when he was 5 and reportedly doesn't speak Korean, struggled with addiction, homelessness, and post-traumatic stress after serving in Iraq in 2009 and 2010. While he has now successfully completed a substance abuse program, his struggles led to burglary convictions and other crimes which immigration authorities are using as the basis for his deportation.
Interior Department whistleblower resigns, calling Ryan Zinke's leadership a failure (The Washington Post) An Interior Department executive turned whistleblower who claimed the Trump administration retaliated against him for publicly disclosing how climate change affects Alaska Native communities resigned Wednesday.
Joel Clement, a scientist and policy expert, was removed from his job by Interior Secretary Ryan Zinke shortly after the disclosure and reassigned to an accounting position for which he has no experience. Clement was among dozens of senior executive service personnel who were quickly, and perhaps unlawfully, reassigned in June, but he was the only person who spoke out.
EU
The Pricing of Risk is Kaput (Wolf Street) This chart, based on BofA Merrill Lynch Euro High Yield Index Effective Yield via the St. Louis Fed, shows that the average euro junk bond yield is on the way to what? Zero? European junk bonds are yielding about the same as the 10-year U.S. Treasury.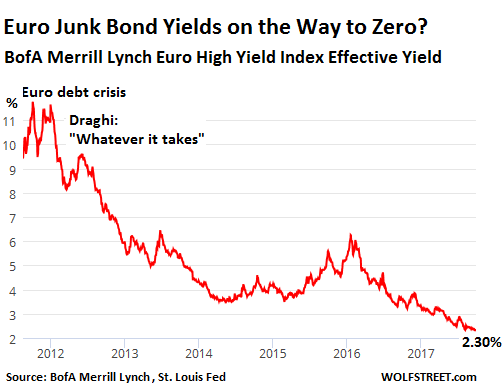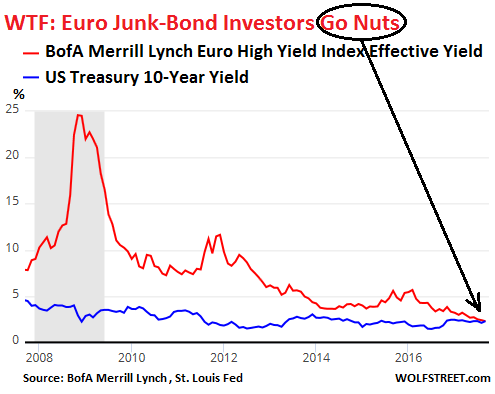 UK
What May Wants from Brexit (The Daily Shot) Theresa May wants to "have her cake and eat it too." No other country currently has the arrangements with the EU that the UK wants to have.
Niger
3 Special Forces Troops Killed and 2 Are Wounded in an Ambush in Niger (The New York Times) Three United States Army Special Forces were killed and two were wounded on Wednesday in an ambush in Niger while on a training mission with troops from that nation in northwestern Africa, American military officials said. All five American soldiers were Green Berets, said two United States military officials. The attack took place 120 miles north of Niamey, the capital of Niger, near the border with Mali, where militants with Al Qaeda in the Islamic Maghreb, an affiliate of Al Qaeda, have conducted cross-border raids. Niger's troops were also believed to have suffered casualties, but details were not immediately known.
Russia
Russia and Saudi Arabia are set to sign $3 billion in joint investments this week.
Russia also set to build a new plant in Saudi Arabia.
Sovereign wealth boss plays down effect of sanctions.
India
PM Modi Promises Steps To Reverse GDP Slowdown, Says Situation Exaggerated By 'Pessimists' (The Huffington Post) Lashing out at critics of his economic policies, Prime Minister Narendra Modi on Wednesday said the Indian economy was on firm footing and that he will never jeopardise the country's future for immediate gains. In an over hour-long speech, punctuated with sharp comments and comparisons with a track record of previous UPA regime, Modi told a gathering of company secretaries that his government will continue reforms and will not hesitate to take decisions to reverse the GDP slowdown witnessed in the last two quarters. In the same vein, he said his government will graciously accept criticism on the economic front and will make amends wherever necessary.
'I Have To Remind You Suicide Too Is A Bold Step,' Says Arun Shourie On Demonetisation (The Huffington Post) Hat tip to Sanjeev Kulkarni. Slamming the Narendra Modi government over sliding economic growth and increasing job losses, former Union minister Arun Shourie has likened demonetisation with suicide, saying the latter is too "a bold step". He also called the Narendra Modi government as "government of two-and-a-half persons". Shourie said in an interview to NDTV when asked why in his view, the government went in for demonetisation:
"This is a government by 'ilhaam' (revelation). The Prime Minister has the 'ilhaam' one night that demonetisation should be done and he does it. In any case it was a bold step. I have to remind you suicide too is a bold step."
Australia
Expressions of outrage about the Las Vegas massacre are yet again being matched by national despondency that no U.S. government will lift a finger to prevent more of these happening.

Yet my country, Australia, has discovered the vaccine to such gun massacres. In April 1996, six days after a misfit shot dead 35 people at Tasmania's historic Port Arthur tourist site, our arch-conservative-led government passed the National Firearms Agreement, outlawing all civilian access to semiautomatic rifles and pump-action shotguns.
n the 18 years between 1979 and April 1996, Australia experienced 13 mass shootings(defined as having five or more victims, not including the perpetrator), in which 104 people died. In the 21 years and five months since the Port Arthur massacre and the passage of the law that followed swiftly afterward, we have seen precisely none.
Gun Control in Australia, Updated (FactCheck.org, MSN) In 2009, we wrote an Ask FactCheck item for readers who wanted to know, "Did gun control in Australia lead to more murders there last year?" The answer at the time was "no," and that's still the case. In fact, the most recent government report on crime trends in Australia says, "Homicide in Australia has declined over the last 25 years. The current homicide incidence rate is the lowest on record in the past 25 years."
We thought it was time to update our 2009 article on Australian gun laws, because that story - which is now more than eight years old - has seen a sudden spike in traffic as a result of the horrific gun massacre at an outdoor country music concert in Las Vegas.
>>>>> Scroll down to view and make comments <<<<<<
Click here for Historical News Post Listing
Make a Comment
Econintersect

wants your comments, data and opinion on the articles posted. You can also comment using Facebook directly using he comment block below.
---
Econintersect Contributors
---
---
---
---
---
| | |
| --- | --- |
| Print this page or create a PDF file of this page | |
---
The growing use of ad blocking software is creating a shortfall in covering our fixed expenses. Please consider a donation to Econintersect to allow continuing output of quality and balanced financial and economic news and analysis.
---
---
---
---
---
---
---
---