posted on 04 October 2017
Written by Econintersect
Early Bird Headlines 04 October 2017
Econintersect: Here are some of the headlines we found to help you start your day. For more headlines see our afternoon feature for GEI members, What We Read Today, which has many more headlines and a number of article discussions to keep you abreast of what we have found interesting.
---
Please share this article - Go to very top of page, right hand side for social media buttons.
---
Global
Asia markets trade mixed ahead of Reserve Bank of India policy decision (CNBC) Asian equities were mixed on Wednesday, while markets in China and South Korea remained shut for public holidays. The Reserve Bank of India is expected to announce its monetary policy decision later in the day. The dollar index traded at 93.369, slipping from yesterday's levels near 93.600. U.S. crude was down 0.63% at $50.10 a barrel. Global benchmark Brent fell 0.48% to $55.73. Spot gold rose 0.3% to $1,275.34 an ounce. U.S. gold futures for December delivery were also up 0.3% at $1,278 per ounce.
U.S.
The Memo: Five takeaways from Trump in Puerto Rico (The Hill) President Trump visited Puerto Rico Tuesday as the island grapples with the devastation left by Hurricane Maria. Trump has come under fire - most prominently from the mayor of the island's capital, San Juan - for a federal response that critics say has been sluggish and ineffective. The president has defended the response, and did so again on Tuesday. Beyond that, what were the main takeaways from his visit?
Awkward comments cast a long shadow
Bad feelings linger with San Juan Mayor
Trump got cover from some Puerto Rican politicians
The symbolism was good for Trump
Partisans will be unmoved
Trump's Puerto Rico event was way worse than his tweets (CNN) President Donald Trump faced a major test on Tuesday as he traveled to storm-ravaged Puerto Rico: Show the American citizens struggling for survival on the island that he understood their plight, sympathized with them and was doing everything in his power to make it better as quickly as he could. He failed. Hugely. Econintersect: You need to read this for a though review of how the president did in Puerto Rico.
Trump says Puerto Rico's debt needs to be wiped out (The Hill) President Trump said Tuesday that the U.S. would have to "wipe out" Puerto Rico's multi-billion dollar debt after Hurricane Maria. Puerto Rico had roughly $70 billion in debt before Maria hit. The debt had been a major obstacle for the U.S. territory as it fought for statehood. Bondholders had asked Congress and the Trump administration to hold off on granting statehood until Puerto Rico had paid off its debt. Trump said during an interview with Fox News:
"They owe a lot of money to your friends on Wall Street and we're going to have to wipe that out. You can say goodbye to that."
Trump officials allow Puerto Ricans to use food stamps for fast food (The Hill) The Trump administration has granted a waiver so that Puerto Ricans can use food stamp benefits to purchase prepared food in the aftermath of Hurricane Maria. In a letter dated Sept. 30 and obtained by The Hill, the U.S. Department of Agriculture (USDA) said recipients of the island's Nutritional Assistance Program (NAP) would be able to use their benefits to purchase hot food at any store through November.
Trump Aides Deliver Shortlist of Fed Candidates (Bloomberg) President Donald Trump's advisers have given him a final list of people they're recommending as candidates to lead the Federal Reserve and have ended the search, according to seven people familiar with the matter. Two of the people said Fed Chair Janet Yellen remains under consideration -- even though few, if any, of Trump's inner circle are advocating for her re-appointment. Trump could bring in a wild-card candidate, but several of the people said that's unlikely.
Most Americans view openness to foreigners as 'essential to who we are as a nation' (Pew Research Center) For a large majority of Americans, the country's openness to people from around the world "is essential to who we are as a nation." In a new Pew Research Center survey, 68% say America's openness to foreigners is a defining characteristic of the nation, while just 29% say "if America is too open to people from all over the world, we risk losing our identity as a nation."
Spain
Catalan referendum 'outside the law', says Spain's King Felipe (The Nation) King Felipe VI of Spain has condemned the independence referendum in Catalonia on Sunday, saying the organisers acted "outside the law". During a televised address to the country on Tuesday, the king said that Catalan society was now "fractured and in conflict" after the banned vote took place.
Catalonia's pro-independence leader has said that the region will declare independence from Spain "in a matter of days."
Speaking to the BBC on Tuesday, the head of Catalonia's devolved government Carles Puigdemont, said his administration would declare independence from Spain "act at the end of this week or the beginning of next."
Saudi Arabia
World's cheapest prices submitted for Saudi Arabia's first solar project (The National) The largest exporter of oil could produce solar power at 1.79 cents per kilowatt hour. A consortium led by Abu Dhabi's renewable energy company Masdar submitted the world's lowest-ever bid for the first solar power project in Saudi Arabia as Opec's top crude producer diversifies its economy away from hydrocarbons. The bid came in 24% lower than the second lowest bid of eight received.
Russia
Some of those ads targeted specific demographic groups in the two states, according to sources who spoke to CNN.

Some of the ads reportedly included anti-Muslim messages.

Earlier this week, Facebook revealed that roughly 10 million users saw political ads purchased by Russian actors around the time of the 2016 election.
China
The World Bank raised its economic growth forecasts for developing East Asia and Pacific for this year and 2018
But it added that risks such as rising trade protectionism and geopolitical tensions threaten the outlook
The organization raised its China growth view to 6.7 percent in 2017 from 6.5 percent
Australia
26 Recession-Free Years Hide a Darker Picture for Australia (Bloomberg) The global crown for the longest stretch of uninterrupted economic growth is within sight for Australia. But it's limping to the line as policy paralysis weighs on the nation's prospects. Twenty-six years without recession have put Australia within two years of overtaking the Netherlands' record growth streak and government, central bank and economist forecasts all suggest it'll take the mantle. After all, the economy has a head start with 2.5% growth virtually baked in -- 1.5% from population gains that are among the developed world's quickest and 1% from resource exports feeding Asia's giant economies.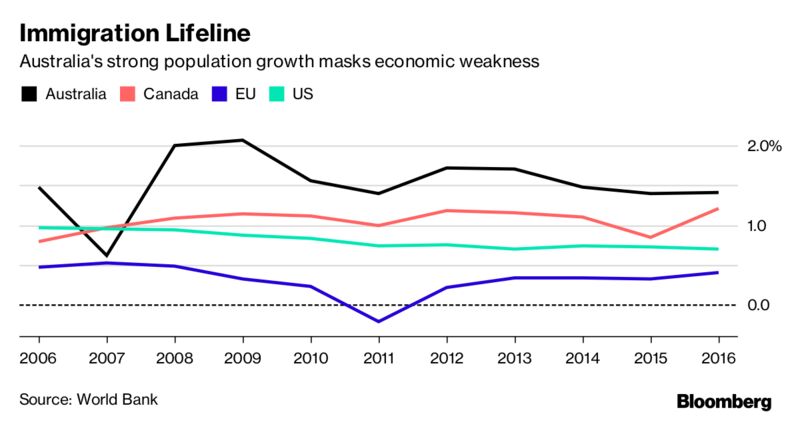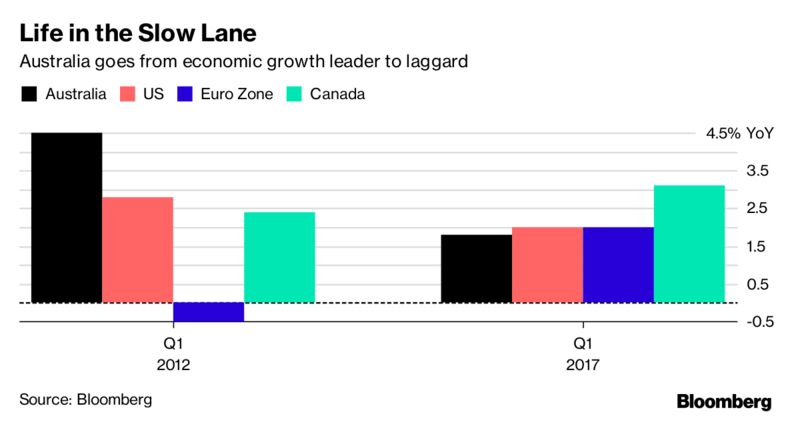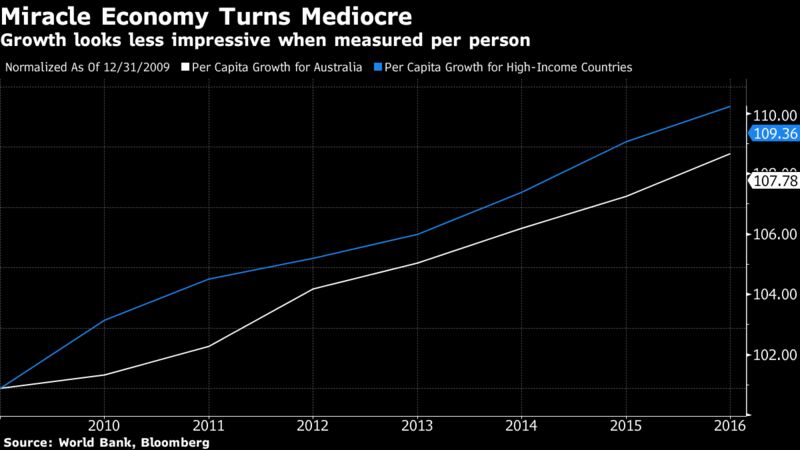 >>>>> Scroll down to view and make comments <<<<<<
Click here for Historical News Post Listing
Make a Comment
Econintersect

wants your comments, data and opinion on the articles posted. You can also comment using Facebook directly using he comment block below.
---
Econintersect Contributors
---
---
---
---
---
| | |
| --- | --- |
| Print this page or create a PDF file of this page | |
---
The growing use of ad blocking software is creating a shortfall in covering our fixed expenses. Please consider a donation to Econintersect to allow continuing output of quality and balanced financial and economic news and analysis.
---
---
---
---
---
---
---
---