posted on 28 September 2017
Written by Econintersect
Early Bird Headlines 28 September 2017
Econintersect: Here are some of the headlines we found to help you start your day. For more headlines see our afternoon feature for GEI members, What We Read Today, which has many more headlines and a number of article discussions to keep you abreast of what we have found interesting.
---
Please share this article - Go to very top of page, right hand side for social media buttons.
---
Global
Asian shares mixed despite release of US tax reform plans (CNBC) Asian indexes were mixed in Thursday trade, after U.S. equities advanced and the greenback rose following the unveiling of a long-awaited tax reform plan stateside. The dollar indexwas up at 93.595 at 12:01 p.m. HK/SIN. Brent crude extended losses, falling 0.33% to $57.71 a barrel after settling almost 1% down in the last session. U.S. crude inched lower, trading 0.35% down at $51.96. Spot gold rose 0.3% to $1,284.36 per ounce at 0127 GMT.
U.S.
Roy Moore beliefs: Things the Republican has said (BBC News) See also McConnell, GOP Senate brace for Roy Moore (The Hill). Alabama firebrand Roy Moore has dealt a huge blow to the Republican leadership by winning the party's nomination for the Senate. The controversial lawyer has made headlines for a series of incendiary remarks over the years, but beat his Washington-backed opponent with ease. Here's a round-up of some of his more extreme beliefs, with some analysis from the BBC's Anthony Zurcher on why it all matters:
Homosexuality should be illegal
God's wrath is felt on Earth
'Red and yellows' don't get along
Darwin was wrong
Islam is a 'false religion'
The law comes from God
He thinks he's like Putin
Obama might not be US-born
He writes poetry
A Ten Commandments sculpture is worth fighting for
Facebook will shortly hand over 3,000 political adverts to congressional investigators probing alleged Russian meddling in the US election.

The site believes the ads were probably purchased by Russian entities during and after the 2016 presidential contest.
UK
Corbyn in Brighton: this is a seismic shift in two ways (The Conversation) This article says that it is not often that things in politics change suddenly. But this may be one of those rare times. This time could be different from the last two changes which built more slowly:
The moves in the first half of the 20th century across the West toward large social spending, encapsulated in early welfare states of Europe and in the New Deal in the US, did not spring from nowhere. They came from the spread of ideas by trade unions and labour movements and thinkers over many years. These eventually led to a groundswell of demand to do things differently.

Likewise, the move throughout the 1970s towards Thatcherism and Reaganism did not spring from two elections at the end of the decade. They came from a long germination of ideas that ran counter to the previous social democratic consensus.
Germany
Germany's Schäuble loses job after vote (BBC News) After eight years as finance minister, Wolfgang Schäuble is to leave the post in the aftermath of the German election, as Chancellor Angela Merkel tries to build a new coalition. The job is seen as second only to the chancellor, and Mr Schäuble became widely known in Europe for championing austerity during the eurozone crisis. Mrs Merkel's Christian Democrat CDU suffered heavy losses on Sunday. She now faces a tough task in pulling together a workable German government.
Choosing Mr Schäuble's successor will now become an important part of coalition talks. The finance ministry is known to be coveted by the pro-business FDP, and could be filled by its leader, Christian Lindner, or by the Greens.
Iraq
Iraqi Kurds decisively back independence in referendum (BBC News) People living in northern Iraq voted overwhelmingly in favour of independence for the Kurdistan Region in Monday's controversial referendum. The electoral commission said 92% of the 3.3 million Kurds and non-Kurds who cast their ballots supported secession. The announcement came despite a last-minute appeal for the result to be "cancelled" from Iraq's prime minister. Haider al-Abadi urged Kurds to instead engage in dialogue with Baghdad "in the framework of the constitution".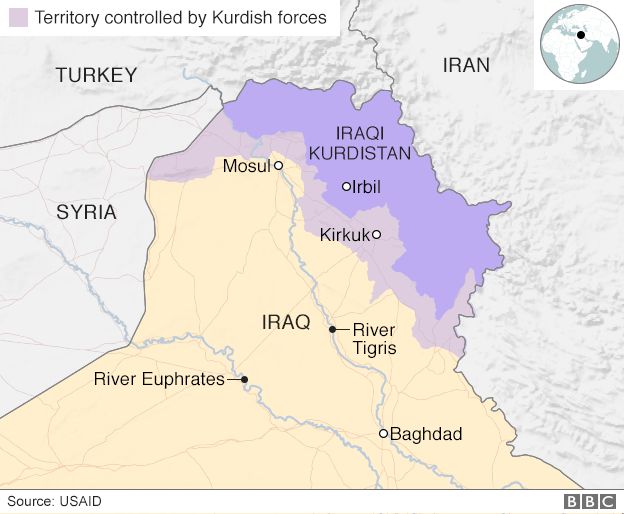 Kurdistan: after vote for independence, what's next? (The Conversation) After much anticipation and under threat of retaliation, the people of Iraqi Kurdistan turned out in high numbers to return what appears to be an overwhelming vote in favour of independence from Iraq. Advocates for independence covered a broad spectrum, from those using the vote as a way to negotiate a better future within Iraq to those demanding a new sovereign state. Although it was never quite clear what the September 25 referendum was intended to achieve, one thing's for sure: while the Iraqi government, neighbouring states, regional powers and the international community were all against it from the off, the people of Iraqi Kurdistan have voted on self-determination and given a very clear mandate for independence.
India
New Delhi wants to buy US drones to monitor China in the Indian Ocean (CNBC)
New Delhi is looking to purchase naval drones from the U.S. in what experts say is a step intended to keep an eye on Chinese movement in the Indian Ocean
The mainland has been steadily establishing a presence in countries near the Indian Ocean and increasing maritime patrols in the area
China
Chinese company cloned Washington Post website (CNBC) A lookalike of The Washington Post website emerged in China, the Financial Times reported on Thursday. The website used The Washington Post masthead and distributed content not just from the Washington, D.C.-based newspaper, but also stories from the state news agency Xinhua, which were tagged as Washington Post copy, the report added. The website was operated by Sun News, a Chinese client of The Washington Post News Service, the report said. That agreement called for allowing Sun News to republish a limited number of the Washington Post's stories and did not allow Sun News to use the newspaper's brand "in the way they did," the Financial Times reported, citing Washington Post spokeswoman Kris Coratti. The website has since been changed.
>>>>> Scroll down to view and make comments <<<<<<
Click here for Historical News Post Listing
Make a Comment
Econintersect

wants your comments, data and opinion on the articles posted. You can also comment using Facebook directly using he comment block below.
---
Econintersect Contributors
---
---
---
---
---
| | |
| --- | --- |
| Print this page or create a PDF file of this page | |
---
The growing use of ad blocking software is creating a shortfall in covering our fixed expenses. Please consider a donation to Econintersect to allow continuing output of quality and balanced financial and economic news and analysis.
---
---
---
---
---
---
---
---