posted on 26 September 2017
Written by Econintersect
Early Bird Headlines 26 September 2017
Econintersect: Here are some of the headlines we found to help you start your day. For more headlines see our afternoon feature for GEI members, What We Read Today, which has many more headlines and a number of article discussions to keep you abreast of what we have found interesting.
---
Please share this article - Go to very top of page, right hand side for social media buttons.
---
Global
Asia markets slip after North Korea accuses Trump of declaring war (CNBC) Asian markets were pressured in Tuesday trade, following declines on Wall Street overnight, as the war of words between North Korea and the U.S. escalated. The dollar index was a shade lower at 92.573. Brent crude tacked on 0.8% to trade at $59.49 a barrel, its highest levels since mid-2015. U.S. crude reversed earlier losses to climb 0.29% to $52.37. Spot gold remained above the $1,300 level reached overnight extending gains to trade at $1,310.70 an ounce at 11:39 a.m. HK/SIN
How the Oil Price Rise Is Pushing Renewable Energy Forward (The Market Mogul) In the second quarter of 2014, the world saw a sharp drop in oil prices. Since the beginning of 2015, it has fluctuated in the ballpark of roughly $40 per barrel, with a max of $63 and a minimum of $26. The drop was largely attributed to a phenomenon that The Economist magazine termed Sheikhs vs Shale. American oil production gained momentum using extensive fracking techniques, which ended OPEC's market dominance and made the US a serious competitor in the industry. What ensued was a period of heavy over-supply, with neither party willing to put a lid on production. Now oil seems to be trying to move out of 'the 40s' and maybe a higher price can be sustained. Ironically, keeping the oil supply high and steady might be amongst the most powerful tools to grow the renewable energy industry. Regardless of ideology, one would expect a consumer to opt for the cheaper, more sustainable option when given a choice.
U.S.
'I cannot support the bill,' Maine senator tells reporters

Health proposals may now return to smaller bipartisan package
CBO finds 'millions' will lose coverage from repeal bill (The Hill) The Congressional Budget Office (CBO) projected Monday that the last-ditch GOP ObamaCare repeal bill would result in "millions" of people losing coverage. The agency did not give a specific number given a lack of time to do the analysis before a vote, but said the "direction of the effect is clear."
CBO said the reduction in coverage would be felt in three areas: in Medicaid, because the bill repeals ObamaCare's expansion of Medicaid; in private coverage, because the bill repeals subsidies that help people afford it; and because the mandate to have coverage would be repealed.
How US Tax Policy Funds the US Debt Burden (The Market Mogul) Although according to the Tax Policy Center 45.3% of the US adult population pays no income tax, tax touches most people's lives. As discussed in this article, the rules are complex because they need to cover the many ways in which people and corporations act in the pursuit of profit and even philanthropy. Tax laws need to deal with individuals, corporations and hybrid entities such as partnerships and trusts. They also need to deal with the foreign interests of domestic taxpayers and the domestic interests of foreign taxpayers.
More Republicans Now Support Free College Than Oppose It, Poll Finds (The Intercept) Bernie Sanders' plan to make tuition free at all public colleges and universities is becoming a mainstream position in the Democratic Party. But the plan has appeal far beyond the Democratic faithful. A Morning Consult poll conducted in mid-September finds that a plurality of self-identified Republicans now agree with a "proposal to make four-year public colleges and universities tuition-free," as the question is worded. (Note that the cost of such a program is less than this year's INCREASE in the military budget.)
Forty-seven percent of Republican respondents say they strongly or somewhat support the proposal, while 45 percent say they strongly or somewhat oppose it. Seven percent say they don't know or have no opinion.

Among self-identified tea party backers, support is also strong - with 50 percent saying they support the proposal while 49 percent oppose it.

Overall, 63 percent of Americans support the proposal, while 29 percent oppose it.
EU
The Euro is no longer following interest rates (The Daily Shot) All of a sudden, Germany has some political uncertainty ahead - which is not great news for the euro. Will traders begin paying more attention to the rate differential between the Eurozone and the US?
UK
Germany
German Election 2017: A Fractious Bundestag (The Market Mogul) The aftermath of Germany's election is likely to be a lot more fractious than the election campaign itself. Angela Merkel's Christian Democrat grouping (CDU/CSU) and the Social Democrats (SPD) hit a post-war low share of the national vote, and close to 44% of Bundestag seats will be held by the four minor parties.
Shifting Voting Pattern in Germany (The Daily Shot) Germany's far-right party (Alternative for Germany) won nearly 13.5% of the vote. The traditional coalition, which has been in place for years, no longer has the votes to form a government.
Syria
Dozens of Civilians Killed When U.S. Bombed a School And a Market in Syria (The Intercept) U.S. military aircraft bombed a school and a crowded marketplace in attacks that killed dozens of civilians in Syria this March, according to a new report from Human Rights Watch. The report claims that at least 84 civilians who had died in the bombings, including 30 children. While witnesses who spoke to investigators acknowledged that ISIS members, along with their families, had been around the areas of the bombings, they also said many civilians were nearby who had no connection to the group.
Iran
Iran's ballistic missile launch was fake: report (The Hill) Iran's recent ballistic missile launch was fake and never took place, U.S. officials told Fox News on Monday. Iran state television claimed that the nation had successfully fired a missile and aired footage of the launch on Friday, but that video was actually of a launch that took place in January, according to Fox News. That missile exploded shortly after launch. President Trump had responded to the launch in a tweet Saturday.
Japan
Japan equities helped by improved governance, more dividends

Yen seen appreciating toward 90 per dollar in the long run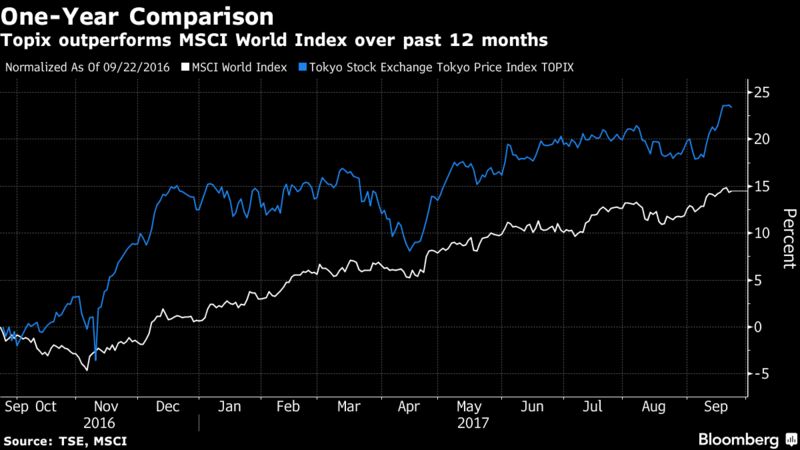 North Korea
U.S. Sees 'Four or Five' Ways to Resolve North Korean Crisis (Bloomberg) The U.S. has gamed out four or five different scenarios for how the crisis with North Korea will be resolved, and "some are uglier than others," National Security Adviser H.R. McMaster said as tensions remain high between the two countries. While McMaster said the threat from Pyongyang is "much further advanced" than anticipated and the Pentagon said the president has a "deep arsenal" to draw upon if needed, U.S. officials dismissed North Korean Foreign Minister Ri Yong Ho's comment that President Donald Trump's warnings to Pyongyang at the United Nations amounted to a declaration of war.
Canada
Chelsea Manning Denied Entry to Canada, With Government Citing Treason Law (The Intercept) Chelsea Manning has been denied entry to Canada. In a letter Manning posted to Twitter, the Canadian government told her she is barred from entering the country. The letter states that Manning is "inadmissible on grounds of serious criminality for having been convicted of an offense outside Canada."
Further down in the letter, it says that "if committed in Canada this offense would equate to an indictable offense, namely Treason described under section 46(2)(B) of the Criminal Code of Canada, punishable under section 47(2)(C) of the Criminal Code of Canada, for which a maximum penalty of 14 years imprisonment may be imposed."

Manning was arrested in 2010, after sending hundreds of thousands of military and diplomatic documents to WikiLeaks. Her disclosures led to a series of exposes by the New York Times and many other outlets, and exposed, among other things, a dramatically high civilian death count in Afghanistan, evidence of abuse by U.S.-backed Iraqi forces, and information about who was being held at Guantflnamo Bay.

In 2013, Manning was convicted of six counts of espionage by a military court, but she was acquitted of "aiding the enemy" - the equivalent of a treason charge in U.S. military court. President Obama commuted her sentence before leaving office in January.
>>>>> Scroll down to view and make comments <<<<<<
Click here for Historical News Post Listing
Make a Comment
Econintersect

wants your comments, data and opinion on the articles posted. You can also comment using Facebook directly using he comment block below.
---
Econintersect Contributors
---
---
---
---
---
| | |
| --- | --- |
| Print this page or create a PDF file of this page | |
---
The growing use of ad blocking software is creating a shortfall in covering our fixed expenses. Please consider a donation to Econintersect to allow continuing output of quality and balanced financial and economic news and analysis.
---
---
---
---
---
---
---
---