posted on 24 September 2017
Written by Econintersect
Early Bird Headlines 24 September 2017
Econintersect: Here are some of the headlines we found to help you start your day. For more headlines see our afternoon feature for GEI members, What We Read Today, which has many more headlines and a number of article discussions to keep you abreast of what we have found interesting.
---
Please share this article - Go to very top of page, right hand side for social media buttons.
---
Global
U.S.
Trump in angry row with sports stars after withdrawing Warriors invitation (The Guardian) Donald Trump was the subject of startlingly strong abuse from major sports stars on Saturday, after he criticised NFL players protesting against racial injustice and withdrew an invitation for the NBA-champion Golden State Warriors to visit the White House, breaking a tradition dating back to the Reagan years.
The Cleveland Cavaliers star forward LeBron James called the president a "bum" while the Buffalo Bills running back LeSean McCoy went further, calling Trump an "asshole". Even NFL commissioner Roger Goodell was critical, saying in a statement: "Divisive comments like [Trump's] demonstrate an unfortunate lack of respect for the NFL."
Supreme Court to weigh free speech, discrimination in wedding cake case (The Hill) The Supreme Court has a tough question ahead: Where do you draw the line between free speech and discrimination? The case headed to the high court in the new term that begins next month centers on Jack Phillips, the owner of the Colorado-based Masterpiece Cakeshop who refused to make a cake for a same-sex wedding. Phillips claims he shouldn't be forced to under the state's anti-discrimination law and gained a strong ally this week when the Trump administration filed a friend of the court brief on his behalf. Econintersect: New rule - the customer uis always right ... unless he/she is gay.
International Tourism to the U.S. Declined in Early 2017 (The New York Times) Fewer international travelers came to the United States during the first few months of this year than over the same period last year, confirming concerns of some in the travel industry. New figures released by the U.S. Department of Commerce show a drop in international visitors to the United States by close to 700,000 in the first quarter of 2017 compared to the previous year. European countries were down 10.1%, and Mexico was off 7.1% in the quarter. The largest drops were from the Middle East and Africa, though they represent a much smaller percentage of overall travel to the United States.
Overall, 697,791 fewer foreigners visited the United States in the first three months of the year, down 4.2 percent to 15.8 million. According to Tourism Economics, a branch of Oxford Economics based in Wayne, Pa., that analyzes travel data, the drop represents a loss of nearly $2.7 billion in spending.

As points of comparison, the first quarter of 2013, after the re-election of Barack Obama, international tourism was up 6.4 percent, and the first quarter of 2009, after President Obama's first election (and during global recession that began at the end of 2008), it was down 14.3 percent.
Senate leaders succumbed to pressure from their conservative base to target Obamacare one more time before special rules barring a Democratic filibuster expire on Sept. 30.
Raising hopes of Obamacare's fiercest opponents and then dashing them again will deepen internal Republican fissures.
Days spent on a fruitless quest to repeal Obamacare are days not spent pursuing tax reform.
In a series of tweets starting at 6.42am, the president attacked Senator John McCain, whom he said had "let Arizona down"; goaded wavering Republicans in an attempt to persuade them to come on board; and praised Graham-Cassidy, the current and controversial plan to repeal the Affordable Care Act (ACA).
Most Americans unaware that as U.S. manufacturing jobs have disappeared, output has grown (Pew Research Center) Manufacturing jobs in the United States have declined considerably over the past several decades, even as manufacturing output - the value of goods and products manufactured in the U.S. - has grown strongly even when adjusted for inflation. But while most Americans are aware of the decline in employment, relatively few know about the increase in output, according to a new Pew Research Center survey.
UK
Revealed: plots by cabinet's 'big four' to seize May's crown (The Sunday Times) The fragility of Theresa May's grip on power was laid bare last night as it was revealed that four of her senior ministers had made plans to replace her after the general election. With the prime minister already presiding over growing cabinet divisions after her big speech on Brexit, she faces a fresh blow today with the news that Boris Johnson, Philip Hammond, David Davis and Amber Rudd were embroiled in leadership plots after she surrendered the Tory majority.
In a move that could have brought down May, the chancellor texted the foreign secretary at about four o'clock in the morning after the election signalling that he was prepared to back Johnson if he ran for the leadership.

A source who discussed the leadership with the chancellor that morning says Hammond thought Johnson should head a triumvirate in which Davis "could run Brexit, [Hammond] could run the economy and Boris could run the shop".
Iran
Iran has successfully tested a new ballistic missile with a range of 2,000 km (1,200 miles).
President Hassan Rouhani said Iran would strengthen its missile capabilities without seeking any country's permission.
Iran denies its missile development breaches a United Nations resolution.
North Korea
US Air Force bombers escorted by fighter jets flew over waters east of North Korea on Saturday.
The Pentagon said it was a show of force designed to show the range of military options available to President Trump.
This is the farthest north of the Demilitarized Zone (DMZ) any U.S. aircraft has flown off North Korea's coast in the 21st century.
China
China to enforce UN sanctions against North Korea (The Guardian) China has said it will ban exports of some petroleum products to North Korea, as well as imports of textiles from the isolated country, in line with a United Nations security council resolution passed after Pyongyang's latest nuclear test. The announcement from Beijing came at the end of a week that saw tensions rise between the US and North Korea, with the leaders of both countries trading insults.
The Chinese ministry of commerce said in a statement that exports of refined petroleum products would be limited from 1 October and exports of condensates and liquefied natural gas would be stopped immediately to comply with the UN sanctions.

Imports of textiles from North Korea would also be banned immediately, but textile trade contracts signed before 11 September would be respected if import formalities were completed before 10 December, the statement said.
China Sends One of the West's Most Critical Materials Soaring (Bloomberg) The price of one of the most critical materials for the Western world's economy and defenses is spiking faster than any major commodity. Tungsten, used to harden steel in ballistic missiles and in drill bits, has surged more than 50% in the last two months amid growing concern about supply cutbacks in China, where about 80% of the metal comes from. The country is clamping down on polluting mines and enforcing production quotas.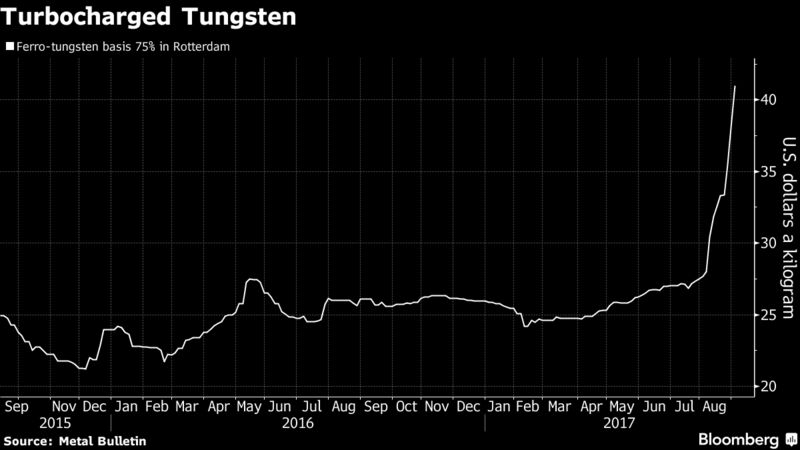 >>>>> Scroll down to view and make comments <<<<<<
Click here for Historical News Post Listing
Make a Comment
Econintersect

wants your comments, data and opinion on the articles posted. You can also comment using Facebook directly using he comment block below.
---
Econintersect Contributors
---
---
---
---
---
| | |
| --- | --- |
| Print this page or create a PDF file of this page | |
---
The growing use of ad blocking software is creating a shortfall in covering our fixed expenses. Please consider a donation to Econintersect to allow continuing output of quality and balanced financial and economic news and analysis.
---
---
---
---
---
---
---
---