posted on 20 September 2017
Written by Econintersect
Early Bird Headlines 20 September 2017
Econintersect: Here are some of the headlines we found to help you start your day. For more headlines see our afternoon feature for GEI members, What We Read Today, which has many more headlines and a number of article discussions to keep you abreast of what we have found interesting.
---
Please share this article - Go to very top of page, right hand side for social media buttons.
---
Global
Asia markets tread water as investors await news from the Fed (CNBC) Most Asian indexes closed largely unchanged on Wednesday as investors awaited monetary policy news coming at the conclusion of the U.S. Federal Reserve's two-day meeting. The dollar extended losses after sliding against a basket of currencies overnight, with the dollar index standing at 91.789 at 2:50 p.m. HK/SIN. Brent crude rose 0.45% to trade at $55.39 a barrel, a touch below a five-month high of $55.99 set recently. U.S. crude advanced 0.61% to $49.78. Spot gold rose 0.1% to $1,312.54 an ounce by 0308 GMT. U.S. gold futures for December delivery were up 0.4% at $1,316 an ounce.
New climate change calculations could buy the Earth some time - if they're right (The Washington Post) Hat tip to Sig Silber. A group of prominent scientists on Monday created a potential whiplash moment for climate policy, suggesting that humanity could have considerably more time than previously thought to avoid a "dangerous" level of global warming. The upward revision to the planet's influential "carbon budget" was published by a number of researchers who have been deeply involved in studying the concept, making it all the more unexpected. But other outside researchers raised questions about the work, leaving it unclear whether the new analysis - which, if correct, would have very large implications - will stick. In a study published in the journal Nature Geoscience, a team of 10 researchers, led by Richard Millar of the University of Oxford, recalculated the carbon budget for limiting the Earth's warming to 1.5 degrees Celsius (2.7 degrees Fahrenheit) above temperatures seen in the late 19th century. It had been widely assumed that this stringent target would prove unachievable - but the new study would appear to give us much more time to get our act together if we want to stay below it. Econintersect: There has always been a wide range of global warming predictions. Is this simply one of the lower ones in that range?
The new emerging markets? Report says green finance will become "core element of global capital markets" (City A.M.) Green finance is set to be the new emerging markets for investors, according to a report out today forecasting it will become "a core element of global capital markets". According to Anjalika Bardalai, chief economist and head of research at TheCityUK:
"Green finance is not charity and it's not about hand-outs or subsidies. What it does is use the age-old premise of risk and return in the private sector to solve some of the world's most pressing challenges. Just as emerging markets have entered the mainstream of investing over the past two decades, green finance is destined to become a core element of global capital markets in the coming years."
U.S.
Hurricane Maria hits Virgin Islands and bears down on Puerto Rico (BBC News) Hurricane Maria, the second maximum-strength Atlantic storm of the season, has reached the southernmost Virgin Islands as it heads for Puerto Rico. The category five hurricane began lashing St Croix in its north-westerly path across the Caribbean. On Monday it inflicted substantial damage on Dominica and the first aerial images of the island have emerged. The storm briefly weakened to a four but is now again packing top sustained winds of 280km/h (175mph). Sig Silber is tracking this storm and post this a short time ago: Maria has reached the Virgin Islands and Puerto Rico - 20Sep2017.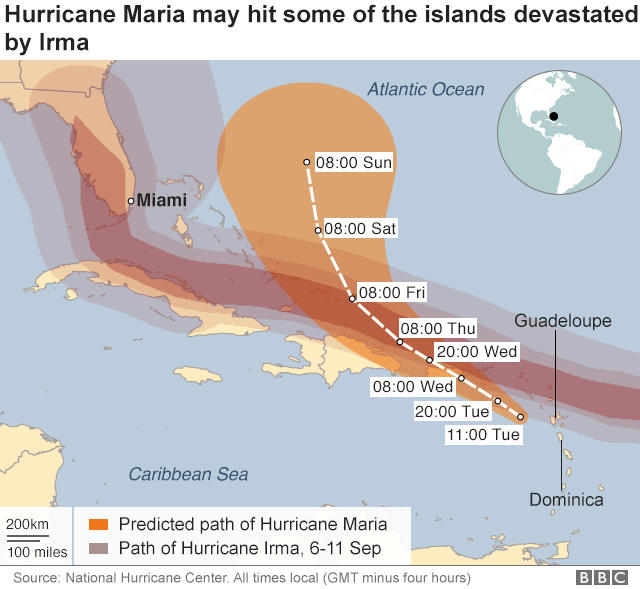 GOP odds rise on ObamaCare repeal (The Hill) The Trump administration and Republican leaders in Congress are going all-in on a last-ditch effort to replace ObamaCare.
The U.S. Federal Election Commission allows the use of private campaign funds to pay legal bills arising from being a candidate or elected official.
Trump would be the first U.S. president in the modern campaign finance era to use such funds to cover the costs of responding to a criminal probe, said election law experts.
John Dowd, Trump's lead lawyer, declined to say how the president's legal bills were being paid, adding: "That's none of your business."
Jimmy Kimmel slams Cassidy over ObamaCare repeal bill (The Hill) Late-night host Jimmy Kimmel on Tuesday went off on Sen. Bill Cassidy (R, La.), one of the architects of the latest GOP effort to repeal and replace ObamaCare, claiming the lawmaker lied about his intentions to pass affordable health care. Kimmel's comments came during an impassioned monologue directed at the senator, who said in the past that any ObamaCare replacement must be able pass the "Jimmy Kimmel test."
Trump Offers a Selective View of Sovereignty in U.N. Speech (The New York Times) President Trump, in declaring Tuesday that sovereignty should be the guiding principle of affairs between nations, sketched out a radically different vision of the world order than his forebears, who founded the United Nations after World War II to deal collectively with problems they believed would transcend borders.
Mr. Trump offered the General Assembly a strikingly selective definition of sovereignty, threatening to act aggressively against countries like North Korea, Iran and Venezuela, whose policies he opposes, yet saying almost nothing about Russia, which seized territory from its neighbor Ukraine, and meddled in the American presidential election.
UK
The EU's opening position claims the UK has liabilities of up to €100bn, which would net out at €60bn when British receipts are stripped out. A €20bn net offer would allow the EU to avoid reopening its long-term budget plan prematurely, and would cover unpaid projects Britain signed off before its 2019 exit. It would not, however, cover long-term liabilities or spending promises made during the transition period.
India
Flights, Trains in Turmoil as Rains Hit India's Finance Hub (Bloomberg) When it comes to water, this has been India's endless summer. Many flights were canceled and trains were running late in Mumbai, India's financial hub, on Wednesday, as rains disrupted normal life for the second time in less than a month, highlighting infrastructure challenges in India's mega-cities.
The second such disruption since Aug. 29th highlights the lack of infrastructure in a city, where the population has surged to 18 million. Authorities are finally investing in building a mass transit system, while residents still rely on a century-old drainage system. While no reports of any fatalities came in on Wednesday, operations of Mumbai's suburban trains that serve 8 million people daily, were disrupted.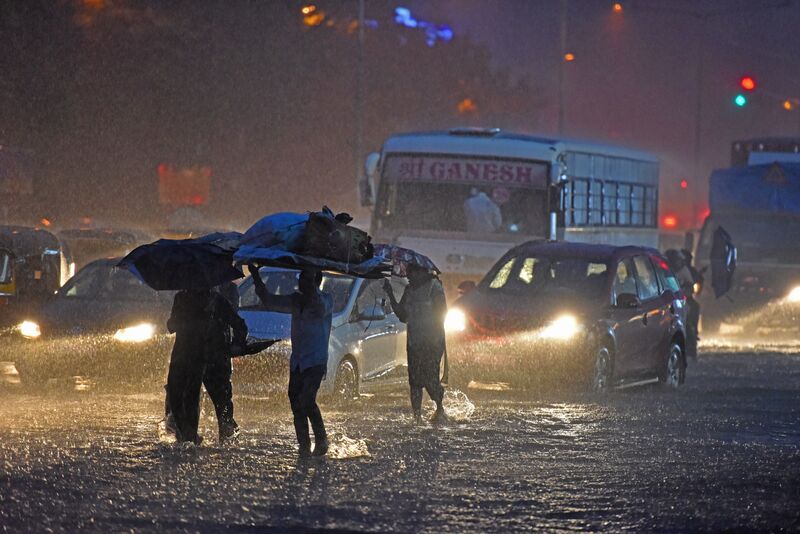 Myranmar
Japan
Abe sets Japan on course for snap general election (Financial Times) Shinzo Abe is heading towards a snap general election on October 22 as the Japanese prime minister moves to exploit a shambolic opposition and secure power beyond the 2020 Olympic Games. The Topix stock index rallied 1.8% to a two-year high of 1,667 on the prospect of continued economic stimulus if Mr Abe wins a third election, after victories in 2012 and 2014, to become one of Japan's most successful prime ministers.
China
Mexico
Mexico: Powerful earthquake topples buildings, killing over 200 (BBC News) A strong earthquake has struck central Mexico, killing at least 226 people and toppling dozens of buildings in the capital, Mexico City. President Enrique Peña Nieto said more than 20 children had died and 30 were missing after a school collapsed. The 7.1 magnitude quake also caused major damage in neighbouring states. The tremor struck while many people took part in an earthquake drill exactly 32 years after a quake killed thousands in Mexico City. The country is prone to earthquakes and earlier this month an 8.1 magnitude tremor in the south left at least 90 dead. The epicentre of the latest quake was near Atencingo in Puebla state, about 120km (75 miles) from Mexico City, with a depth of 51km, the US Geological Survey said.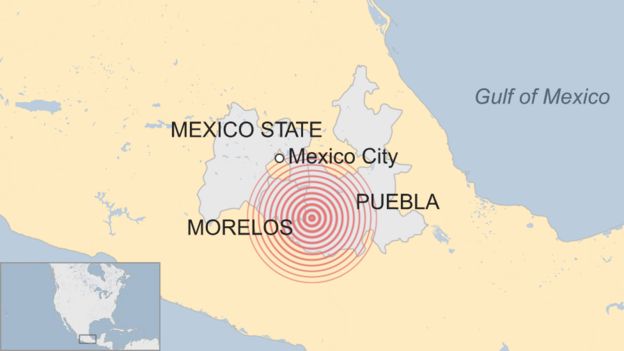 >>>>> Scroll down to view and make comments <<<<<<
Click here for Historical News Post Listing
Make a Comment
Econintersect

wants your comments, data and opinion on the articles posted. You can also comment using Facebook directly using he comment block below.
---
Econintersect Contributors
---
---
---
---
---
| | |
| --- | --- |
| Print this page or create a PDF file of this page | |
---
The growing use of ad blocking software is creating a shortfall in covering our fixed expenses. Please consider a donation to Econintersect to allow continuing output of quality and balanced financial and economic news and analysis.
---
---
---
---
---
---
---
---