posted on 19 September 2017
Written by Econintersect
Early Bird Headlines 19 September 2017
Econintersect: Here are some of the headlines we found to help you start your day. For more headlines see our afternoon feature for GEI members, What We Read Today, which has many more headlines and a number of article discussions to keep you abreast of what we have found interesting.
---
Please share this article - Go to very top of page, right hand side for social media buttons.
---
Global
Most Asian indexes wobble as investors await Fed meeting (CNBC) Asian indexes largely stumbled on Tuesday ahead of the U.S. Federal Reserve's September meeting as investors awaited clues from the central bank on future monetary policy. Japanese markets were an outlier, however, soaring after reopening after a public holiday. The dollar index is mostly flat at 91.936. U.S. crude edged down by 0.04% to trade at $49.89 a barrel and Brent crude lost 0.16% to trade at $55.39. Spot gold was up 0.2% at $1,308.80 an ounce by 0404 GMT, after dropping to its lowest level since Aug. 31 in the previous session. U.S. gold futures for December delivery edged up 0.1% to $1,312.20 an ounce.
Hurricane Maria hits Dominica with 160 mph winds (CNN) The Caribbean island of Dominica has been "devastated" by Hurricane Maria, the country's Prime Minister tells CNN. The powerful storm, which made landfall Monday night, has since been downgraded to a Category 4 with sustained winds of 155 mph. After it passes over Dominica it is on course to score a direct hit on the US territory of Puerto Rico -- the first hurricane of its strength to do so in 85 years. Sig Silber is continuously reporting on Maria - the latest: Maria Hits Dominica and Continues - 19Sep2017.
U.S.
With his remarks, Trump will emphasize that the peril posed by North Korean and Iranian weapons programs is too great for any country to remain on the sidelines, according to two U.S. officials who previewed themes of the address on Monday. They declined to say what actions Trump will seek against either regime, nor would they say whether Trump plans to single out China or Russia as enablers of either state.
Exclusive: US government wiretapped former Trump campaign chairman (CNN) US investigators wiretapped former Trump campaign chairman Paul Manafort under secret court orders before and after the election, sources tell CNN, an extraordinary step involving a high-ranking campaign official now at the center of the Russia meddling probe. The government snooping continued into early this year, including a period when Manafort was known to talk to President Donald Trump.
Some of the intelligence collected includes communications that sparked concerns among investigators that Manafort had encouraged the Russians to help with the campaign, according to three sources familiar with the investigation. Two of these sources, however, cautioned that the evidence is not conclusive.
• Florida FEMA-designated disaster areas related to Hurricane Irma include over 3.1 million mortgaged properties

• Irma-related disaster areas contain nearly three times as many mortgaged properties as those connected to Hurricane Harvey, and nearly seven times as many as those connected to Hurricane Katrina in 2005

• The $517 billion in unpaid principal balances in Irma-related disaster areas is nearly three times the amount as in those related to Harvey and more than 11 times of those connected to Katrina

• Irma-related disaster areas now include more than 90 percent of all mortgaged properties in Florida
Top House Democrat distances himself from 'single payer' push (CNN) While a growing number of Senate Democrats with potential 2020 presidential ambitions are publicly embracing Senator Bernie Sanders's single-payer health care proposal, the number two House Democrat raised questions about the approach Tuesday, saying the "first objective" of House Democrats is fixing Obamacare.
Rep. Steny Hoyer, a Maryland Democrat, told reporters that the single payer approach is one of several ideas that Democrats are discussing, saying the party is united on principle of giving "access for Americans to offer quality, affordable health care."

But he also said that single payer has "significant administrative issues" and said that he and House Minority Leader Nancy Pelosi are focused on "preserving the (Affordable Care Act) and making it work better."
In summary, BernieCare could be said to be aspirational; after all (even though a reasonable number of Republican voters support Medicare for All, too) the bill won't pass this year or even next year. But I'm amazed and happy to see that single payer is finally "on the table" in the Senate, after Obama and the career "progressives" successfully kept it off the table in 2009. For the next few months, at least, that's victory enough. In my next post, I'll take a more detailed look at BernieCare as policy.
EU
Angela Merkel is likely to be re-elected as Germany's chancellor for a fourth term in an election next Sunday, a result that could seal the continent's fate in terms of ever closer political and economic union.
If voter polls are to be believed, pro-European Merkel's victory is assured with her conservative coalition ahead of the pack.
Europe's political establishment are likely to breathe a collective sigh of relief as long as the populist, anti-euro AfD party is left out in the cold.
UK
Bank of England's Carney sees Brexit pushing up inflation, slowing growth (Reuters) Bank of England Governor Mark Carney said on Monday that Brexit is likely to hurt Britain's growth prospects in the short term and push up inflation as the country adjusts to life outside the European Union. In a speech that immediately drew criticism from some Brexit supporters who have previously criticized his stance on the EU, Carney warned that Britain would face a cost for reworking its trade relationships.
Netherlands
The Dutch Are Doing Just Fine Without a Government (Bloomberg) With a new government yet to be formed more than 185 days after the Dutch general elections in March -- the second-longest such period since World War II -- many see the strong performance as an indication that systems put in place after Europe's debt crisis in 2008 are helping shelter the country from the vagaries of international events and political uncertainty at home.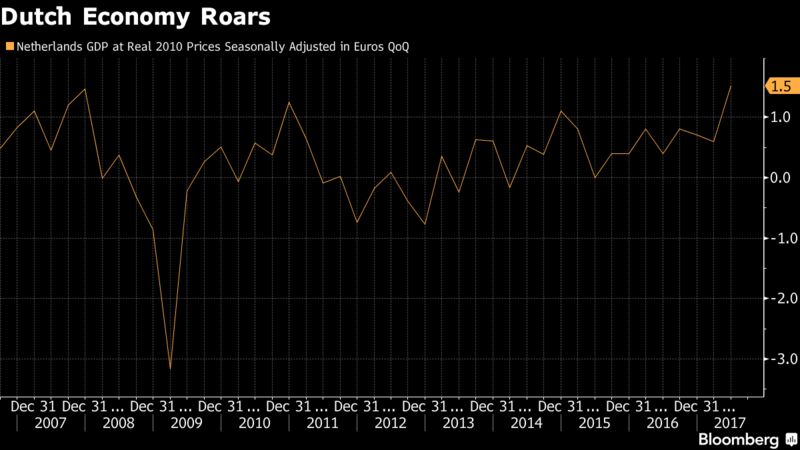 Spain
As we warned a few months ago, if the Catalan government feels that it's backed into a corner financially, it could weaponize its tick-tocking debt bomb. If Barcelona refuses to honor its debt to Madrid, both Catalan and Spanish debt could be declared in default, with disastrous consequences for both.
Turkey
Afghanistan
Myranmar
Myanmar's Suu Kyi condemns rights abuse, decries suffering in Rakhine (Reuters) Myanmar leader Aung San Suu Kyi condemned on Tuesday any human rights violations in troubled Rakhine State and said anyone responsible would face the law, and that she felt deeply for the suffering of everyone caught up in the conflict there. The Nobel Peace laureate's remarks came in her first address to the nation since attacks by Rohingya Muslim insurgents on Aug. 25 sparked a military response that has forced more than 410,000 Rohingya into neighboring Bangladesh and brought UN charges of genocide.
She said Myanmar did not fear international scrutiny and was committed to a sustainable solution to the strife.
North Korea
Mattis hints at military options on North Korea (Reuters) Defense Secretary Jim Mattis hinted about the existence of military options on North Korea that might spare Seoul from a brutal counterattack, but declined to say what kind of options he was talking about or whether they involved the use of lethal force.
>>>>> Scroll down to view and make comments <<<<<<
Click here for Historical News Post Listing
Make a Comment
Econintersect

wants your comments, data and opinion on the articles posted. You can also comment using Facebook directly using he comment block below.
---
Econintersect Contributors
---
---
---
---
---
| | |
| --- | --- |
| Print this page or create a PDF file of this page | |
---
The growing use of ad blocking software is creating a shortfall in covering our fixed expenses. Please consider a donation to Econintersect to allow continuing output of quality and balanced financial and economic news and analysis.
---
---
---
---
---
---
---
---