posted on 18 September 2017
Written by Econintersect
Early Bird Headlines 18 September 2017
Econintersect: Here are some of the headlines we found to help you start your day. For more headlines see our afternoon feature for GEI members, What We Read Today, which has many more headlines and a number of article discussions to keep you abreast of what we have found interesting.
---
Please share this article - Go to very top of page, right hand side for social media buttons.
---
Global
Asia markets gain as investors await Fed policy cues later this week (CNBC) Asian shares closed higher on Monday as investors anticipated clues on the direction of monetary policy from central banks later in the week. The dollar index edged down to 91.868 at 3:06 p.m. HK/SIN. Brent crude added 0.27% to trade at $55.77 a barrel and U.S. crude tacked on 0.54% to trade at $50.16. Spot gold was down 0.2% at $1,317.00 an ounce, as of 0423 GMT. Earlier in the session, it hit $1,315.10, its lowest since Aug 31. U.S. gold futures for December delivery fell 0% to $1,321.10 an ounce.
Forget $3,000, Bulls May Retreat If Bitcoin Breaks $2,877: Chart (Bloomberg) Bitcoin's more-than 20 percent slump this week on China's reported plans to shut down cryptocurrency exchange trading has investors speculating when it will drop below the key psychological level of $3,000. But the level to watch may be just beyond that threshold: $2,877. Not only is that bitcoin's intraday high on Aug. 4 -- about the time the digital currency's most recent leg up began -- it's also bitcoin's current 100-day moving average. For Chris Weston, IG Ltd.'s chief market strategist in Melbourne, $2,877 is a "key line in the sand" and "the bulls will want to see this hold".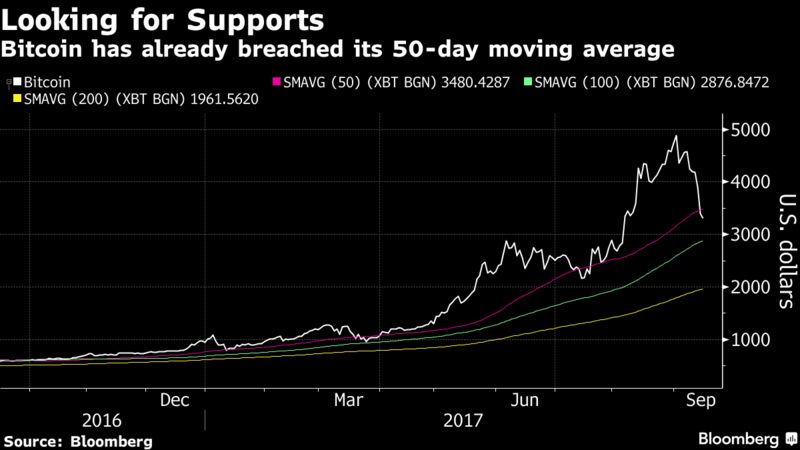 Storm projected to reach Category 3; U.S. impact unclear

Puerto Rico among Caribbean islands preparing for another hit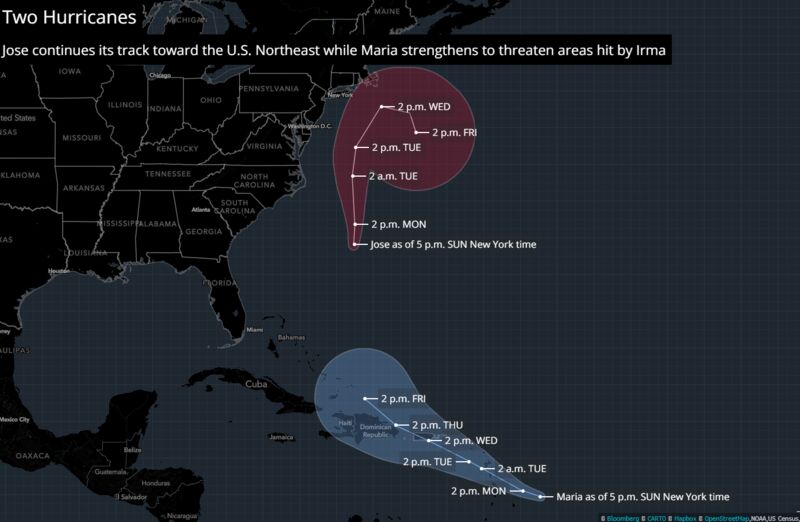 U.S.
Deutsche Bank "will cooperate fully" with an official investigation if it receives a legally binding request, CEO John Cryan said at the Singapore Summit
It's both illegal and "incredibly bad practice," he explained, for a bank to otherwise share information about a client
Cryan declined to say whether Special Counsel Robert Mueller or anyone from his team had been in touch with the bank
An Infrastructure Deal Should Be Easy, But Isn't (Bloomberg) The lingering devastation from the hurricanes that crippled Houston and Florida underscored the national problems of crumbling roads and bridges, inadequate transportation systems and aging electrical grids. President Donald Trump and congressional Democrats both want Washington to spend billions on repairs and construction. The need is critical. The American Society of Civil Engineers recently gave the country's infrastructure a D-plus grade and estimated that its deficiencies will cost the economy $4 trillion over the next decade. As Floridians go days, stretching into weeks, without power, and with old people dying in nursing homes, the urgency is clear. Most ambitiously, Democrats could even offer to support tax reform, which congressional Republicans badly want, in exchange for Republican votes for infrastructure spending. But "right-wing" Republicans and special interest lobbies for tax breaks may muster enough support to prevent a deal.
What Happened by Hillary Rodham Clinton review - no twinge of remorse (The Guardian) This is an unflattering review of Hillary Vlinton's new book, called a "hubristic memoir" by the reviewer.
We Are Subsidizing Rich Suburbanites to Clog Cities With Their Cars (Bloomberg Businessweek) See also next article. Not a new problem, but an annoying one: The federal tax code encourages companies to provide free parking to their employees by exempting the fringe benefit from taxation. That means the government is subsidizing commuters to drive themselves to work instead of carpooling or taking mass transit or walking or biking or working from home.
The tax break promotes traffic congestion and eats up parking spaces. It's worth the most to the people in the highest tax brackets. And it's worth the most in places where parking is the costliest - that is, the places where congestion is the biggest problem.

Plus, of course, the tax break is money that the government doesn't collect that could have been used to reduce other taxes or fund other programs.
Who Pays For Parking? (TransitCenter) The tax break for commuters costs the federal government $7.3 billion a year in lost tax revenue. About 10% of that comes from 25 cities.
India
Superpower India to Replace China as Growth Engine (Bloomberg) India is poised to emerge as an economic superpower, driven in part by its young population, while China and the Asian Tigers age rapidly, according to Deloitte LLP. The number of people aged 65 and over in Asia will climb from 365 million today to more than half a billion in 2027, accounting for 60 percent of that age group globally by 2030, Deloitte said in a report Monday. In contrast, India will drive the third great wave of Asia's growth - following Japan and China -- with a potential workforce set to climb from 885 million to 1.08 billion people in the next 20 years and hold above that for half a century. According to Anis Chakravarty, economist at Deloitte India:
``India will account for more than half of the increase in Asia's workforce in the coming decade, but this isn't just a story of more workers: these new workers will be much better trained and educated than the existing Indian workforce. There will be rising economic potential coming alongside that, thanks to an increased share of women in the workforce, as well as an increased ability and interest in working for longer. The consequences for businesses are huge.''
Japan
Nobuyuki Hirano, chairman of Bank of Tokyo-Mitsubishi UFJ and CEO of parent company Mitsubishi UFJ Financial Group said people should be worried about North Korea
Recent provocations from Pyongyang were "a kind of good lesson" to the Japanese, he said
China
>>>>> Scroll down to view and make comments <<<<<<
Click here for Historical News Post Listing
Make a Comment
Econintersect

wants your comments, data and opinion on the articles posted. You can also comment using Facebook directly using he comment block below.
---
Econintersect Contributors
---
---
---
---
---
| | |
| --- | --- |
| Print this page or create a PDF file of this page | |
---
The growing use of ad blocking software is creating a shortfall in covering our fixed expenses. Please consider a donation to Econintersect to allow continuing output of quality and balanced financial and economic news and analysis.
---
---
---
---
---
---
---
---