posted on 14 September 2017
Written by Econintersect
Early Bird Headlines 14 September 2017
Econintersect: Here are some of the headlines we found to help you start your day. For more headlines see our afternoon feature for GEI members, What We Read Today, which has many more headlines and a number of article discussions to keep you abreast of what we have found interesting.
---
Please share this article - Go to very top of page, right hand side for social media buttons.
---
Global
Asian shares slip following weaker-than-expected China data (CNBC) Most major indexes in Asia were moderately lower on Thursday after the release of softer-than-expected China data. Markets also digested the rise in U.S. Treasury yields overnight following tax reform headlines out of Washington. The dollar index was up at 92.462 at 12.43 p.m. HK/SIN. U.S. crude edged down 0.16% to trade at $49.22 a barrel after settling more than $1 higher overnight. Brent crude lost 0.25% to trade at $55.02. Spot gold was down 0.1% at $1,321.66 an ounce by 0342 GMT, after earlier dropping to its lowest since Sept. 1 at $1,318.75. U.S. gold futures for December delivery were down 0.2% at $1,325.60 an ounce.
U.S.
Manhattan's Eager Renters Can't Make a Dent in Apartment Supply (Bloomberg) There is an apartment glut in New York. Manhattan's construction boom has crowded the borough with so many apartments that even in a month where leasing hit a record, the vacancy rate climbed. Renters signed 7,061 new leases in August, the most for any month in data going back to January 2008, according to a report Thursday by appraiser Miller Samuel Inc. and brokerage Douglas Elliman Real Estate. Despite all those deals, vacancies climbed to 2.27% from 2.14% a year earlier, the first annual increase since February. According to Hal Gavzie, who oversees leasing at Douglas Elliman:
"It really does show just how much inventory there is out there. Yes, we have so many leases being signed -- and yet, you still have so many options for customers out there."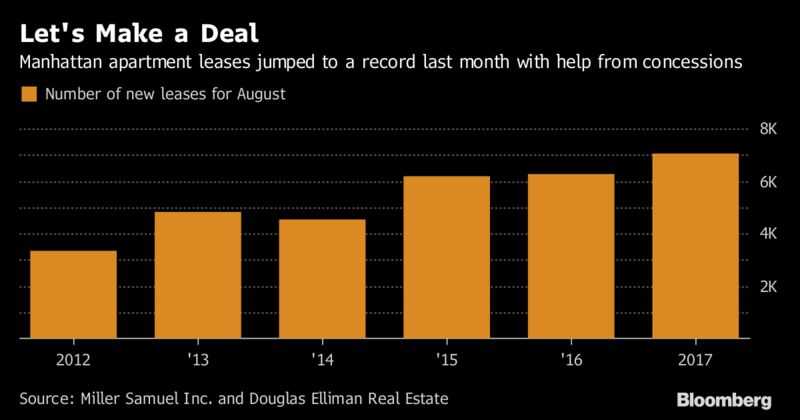 Conservative commentators are ripping into Trump's bipartisan DACA deal (Business Insider) Some conservative commentators sounded off on Wednesday night about President Donald Trump's latest deal with Democrats. Senate Minority Leader Chuck Schumer and House Democratic Leader Nancy Pelosi announced their agreement with Trump that would protect certain unauthorized immigrants as part of a broader border security plan. Shortly after, Breitbart News featured a splash on its website that read, 'Amnesty Don,' with an article titled, "Trump Caves In on DACA", referring to the preliminary bipartisan agreement to codify protections outlined in the Deferred Action for Childhood Arrivals program and address border-security issues.
Citing its own conversations with what it called "immigration patriots," Breitbart said "any immigration deal on DACA that includes amnesty would be an 'outrageous selling out of the [Trump] base.'"
Peek Behind the Curtain of Federal Tax Data to See Exactly What Your Portfolio Needs (Lee Adler, Sure Money) Federal Withholding Tax collections were solid in August. They gained nearly 5% versus a year ago, before inflation. These tax collections tell us EXACTLY what the US economy is doing at any given point in time. There's no need to wait for the media to report what the manipulated government economic data did last month or the month before. We have everything we need to know in real time.
EU
Foreign Investments In the Eurozone (The Daily Shot) After nearly two years of foreign funds outflows, net foreign portfolio investment in the eurozone is about to turn positive with increasing equity investments and decreasing bond investment outflows.
Russia
Myranmar
China endorses Myanmar's crackdown; U.N. sees 'ethnic cleansing' (Reuters) China has endorsed Myanmar's offensive against Rohingya Muslim insurgents, though the U.N. secretary-general said the operation, which has forced nearly 400,000 people to flee to Bangladesh, was best described as "ethnic cleansing". The Myanmar military offensive in the western state of Rakhine was triggered by a series of guerrilla attacks on Aug. 25 on security posts and an army camp in which about a dozen people were killed.
North Korea
North Korea threatens to 'sink' Japan, reduce U.S. to 'ashes and darkness' (Reuters) A North Korean state agency threatened on Thursday to use nuclear weapons to "sink" Japan and reduce the United States to "ashes and darkness" for supporting a U.N. Security Council resolution and sanctions over its latest nuclear test. Pyongyang's Korea Asia-Pacific Peace Committee, which handles the North's external ties and propaganda, also called for the breakup of the Security Council, which it called "a tool of evil" made up of "money-bribed" countries that move at the order of the United States.
Following an intense dry spell from April to June, North Koreans are likely to face food shortages
Rainfall has improved since August, but the change in precipitation comes too late to reverse the worst effects of drought
Chinese food exports to North Korea have soared over the last year, despite UN sanctions
China
How China Should Go Electric (Bloomberg) To gain the full benefits from the switch to electric cars, the country needs to clean up its grid and open its auto market to real competition. Nations that account for almost 80% of the world auto market are now planning or considering plans to end over the next few decades the sale of cars and trucks powered by fossil fuels. Big carmakers, many of whom have responded only tepidly to previous government mandates to develop electric vehicles, should now be more inclined to spend money on designing and producing new models. As costs come down, even American drivers may be tempted to switch their gas guzzlers for plug-ins (assuming they can find somewhere to charge up).
China itself, though, needs to consider a few other issues. First, simply forcing consumers to buy electric won't necessarily eliminate the smog that chokes cities such as Beijing, where auto and truck emissions are responsible for nearly a third of air pollution. More electric vehicles mean more demand for electricity, which in China is still predominantly generated by burning coal. While electric vehicles produce fewer carbon dioxide emissions even when that's taken into account, according to Bloomberg New Energy Finance, it's important that the government expand on its ambitious plans to clean up China's electricity grid.
China August factory output up 6.0%, investment up 7.8%, both miss forecasts (CNBC) China's factory output grew 6.0% in August from a year earlier, while fixed-asset investment expanded 7.8% in the first eight months, both well below economists' forecasts, data showed on Thursday. Analysts polled by Reuters had predicted factory output would grow 6.6% in August, up from 6.4% in the previous month. Fixed-asset investment had been forecast to grow 8.2% over the first eight months of the year, which would have marked a slight moderation from 8.3% in January-July.
>>>>> Scroll down to view and make comments <<<<<<
Click here for Historical News Post Listing
Make a Comment
Econintersect

wants your comments, data and opinion on the articles posted. You can also comment using Facebook directly using he comment block below.
---
Econintersect Contributors
---
---
---
---
---
| | |
| --- | --- |
| Print this page or create a PDF file of this page | |
---
The growing use of ad blocking software is creating a shortfall in covering our fixed expenses. Please consider a donation to Econintersect to allow continuing output of quality and balanced financial and economic news and analysis.
---
---
---
---
---
---
---
---