posted on 13 September 2017
Written by Econintersect
Early Bird Headlines 13 September 2017
Econintersect: Here are some of the headlines we found to help you start your day. For more headlines see our afternoon feature for GEI members, What We Read Today, which has many more headlines and a number of article discussions to keep you abreast of what we have found interesting.
---
Please share this article - Go to very top of page, right hand side for social media buttons.
---
Global
The new dynamics of financial globalization (McKinsey) Cross-border capital flows have fallen 65% since the financial crisis as global banks retrenched, but a more stable form of financial globalization is emerging.
U.S.
The Memo: New chief of staff brings order to White House, but will it last? (The Hill) New White House chief of staff John Kelly is bringing order to what has been a chaotic presidency, according to several sources around President Trump. There are fewer leaks, especially in relation to "palace intrigue" stories of who's up and who's down. Divisive figures have left the building. And Trump's response to recent hurricanes has won widespread praise, even from people who are not natural allies of the president. But that doesn't answer one overarching question - whether Trump himself will buck the restraints that Kelly has imposed. The president's outsize personality is not easily muted.
Behind the scenes, sources laud one quality above all: Kelly's ability to smooth the process of White House decisionmaking.
It is difficult to imagine a more cynical enterprise than the attack on voting rights.
Supreme Court lifts restrictions on Trump travel ban (The Hill) The Supreme Court agreed late Tuesday to lift restrictions on President Trump's travel ban until further notice, allowing the administration to continue barring most refugees under the ban. The court granted the government's request to block a federal appeals court ruling that said the administration cannot ban refugees who have formal assurances from resettlement agencies or are in the U.S. Refugee Admissions Program. Justice Anthony Kennedy issued a temporary stay on Monday pending a response from the state of Hawaii, which was due by noon on Tuesday. Late in the day, the court issued a one-page order blocking the decision indefinitely. It takes a vote of five justices to grant a stay application.
Jamie Dimon just went off on Washington again: 'There's something wrong' (CNBC) JPMorgan Chase CEO Jamie Dimon ripped the current state of the U.S. economy, saying growth is being held back by a lack of action in Washington. He has been outspoken on a number of issues lately, particularly regarding the gridlock in Congress and the need for less regulation and tax reform. He repeated those criticisms and added a few during an appearance Tuesday in New York at the Delivering Alpha conference presented by CNBC and Institutional Investor. Dimon said:
"There's something wrong. All I've ever said is if we did things right, we'd be growing at 3 percent."
UK
Banking sector will be ground zero for job losses from AI and robotics (The Conversation) The finance sector was once driven by human judgement and decision making. But slowly, it has changed. One-to-one conversations with your local bank manager were replaced by scripted call centre interactions during the 1990s. Today, increased processing power, massive cloud storage, strong encryption and an increase in the use of blockchain make possible tasks that had previously been seen as too complex for automation to be done quickly and consistently without any human intervention.
Artificial intelligence reduces the need for human work that requires analysis, consistent applications of decisions and judgement calls. These are pivotal actions for many legal and financial activities. Combined, in the background, with blockchain - essentially a publicly shared automated ledger of agreed contracts - arrangements that require some form of trust between two parties will also be able to be completed with little or no human intervention.
Pakistan
Blasted by U.S. President Donald Trump for undermining the U.S. war against the Taliban in Afghanistan, Pakistan has reacted as defiantly as one would expect. The U.S. should resist the impulse to respond in kind.
India
Consumer price inflation quickened to 3.36 percent in August, the Statistics Ministry said in a statement in New Delhi on Tuesday
That's faster than the 3.24 percent median estimate in a Bloomberg survey of 44 economists and higher than 2.36 percent in July
Food prices rose 1.52 percent compared with a drop of 0.36 percent in the previous month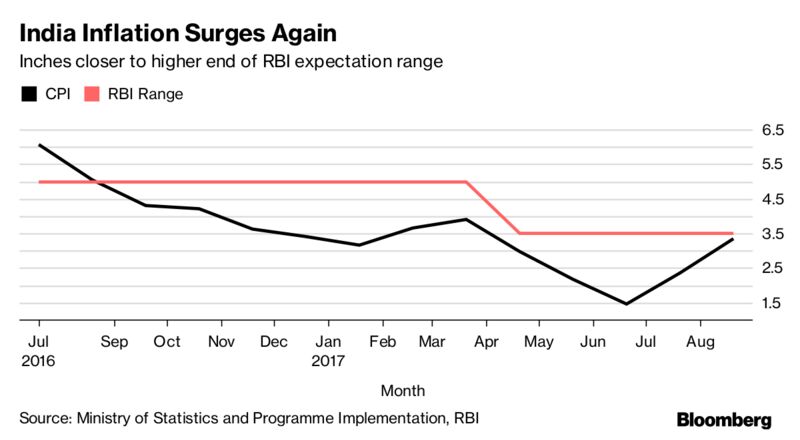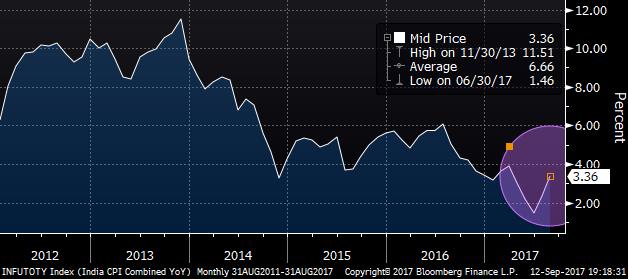 Impact investing finds its place in India (McKinsey) India is fast becoming a test bed for activities known as "impact investing". Between 2010 and 2016, India attracted over 50 active impact investors, who poured in more than $5.2 billion. About $1.1 billion was invested in 2016 alone. This article, based on McKinsey's new report, Impact investing: Purpose-driven finance finds its place in India, looks at recent developments in the country and debunks some myths that have long surrounded these investments.
North Korea
North Korea Vows to Accelerate Push for Nuke That Can Hit U.S. (Bloomberg) North Korea rejected the latest round of United Nations sanctions on the isolated state, and vowed to accelerate its plans to acquire a nuclear weapon that can strike the U.S. homeland. In its first official response to the new resolution, North Korea's foreign ministry released a statement on state-run media saying the sanctions justified its nuclear push and strengthened its will to
"follow this road at a faster pace without the slightest diversion until this fight to the finish is over."
Mexico
Strange 'Earthquake Lights' Accompanied Mexico's 8.2 Magnitude Earthquake (Science Alert) The massive 8.2-magnitude earthquake that rocked Mexico earlier this week was enough of a phenomenon on its own, but the quake also had something of a fascinating side effect: mysterious lights in the sky. Numerous videos have been cropping up on social media showing the flashes brighten the night sky above Mexico City, but the flashes aren't lightning coming from the clouds above, or even lights from planes.
The flashes are instead thought to have been caused by the earthquake itself. More specifically, the lights come from a particular type of rock.

A study published in 2014 revealed these lights can come in many forms, such as bluish flames, orbs of light, or quick flashes that resemble lightning.
>>>>> Scroll down to view and make comments <<<<<<
Click here for Historical News Post Listing
Make a Comment
Econintersect

wants your comments, data and opinion on the articles posted. You can also comment using Facebook directly using he comment block below.
---
Econintersect Contributors
---
---
---
---
---
| | |
| --- | --- |
| Print this page or create a PDF file of this page | |
---
The growing use of ad blocking software is creating a shortfall in covering our fixed expenses. Please consider a donation to Econintersect to allow continuing output of quality and balanced financial and economic news and analysis.
---
---
---
---
---
---
---
---