posted on 07 September 2017
Written by Econintersect
Econintersect: Due to a processing error an incorrectly formatted post was made today of this daily column. It also missed the pick-up for the newsletter where it is normally available exclusively to GEI members. As a result a cirrected column is presented here and the public can read today's column. For those who are not members and would like to read a column like this every day, sign up for a FREE GEI membership (below).
---
Please share this article - Go to very top of page, right hand side, for social media buttons.
---
Econintersect: Every day our editors collect the most interesting things they find from around the internet and present a summary "reading list" which will include very brief summaries (and sometimes longer ones) of why each item has gotten our attention. Suggestions from readers for "reading list" items are gratefully reviewed, although sometimes space limits the number included.
This feature is published every day late afternoon New York time. For early morning review of headlines see "The Early Bird" published every day in the early am at GEI News (membership not required for access to "The Early Bird".).
BECOME A GEI MEMBER - IT's FREE!
Every day most of this column ("What We Read Today") is available only to GEI members.
To become a GEI Member simply subscribe to our FREE daily newsletter.
The rest of this post is available only the GEI Members. Membership is FREE - click here
Topics today include:
Global
U.S.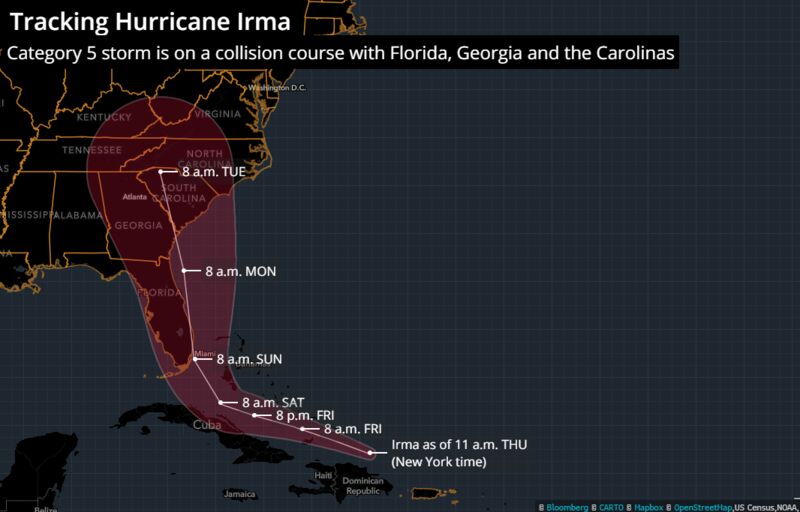 Seventeen Republican senators voted against the deal, including Sens. Lindsey Graham (S.C.), John McCain (Ariz.) and Rand Paul (Ky.). No Democrats voted against the measure.

GOP Sen. Ted Cruz (Texas), whose state was hit hard by Hurricane Harvey, supported the measure but stressed, "I would have much preferred a clean Harvey relief bill."
Some of the other possible contenders include former Fed Governor Kevin Warsh, Columbia University economist Glenn Hubbard and Stanford University professor John Taylor, one of the people familiar said. Lawrence Lindsey, a former economic adviser to President George W. Bush, has been discussed. Former US Bancorp CEO Richard Davis and John Allison, the former CEO of BB&T Corp., have also been considered.

President Donald Trump said in July that both Yellen and Cohn, a former Goldman Sachs Group Inc. president, were being considered for the top Fed job. Since then, Cohn's prospects have grown cloudy after he publicly criticized remarks the president made in the wake of racially charged violence in Charlottesville, Virginia.
"None of the funds made available by this Act to the United States Secret Service may be used to purchase, rent, or otherwise acquire goods or services, including hotel rooms, office space, or golf carts, from entities that are owned or operated by the President or the immediate family of the President."
EU
UK
Spain
A long-running campaign for independence by a group of Catalan politicians, who hold a majority in the regional parliament, came to a head on Wednesday when they approved a law to allow a vote on secession from Spain scheduled for Oct. 1.

The country's Constitutional Court, Spain's highest legal authority on such matters, suspended the referendum law late on Thursday to allow judges time to consider whether the vote breaches the country's constitution.
China
Other Scientific, Health, Political, Economics, and Business Items of Note - plus Miscellanea
Setting aside the political controversy, central bank independence is predicated on an economic axiom: that money and debt (or credit) are strictly separable. Debt - for example, a government or corporate bond that is bought and sold for a price that is a function of inflation and default risk - can be traded domestically. Money, on the other hand, cannot default and is a means, rather than an object, of exchange (the currency market notwithstanding).

But this axiom no longer holds. With the rise of financialization, commercial banks have become increasingly reliant on one another for short-term loans, mostly backed by government bonds, to finance their daily operations. This liquidity acquires familiar properties: used as a means of exchange and as a store of value, it becomes a form of money.

And there's the rub: as banks issue more inter-bank money, the financial system requires more government bonds to back the increase. The growing inter-bank money supply fuels demand for government debt, in a never-ending cycle that generates tides of liquidity over which central banks have little control.

In this brave new financial world, central banks' independence is becoming meaningless, because the money they create represents a shrinking share of the total money supply. With the rise of inter-bank money, backed mostly by government debt, fiscal policy has become an essential factor in determining the quantity of actual money lubricating modern capitalism.

Indeed, the more independent a central bank is, the greater the role of fiscal policy in determining the quantity of money in an economy. For example, in the eurozone, Germany's tight fiscal policy is creating a shortage of bunds (German government bonds), which is limiting both the European Central Bank's capacity to implement its quantitative easing policy and commercial banks' ability to produce more inter-bank money. Money and government debt are now so intertwined that the analytical basis for central bank autonomy has disappeared.
It is, nonetheless, hard to see why this document should have so rudely disturbed Fischer's equipoise. Perhaps he was giving us a glimpse of more fundamental disagreements on financial regulation at the heart of the administration. Or perhaps the Fed itself fears that regulatory rationalization is code for some cutback in its own responsibilities, which have been expanded remarkably since the crisis.
higher out-migration rates, particularly among youth and young adults,
higher quality K-12 education,
improved measures of family stability,
and stronger local labor markets.
Click for larger image.
>>>>> Scroll down to view and make comments <<<<<<
Click here for Historical News Post Listing
Make a Comment
Econintersect

wants your comments, data and opinion on the articles posted. You can also comment using Facebook directly using he comment block below.
---