posted on 07 September 2017
Written by Econintersect
Early Bird Headlines 07 September 2017
Econintersect: Here are some of the headlines we found to help you start your day. For more headlines see our afternoon feature for GEI members, What We Read Today, which has many more headlines and a number of article discussions to keep you abreast of what we have found interesting.
---
Please share this article - Go to very top of page, right hand side for social media buttons.
---
Global
U.S.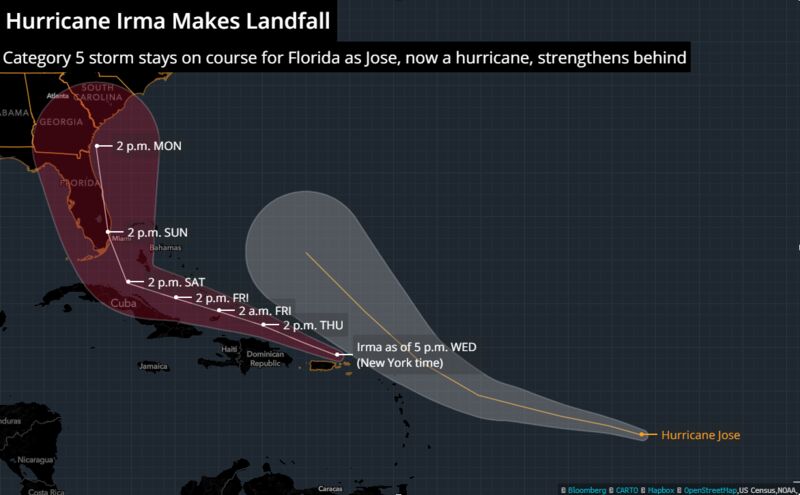 The Memo: Trump pulls off a stone-cold stunner (The Hill) President Trump for once united Washington on Wednesday - in shock. Republicans and Democrats alike were left scratching their heads after the president did a deal with Senate Minority Leader Charles Schumer (D-N.Y.) and House Minority Leader Nancy Pelosi (D-Calif.) over the express wishes of the most senior members of his own party.
Trump signed up to terms proposed by the Democrats on government funding, which would soon have run out, and the nation's debt ceiling, which would soon have been hit.
U.S. Virgin Islands spent money intended to help after hurricanes (Reuters) The U.S. Virgin Islands for years redirected money intended to help pay insurance claims after large disasters for other needs, raising the vulnerability of residents as Hurricane Irma ravishes the territory. During years of yawning budget deficits, the U.S. protectorate tapped the V.I. Insurance Guaranty Fund to pay for other public services, according to government financial records reviewed by Reuters. Since 2007, nearly $200 million was transferred from the fund, including $45 million in fiscal 2011. Insurance guaranty funds, present in every state and some territories, pay outstanding claims to residents and property owners if an insurance company becomes insolvent.
Failing or Doing Fine? How Obamacare's Marketplaces Are Shaping Up for 2018 (Bloomberg) A large number of low population counties in some states will have only one insurance company offering Obamcare plans but all counties will have at least one offering except for Virginia.
Based on the latest data, most of the 12 million people who got health insurance through Obamacare's individual marketplaces will have the same number of companies to choose among next year as they did in 2017.

Most marketplace enrollees had multiple insurance companies to choose among this year, and most will again in 2018. In 2017, 83 percent of enrollees received help paying their premiums.

No insurer has filed to sell marketplace plans in 63 Virginia counties where 70,356 people enrolled in marketplace plans in 2017. Virginia's Bureau of Insurance is working to convince companies to cover those regions.
With Increased Destruction, a New Tornado Alley Emerges (Bloomberg) It's no mystery why the stretch of America's heartland from Iowa to Texas became known as Tornado Alley. Every spring, twisters up to two-and-a-half miles wide - wider than Manhattan - churn across flat fields, open roads and, typically, sparsely populated towns, causing hundreds of millions of dollars of property damage each year. In terms of the number of twisters, Tornado Alley is still dominant. But in recent decades, the bulk of the destruction inflicted by these storms has shifted to the southeast U.S., a swath of states from Louisiana to Georgia meteorologists have dubbed Dixie Alley.
UK
We know that the UK economy has remained in a rut, plagued by foolish austerity and declining real wages, since the great financial crisis. We know too that the Eurozone suffered its own, largely self-imposed, economic stasis or decline - notably from 2010 to 2015, with unemployment over 10% till late last year.

So I thought it could be interesting to look, in a simple way, at the performance of a set of mainly developed economies, in Europe plus a few from other parts of the world, and compare their progress - or lack of it - over the 10 year period 2007 (representing the pre-crash peak for many countries) to 2016. And then see where the UK sits in comparison with others.
France
French Voters May Be Souring on Macron, But He's All They've Got (Bloomberg) Emmanuel Macron's poll numbers have been tumbling all summer. But it may not be enough to throw France's 39-year-old president off track just yet. Macron still has a solid majority in the National Assembly and doesn't even face local elections for several years. Meanwhile, the economy is recovering, the unions are divided and his parliamentary opposition is in tatters.
Macron has already embarked on a wide-ranging plan to revive the economy with a labor-market liberalization due to come into force this month. He's also proposed business-friendly tax cuts, a reform of job-training schemes and support for entrepreneurs in a bid to prove to skeptical Germans that France is a reliable partner for deeper European integration.

By showing France can reform and revive its economy, Macron hopes to bring Germany around to accepting a deepening of the euro zone that could include a common budget and a "finance ministry" under democratic oversight.
Germany
In World's Best-Run Economy, House Prices Keep Falling -- Because That's What House Prices Are Supposed To Do (Forbes) Real Estate improvements are depreciable assets. Then why do many countries have appreciating home values? Because they are allowed to rise. Not so in Gernany. Government regulates home sales prices so they reflect deprecation subtractions and improvement additions. And Germany is one of the most successful economies in the world. Hmmm. German house prices in 2012 represented a 10% decrease in real terms compared to thirty years ago. That is a particularly astounding performance compared to the UK, where real prices rose by more than 230% in the same period.
Turkey
France's Macron urges continued EU ties with Turkey (Reuters) Turkey remains a vital partner of the European Union and ties should be maintained even if the country had taken a worrying turn of late, French President Emmanuel Macron said in an interview published on Thursday. The comments from the French president followed ones on Sunday in which German Chancellor Angela Merkel said talks on Turkish membership of the European Union should be halted.
Ukraine
Putin's Ukraine Peace Offer Is a Trojan Horse (Bloomberg) Vladimir Putin has not suddenly become a man of peace. His recent overture in Ukraine should be seen for what it is -- an effort to further his own interests -- and treated as such. After the Russian president called for bringing United Nations peacekeepers into the Ukraine conflict, Germany's foreign minister said he was "very glad" about the "surprising" development from a Kremlin that had previously shunned calls for an international force. Nobody who knows Putin well should be so gullible.
While the Ukrainian government and its Western supporters have also called for the UN to monitor the civil war in Eastern Ukraine, they have rightly insisted that the peacekeepers monitor the border with Russia, where arms and advisers pour in to aid the separatist rebels aiming to split the nation further apart. Yet Putin wants the international force to patrol only the unofficial dividing line between the breakaway regions and the Ukrainian military. His goal, clearly, is to have the UN forces establish a de facto independent state for the Russia-aligned forces.
China
Mexico
Mexico is tapping Alibaba to help the country boost its trade ties with China
The deal comes as Pena Nieto closes a trip to China on trade and investment, and is part of efforts to open new opportunities for Mexico
President Donald Trump has threatened to kill the $1.2 trillion North American Free Trade Agreement, the foundation of trade for the U.S., Canada and Mexico
>>>>> Scroll down to view and make comments <<<<<<
Click here for Historical News Post Listing
Make a Comment
Econintersect

wants your comments, data and opinion on the articles posted. You can also comment using Facebook directly using he comment block below.
---
Econintersect Contributors
---
---
---
---
---
| | |
| --- | --- |
| Print this page or create a PDF file of this page | |
---
The growing use of ad blocking software is creating a shortfall in covering our fixed expenses. Please consider a donation to Econintersect to allow continuing output of quality and balanced financial and economic news and analysis.
---
---
---
---
---
---
---
---