posted on 02 September 2017
Written by Econintersect
Early Bird Headlines 02 September 2017
Econintersect: Here are some of the headlines we found to help you start your day. For more headlines see our afternoon feature for GEI members, What We Read Today, which has many more headlines and a number of article discussions to keep you abreast of what we have found interesting.
---
Please share this article - Go to very top of page, right hand side for social media buttons.
---
Global
The U.S. Is a Low-Tax Nation (Bloomberg) There's new data out on the taxes that people and corporations in the world's affluent nations paid in 2015. The U.S. total tax burden of 26.4 percent of gross domestic product (that includes state and local taxes) once again lands us pretty far down in the rankings. Of the 35 members of the Organization for Economic Cooperation and Development, the affluent-nations club, only South Korea, Ireland, Chile and Mexico have lower tax burdens.
U.S.
Trump Seeks $7.85 Billion in Harvey Aid, Urges Debt Limit Action (Bloomberg) The Trump administration sent Congress a request Friday for almost $8 billion in initial relief for Hurricane Harvey victims and suggested the assistance be authorized in tandem with a measure to raise the federal debt ceiling, a move that House Republicans are unlikely to embrace. The White House disaster aid request includes $7.4 billion for the Federal Emergency Management Agency and $450 million for the Small Business Administration. The request is intended primarily to cover funding demands through the end of the federal fiscal year on Sept. 30. Later news: A later letter asks for an additional $6.7 billion be made available in a stopgap spending measure that Congress must pass by the end of September to keep the government running. In all, the White House is asking for more than $14 billion as a down payment for recovery efforts in the Gulf. White House asking for more than $14B in Harvey aid (The Hill)
Some GOP lawmakers are battling Trump and their party on DACA (The Hill) See also next article. House Republicans who represent districts with large Hispanic populations are battling President Trump over an Obama-era immigration program that shields certain immigrants from deportation.
The Republicans have sought to convince Trump to keep the program alive, and have also offered legislation that would essentially make into law the protections for young people brought to the United States illegally.

Trump is expected to announce his decision on the Deferred Action for Childhood Arrivals (DACA) program on Tuesday. It grants temporary work permits and protection from deportation to nearly 800,000 immigrants.
Trump said Friday he would announce a decision as early as Friday afternoon or over the weekend whether to deport young people brought to the country illegally as children.
The loss of nearly 800,000 young immigrant workers would wipe out hundreds of billions of dollars from U.S. gross domestic product, according to groups that support the program.
Some Republican lawmakers have urged Trump not to rescind the program, including House Speaker Paul Ryan.
Treasury watchdog reviewing Mnuchin's solar eclipse trip (Reuters) A federal watchdog said on Friday it was reviewing the circumstances surrounding U.S. Treasury Secretary Steven Mnuchin's controversial flight last month to Kentucky, where he spoke to business leaders and viewed the solar eclipse. Rich Delmar, counsel to the Treasury's Office of Inspector General, said in a statement:
"Responding to inquiries received from members of the public, we are reviewing the circumstances of the Secretary's August 21 flight to Louisville and Ft. Knox to determine whether all applicable travel, ethics, and appropriation laws and policies were observed."
Watch dramatic video of a fire blazing at a chemical plant damaged by Harvey in Texas (CNBC) Flames and smoke could be seen coming from the Arkema plant in Crosby, Texas, on Friday evening. That came after a container of organic peroxides exploded and caught fire early Thursday, sending acrid smoke into the air. An executive had said up to eight more containers could burn and explode. Arkema said Harvey's floodwaters engulfed its backup generators and knocked out the refrigeration necessary to keep the compounds from degrading and catching fire.
America's Manufacturers and Builders Are On a Tear (Bloomberg) America's manufacturers are showing signs of fabricating some genuine momentum. Toss in improvement among U.S. builders and miners and the U.S. is undergoing the blue-collar revival that President Donald Trump has been pushing. Manufacturing expanded in August at the fastest pace in more than six years, the Institute for Supply Management said Friday. The increase from the previous month was driven mainly by the group's gauge of factory employment, which reached the highest level since June 2011. Contracting trades have regained half of the million jobs lost after the housing bubble crash.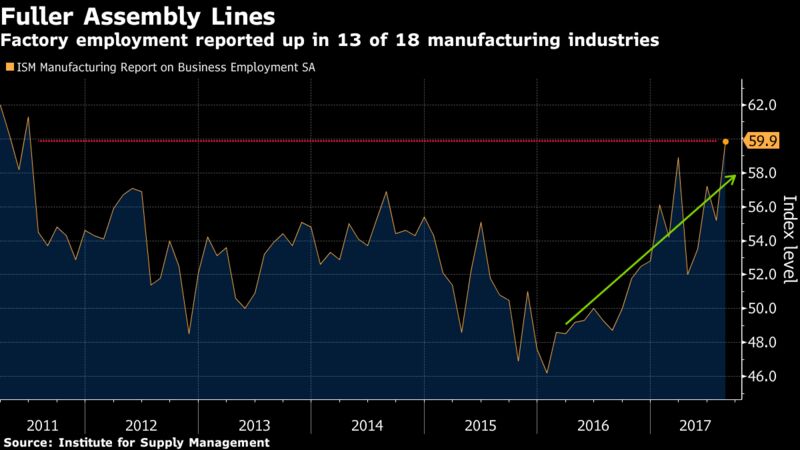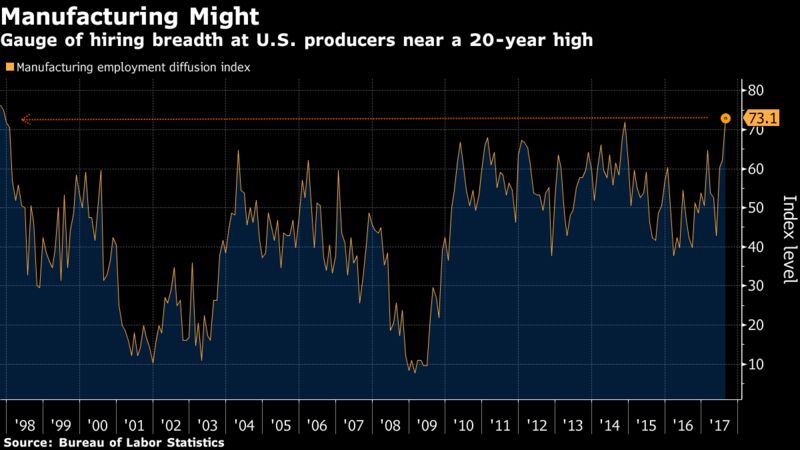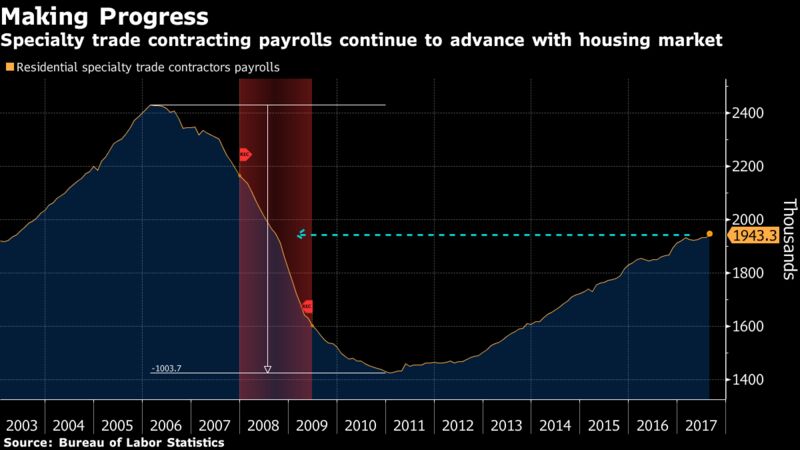 Russia
The oldest needle in the world: 50,000-year-old sewing instrument is discovered in a Siberian Cave (Daily Mail) Hat tip to Sanjeev Kulkarni. Researchers have discovered what could be the world's oldest needle in a Siberian cave, which they claim is 50,000-years-old. The discovery was made in Denisova Cave - a site in the Altai Mountains that has already yielded many other archaeological discoveries. The cave is the one place known where Neanderthals, Denisovans and Homo sapiens have all lived. It is believed to 280,000 years old. The three inch (7.6cm) needle is crafted from ancient bird bone, and is believed to have been made by long extinct species of humans, called Denisovans. It suggests the Denisovans were more sophisticated than first thought.
India
View: Demonetization, Modi's biggest move, is total bust (The Economic Times) Hat tip to Sanjeev Kulkarni. When India's prime minister announced last November that 86 per cent of India's currency would be worthless in hours, he presented the decree as a well-thought-out measure to attack cash "hoarded by anti-national and anti-social elements." We were led to believe that honest taxpayers would line up to return their high-value currency notes, but these "anti-national and anti-social elements" would be unable to do so without raising suspicion.
Well, if that's true, then apparently nobody in India is dishonest -- because, according to the Reserve Bank of India's long-delayed accounting, more than 99 percent of the cash in circulation has been returned. This isn't surprising. Indians are not the idiots their government seemed to imagine. Within days of the "demonetization," a dozen methods to launder piles of cash had been pioneered. Instead of the world's best-planned attack on black money, India's government had launched the world's biggest legal money laundering scheme.

Eight months on, no argument advanced by the government or its backers in favor of demonetization has been validated. Some officials argued that the piles of cash the prime minister spoke of would be "extinguished," representing a transfer from black money hoarders to the Reserve Bank's balance sheet which the government could use, say, to recapitalize India's struggling banks. That hasn't materialized, and in fact the RBI has given far less than usual to the government this year.
Australia
Australian military probes 'rumors' of possible war crimes in Afghanistan (Reuters) Australia's military watchdog has issued a public plea for information regarding rumors of possible war crimes committed by Australian troops in Afghanistan. The Australian Broadcasting Corporation reported in July on an alleged cover-up of the killing of an Afghan boy as well as hundreds of pages of leaked defense force documents relating to the secretive operations of the country's special forces. On Friday, the Inspector-General of the Australian Defence Force released a statement saying it was conducting an inquiry "into rumors of possible breaches of the Laws of Armed Conflict" by Australian troops in Afghanistan between 2005 and 2016.
Brazil
>>>>> Scroll down to view and make comments <<<<<<
Click here for Historical News Post Listing
Make a Comment
Econintersect

wants your comments, data and opinion on the articles posted. You can also comment using Facebook directly using he comment block below.
---
Econintersect Contributors
---
---
---
---
---
| | |
| --- | --- |
| Print this page or create a PDF file of this page | |
---
The growing use of ad blocking software is creating a shortfall in covering our fixed expenses. Please consider a donation to Econintersect to allow continuing output of quality and balanced financial and economic news and analysis.
---
---
---
---
---
---
---
---