posted on 29 August 2017
Written by Econintersect
Early Bird Headlines 29 August 2017
Econintersect: Here are some of the headlines we found to help you start your day. For more headlines see our afternoon feature for GEI members, What We Read Today, which has many more headlines and a number of article discussions to keep you abreast of what we have found interesting.
---
Please share this article - Go to very top of page, right hand side for social media buttons.
---
Global
Asian markets sink after North Korean missile launch as investors turn to safe-haven assets (CNBC Asian shares fell on Tuesday as investors turned to safe-haven assets and U.S. futures opened lower after a North Korean missile launch, although major indexes were off session lows in afternoon trade. The dollar index was mostly flat at 92.229 at 12:22 p.m. HK/SIN. Brent crude futures rose 0.35% to trade at $52.07 a barrel and U.S. futures tacked on 0.47% to trade at $46.79. U.S. crude had settled more than 2% lower overnight on concerns that refinery closures would affect crude demand. Spot gold prices rose to their highest in almost 10 months on safe-haven demand early in the session. The yellow metal fetched as high as $1,322.33 an ounce before paring gains to last trade at $1,315.86, below the $1,317.10 seen on Monday.
U.S.
Harvey Costs Seen at Catastrophic Levels With Many Uninsured (Bloomberg) See also Harvey May Be Among the World's Costliest Recent Catastrophes. Hurricane Harvey's second act across southern Texas is turning into an economic catastrophe -- with damages likely to stretch into tens of billions of dollars and an unusually large share of victims lacking adequate insurance, according to early estimates. Harvey's cost could mount to $30 billion when including the impact of relentless flooding on the labor force, power grid, transportation and other elements that support the region's energy sector, Chuck Watson, a disaster modeler with Enki Research, said in an email Monday. That would place it among the top eight hurricanes to ever strike the U.S. David Havens, an insurance analyst at Imperial Capital, said the final tally might be as high as $100 billion. Less than a third of Harvey's losses are likely to be insured. For great detailed coverage see August 28, 2017 Weather and Climate Report - Warmer Means Wetter and Harvey Continual Update and Damage Assessment.
Trump: Texas will get 'every asset under my command' (The Hill) President Trump vowed Monday that the state of Texas would get "every asset under my command" as the Gulf region deals with catastrophic floods that have displaced tens of thousands of people. At a White House press conference on Monday, Trump sought to reassure those impacted by tropical storm Harvey that his threat to shutdown the government over funding for a border wall would not delay federal assistance for those in need.
Trump Punishes Longtime Aide After Angry Phoenix Speech, Sources Say (Bloomberg) Donald Trump was in a bad mood before he emerged for a confrontational speech in Arizona last week. TV and social media coverage showed that the site of his campaign rally, the Phoenix Convention Center, was less than full. Backstage, waiting in a room with a television monitor, Trump was displeased, one person familiar with the incident said: TV optics and crowd sizes are extremely important to the president. George Gigicos, the former White House director of advance who had organized the event as a contractor to the Republican National Committee, was told that he'd never manage a Trump rally again
Trump: I pardoned Arpaio during hurricane because I thought TV ratings would be higher (The Hill) WTF?
On Views of Race and Inequality, Blacks and Whites Are Worlds Apart (Pew Research Center) A new Pew Research Center survey finds profound differences between black and white adults in their views on racial discrimination, barriers to black progress and the prospects for change.
Russia
As part of the discussions, a Russian-born real estate developer urged Trump to come to Moscow to tout the proposal and suggested that he could get President Vladimir Putin to say "great things" about Trump, according to several people who have been briefed on his correspondence.

The developer, Felix Sater, predicted in a November 2015 email that he and Trump Organization leaders would soon be celebrating - both one of the biggest residential projects in real estate history and Donald Trump's election as president, according to two of the people with knowledge of the exchange.
North Korea
North Korea Fires Missile Over Japan, Renewing Tensions in Asia (Bloomberg) North Korea fired an unidentified ballistic missile over Japan on Tuesday, rattling Asian markets as the U.S. and its allies weighed a response to Kim Jong Un's latest provocation. The missile landed in the Pacific Ocean about 1,200 kilometers (745 miles) east of Japan's northern island of Hokkaido, Chief Cabinet Secretary Yoshihide Suga told reporters. South Korean President Moon Jae-in ordered a show of force in response, with four F-15K jet fighters conducting bomb-dropping drills.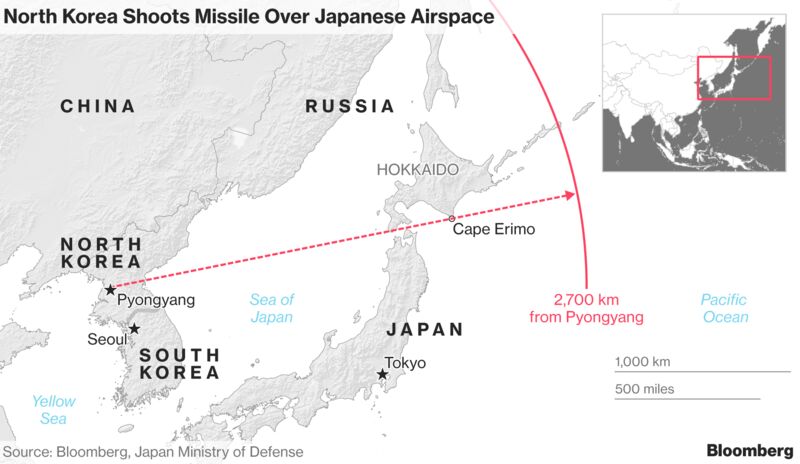 South Korea
South Korean President Moon Jae-in urged defense officials to step up military reform to help counter the nuclear threat from North Korea
North Korea launched several short-range missiles Saturday though the pariah state has said little about the event
U.S. Secretary of State Rex Tillerson said over the weekend that the U.S. would uphold "peaceful pressure" on North Korea
Mexico
He also raised anew his threat to withdraw from Nafta, saying the U.S. will "probably at least have to start the termination process" in order to meet his goals for renegotiating the trade deal. The treaty requires a six-month termination notice before withdrawal, though a country isn't required to follow through on a withdrawal threat at the end of the notice period.

Even as he pressed for congressional approval of funding for the wall on the Mexican border, he promised that U.S. taxpayers' costs would be refunded.
>>>>> Scroll down to view and make comments <<<<<<
Click here for Historical News Post Listing
Make a Comment
Econintersect

wants your comments, data and opinion on the articles posted. You can also comment using Facebook directly using he comment block below.
---
Econintersect Contributors
---
---
---
---
---
| | |
| --- | --- |
| Print this page or create a PDF file of this page | |
---
The growing use of ad blocking software is creating a shortfall in covering our fixed expenses. Please consider a donation to Econintersect to allow continuing output of quality and balanced financial and economic news and analysis.
---
---
---
---
---
---
---
---