posted on 14 August 2017
Written by Econintersect
Early Bird Headlines 14 August 2017
Econintersect: Here are some of the headlines we found to help you start your day. For more headlines see our afternoon feature for GEI members, What We Read Today, which has many more headlines and a number of article discussions to keep you abreast of what we have found interesting.
---
Please share this article - Go to very top of page, right hand side for social media buttons.
---
Global
U.S.
An extraordinary memo by a former national security official contains a list of Donald Trump's perceived enemies within, offering an insight into paranoia gripping the White House.

The author, Rich Higgins, was ousted last month by the national security adviser, HR McMaster. But the president reportedly saw the memo when it was passed to him by his son, Donald Trump Jr, and was said to be "furious" at Higgins's forced departure.
Don't mix things up: Consider trade issues on their own merits
Multilateral rules are fine, but use reciprocity to avoid serious trade injury
Only a strong economy will keep Washington as a global center of gravity
While all eyes were distracted with the Trump-demeaning headlines of the foreign sanctions bill, few spotted the hidden mandate that foreign governments monitor cryptocurrency circulations as a measure to combat "illicit finance trends" in an effort to "combat terrorism."
EU
Finland
Signs of Wage Growth Start to Appear in Euro Zone's North (Bloomberg) If Mario Draghi, the president of the European Central Bank, is looking for signs of wage growth, he might find comfort in Finland. After delivering the euro zone's fastest pace of economic growth in the first quarter, Finnish workers have had enough belt-tightening and are now demanding pay rises they say are only fair given the rebound in exports.
Finns have put in longer hours and given up bank holidays in response to government demands. Their efforts helped drag the Nordic region's only euro member out of a three-year recession. Now, a sense of entitlement is spreading, setting the stage for what are likely to be the toughest wage negotiations the country has seen in years.
Germany
India
Calling the Chinese Bully's Bluff (Project Syndicate) The more power China has accumulated, the more it has attempted to achieve its foreign-policy objectives with bluff, bluster, and bullying. But, as its Himalayan border standoff with India's military continues, the limits of this approach are becoming increasingly apparent.
The current standoff began in mid-June, when Bhutan, a close ally of India, discovered the People's Liberation Army trying to extend a road through Doklam, a high-altitude plateau in the Himalayas that belongs to Bhutan, but is claimed by China. India, which guarantees tiny Bhutan's security, quickly sent troops and equipment to halt the construction, asserting that the road - which would overlook the point where Tibet, Bhutan, and the Indian state of Sikkim meet - threatened its own security.

Since then, China's leaders have been warning India almost daily to back down or face military reprisals. China's defense ministry has threatened to teach India a "bitter lesson," vowing that any conflict would inflict "greater losses" than the Sino-Indian War of 1962, when China invaded India during a Himalayan border dispute and inflicted major damage within a few weeks. Likewise, China's foreign ministry has unleashed a torrent of vitriol intended to intimidate India into submission.

Despite all of this, India's government, led by Prime Minister Narendra Modi, has kept its cool, refusing to respond to any Chinese threat, much less withdraw its forces. As China's warmongering has continued, its true colors have become increasingly vivid. It is now clear that China is attempting to use psychological warfare ("psywar") to advance its strategic objectives - to "win without fighting," as the ancient Chinese military theorist Sun Tzu recommended.
Japan
Japan beats forecasts with 4% annualised GDP growth (Financial Times) A surging stock market and a renewed "wealth effect" helped push the Japanese economy to its sixth consecutive quarter of growth - the longest unbroken streak in more than a decade and a possible lifeline for the foundering "Abenomics" revival program. According to a preliminary estimate from the cabinet office, Japan's gross domestic product grew an annualised 4% - higher than the market's 2.5% median expectations and a strong improvement on the revised 1.5% annualised figure for the quarter to March. Propelled by a combination of consumer and capital spending, quarter-on-quarter GDP rose 1 per cent in the second quarter, up from a revised 0.4% rise in the previous quarter and well ahead of economists' median forecast of 0.6%.
China
There is a wrong way and a right way to do this, and Trump plans on doing it the wrong way - by dredging up an outdated trade measure from 1974.

It is a measure that will anger China's leadership at a delicate time, a time when the US is trying to cool tensions with North Korea. China is the isolated nation's most powerful ally and economic benefactor.
China's Economic Growth Dials Back (Bloomberg) China's economy showed further signs of entering a second-half slowdown, as curbs on property, excess borrowing and industrial overcapacity began to bite.
Industrial output rose 6.4 percent from a year earlier in July, versus a median projection of 7.1 percent and June's 7.6 percent
Retail sales expanded 10.4 percent from a year earlier, compared with a projection of 10.8 percent and 11 percent in June
Fixed-asset investment in urban areas rose 8.3 percent from a year earlier in the first seven months, versus a forecast 8.6 percent rise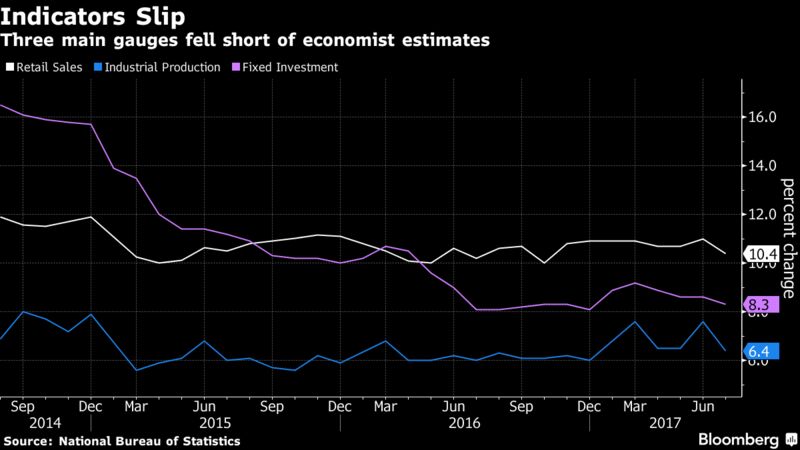 >>>>> Scroll down to view and make comments <<<<<<
Click here for Historical News Post Listing
Make a Comment
Econintersect

wants your comments, data and opinion on the articles posted. You can also comment using Facebook directly using he comment block below.
---
Econintersect Contributors
---
---
---
---
---
| | |
| --- | --- |
| Print this page or create a PDF file of this page | |
---
The growing use of ad blocking software is creating a shortfall in covering our fixed expenses. Please consider a donation to Econintersect to allow continuing output of quality and balanced financial and economic news and analysis.
---
---
---
---
---
---
---
---