posted on 07 August 2017
Written by Econintersect
Early Bird Headlines 07 August 2017
Econintersect: Here are some of the headlines we found to help you start your day. For more headlines see our afternoon feature for GEI members, What We Read Today, which has many more headlines and a number of article discussions to keep you abreast of what we have found interesting.
---
Please share this article - Go to very top of page, right hand side for social media buttons.
---
Special notice: Because of staff travel this week there will be no 'Early Bird Headlines' or 'What We Read Today' columns Tuesday 08 August and Wednesday 09 August.
---
Global
Turkey, Pakistan, Lebanon Host the Highest Number of Refugees (Bloomberg) The global refugee population continues to climb. In 2016 there were 17.2 million refugees, an increase of 7% over 2015, according to UNHCR, the UN agency for refugees. For the third straight year, Turkey hosted the most refugees, at 2.9 million, followed by Pakistan, with 1.4 million, and Lebanon with 1 million people. Turkey and Germany are the only Group of 20 nations among the top 10 host countries. More than half of the world's refugees originated from Syria, Afghanistan and South Sudan.
Bitcoin Soars to Record as Buyers Look Beyond Miners' Split (Bloomberg) Bitcoin extended gains to a record, ignoring a split in the cryptocurrency over its future. The digital exchange rate jumped as much as 16% from Friday to an unprecedented $3,292.41, even after bitcoin's division last week. The debate has revolved around how to upgrade its underlying technology, with a group of developers backing a solution called SegWit2x against miners -- some of whom have created an offshoot called Bitcoin Cash -- who want to increase the size of data blocks more drastically.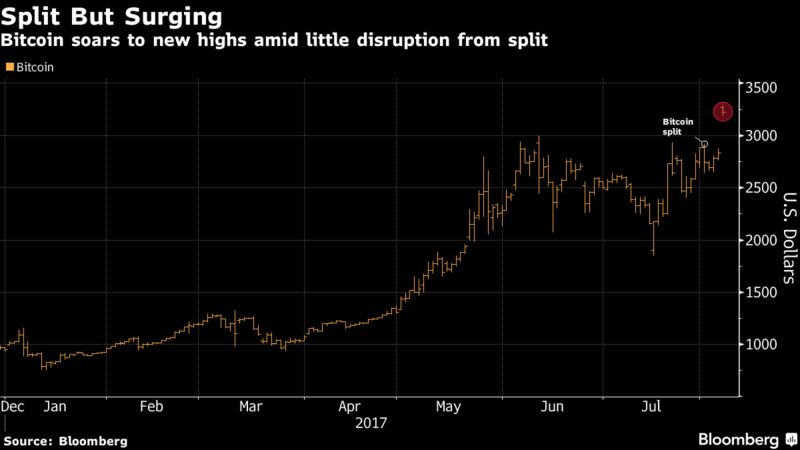 U.S.
Toxic waste from U.S. pot farms alarms experts (Reuters) Pollution from illegal marijuana farms deep in California's national forests is far worse than previously thought, and has turned thousands of acres into waste dumps so toxic that simply touching plants has landed law enforcement officers in the hospital. The volume of banned or restricted pesticides and illegally applied fertilizers in the woods dwarfs estimates by the U.S. Forest Service in 2014, when a top enforcement official testified that the pollution was threatening forest land in California and other states.
Cotton on Senate bills to protect Mueller: "I don't see them going very far" (CBS News) Sen. Tom Cotton, R-Arkansas, said Sunday he does not see two bills that seek to stop President Trump from firing special counsel Robert Mueller "going very far." Cotton's comments come amid a clear sign that Mueller's investigation into Russian interference in the 2016 election is ramping up: Mueller is using a grand jury in Washington, D.C., as part of the probe.
Chicago to sue Trump administration over sanctuary city funding threat (Reuters) Chicago will sue the Trump administration on Monday over threats to withhold public safety grant money from so-called sanctuary cities, escalating a pushback against a federal immigration crackdown, Mayor Rahm Emanuel announced on Sunday.
The federal lawsuit comes less than two weeks after Attorney General Jeff Sessions announced the U.S. Justice Department would bar cities from a certain grant program unless they allow immigration authorities unlimited access to local jails and provide 48 hours' notice before releasing anyone wanted for immigration violations.
Bankers' pay closely tied to deregulation (Financial Times) Thomas Philippon and Ariell Reshef have shown how closely linked pay has been to deregulation of the sector. The chart shows wages in the finance industry relative to the rest of the U.S. economy, plotted against the two academics' own "deregulation index", which is based on legislative activity related to finance.
Germany
German industrial output drops unexpectedly in June (Kitco) German industrial production unexpectedly fell for the first time this year in June, data showed on Monday, but production in Europe's largest economy climbed by 1.8% in the second quarter overall. Industrial output declined by 1.1% on the month in June after rising by 1.% in May, data from the Economy Ministry showed. That confounded expectations in a Reuters poll for a 0.2% gain.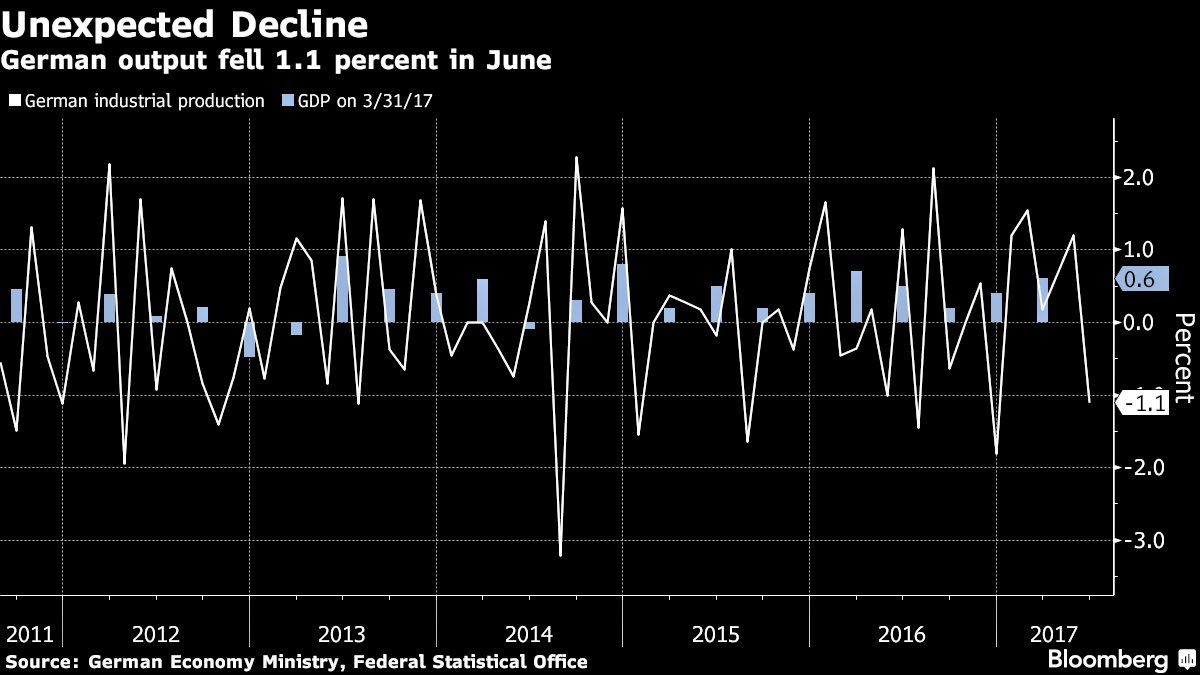 Norway
Big Oil's Dream of $65 Billion Hidden Off Norway Is Fading Away (Bloomberg) Norway's oil industry has been salivating for years over the Arctic Lofoten islands, which could hold billions of barrels of crude. It will likely have to keep dreaming. The general election next month is unlikely to lift a deadlock that's keeping a ban on drilling off the environmentally sensitive archipelago as more and more Norwegians are turning their backs on the industry that helped make the country one of the world's richest.
Backed by unions and business, Norway's two biggest parties, Labor and the Conservatives, have long favored steps that could open up the area for exploration. But so far they have had to compromise with smaller parties that are determined to keep Lofoten oil-free.

That's because the area is a natural wonder. The waters off the rugged archipelago are home to the world's biggest cold-water coral reef and a breeding area for 70 percent of all fish caught in the Norwegian and Barents seas, according to WWF. The islands also host mainland Europe's biggest seabird colony. Opponents of oil exploration argue a spill could cause catastrophic harm and that Norway will run afoul of the Paris climate agreement if it expands exploration more.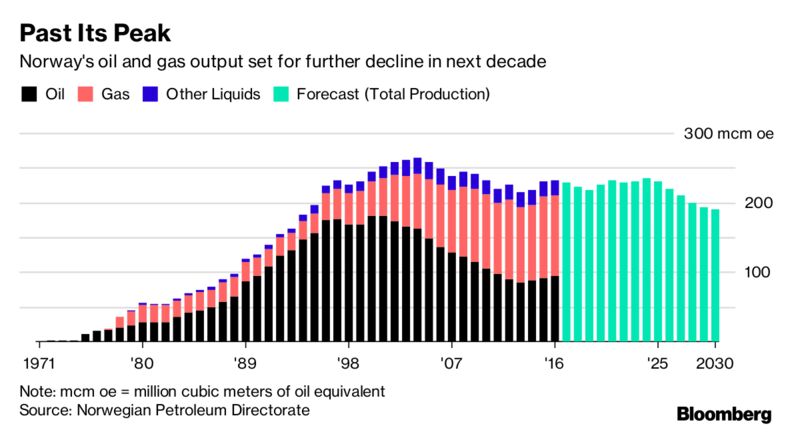 Russia
Tillerson says U.S., Russia can settle problems, ease tension (Reuters) U.S. Secretary of State Rex Tillerson said on Monday he believes Washington and Russia can find a way to ease tension, saying it wouldn't be useful to cut ties over the single issue of suspected Russian meddling in the U.S. election. Tillerson said Russia had also expressed some willingness to resume talks about the crisis in Ukraine, where a 2015 ceasefire between Kiev's forces and Russian-backed separatists in the eastern part of the country is regularly violated.
North Korea
North Korea denounced the United Nations' latest sanctions imposed on the isolated state
The government statement reiterated Pyongyang's previous stance that it will never place its nuclear program on the negotiating table
China media stress limits to North Korea sanctions, slam U.S. 'arrogance' (Reuters​) Chinese state media on Monday stressed the limits of new United Nations sanctions on North Korea, and also slammed the United States for its "arrogance", saying Washington needed to understand it also has a role in lessening tensions. The United Nations Security Council unanimously imposed new sanctions on North Korea on Saturday that could slash its $3 billion annual export revenue by a third.
The U.S.-drafted resolution bans North Korean exports of coal, iron, iron ore, lead, lead ore and seafood following Pyongyang's two intercontinental ballistic missile tests in July. It also prohibits countries from increasing the current numbers of North Korean laborers working abroad, bans new joint ventures with North Korea and any new investment in current joint ventures.
South Korea
China
Beating China's Fake-Food Scourge (Bloomberg) Tracking and detecting food fraud in China is becoming a big business. Blockchain technology may soon get involved in authenticating good food.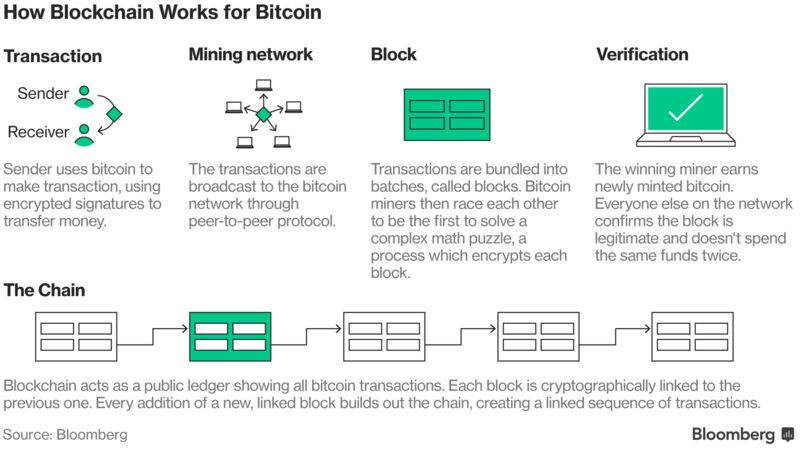 >>>>> Scroll down to view and make comments <<<<<<
Click here for Historical News Post Listing
Make a Comment
Econintersect

wants your comments, data and opinion on the articles posted. You can also comment using Facebook directly using he comment block below.
---
Econintersect Contributors
---
---
---
---
---
| | |
| --- | --- |
| Print this page or create a PDF file of this page | |
---
The growing use of ad blocking software is creating a shortfall in covering our fixed expenses. Please consider a donation to Econintersect to allow continuing output of quality and balanced financial and economic news and analysis.
---
---
---
---
---
---
---
---