posted on 04 August 2017
Written by Econintersect
Early Bird Headlines 04 August 2017
Econintersect: Here are some of the headlines we found to help you start your day. For more headlines see our afternoon feature for GEI members, What We Read Today, which has many more headlines and a number of article discussions to keep you abreast of what we have found interesting.
---
Please share this article - Go to very top of page, right hand side for social media buttons.
---
Global
U.S. Image Suffers as Publics Around World Question Trump's Leadership (Pew Research Center) Although he has only been in office a few months, Donald Trump's presidency has had a major impact on how the world sees the United States. Trump and many of his key policies are broadly unpopular around the globe, and ratings for the U.S. have declined steeply in many nations. According to a new Pew Research Center survey spanning 37 nations, a median of just 22% has confidence in Trump to do the right thing when it comes to international affairs.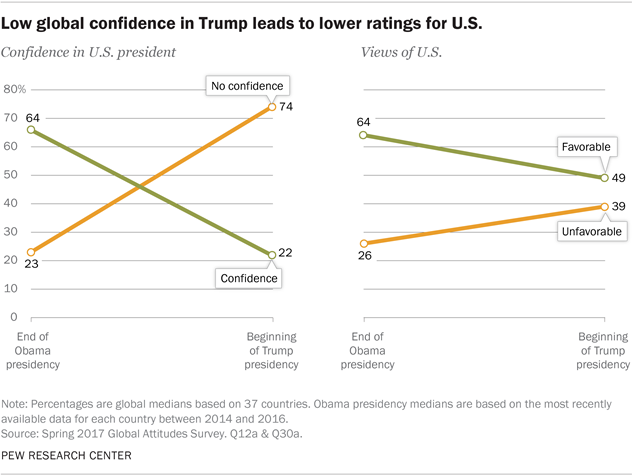 U.S.
McMaster thinks Susan Rice did nothing wrong: report (The Hill) National security adviser H.R. McMaster has reportedly determined that Susan Rice, who served in his role during the Obama administration, did not do anything wrong amid accusations of "unmasking" the identities of Trump associates. Republican lawmakers are trying to conclude whether or not Rice "unmasked" the identities of Trump transition team members that were redacted in intelligence reports. Bloomberg on Thursday cited two intelligence officials saying that McMaster had found no evidence of wrong-doing.
Kelly gives McMaster cover in West Wing battles (Politico) Trump's national security adviser McMaster has emerged as one of the most volatile personalities in White House.
Kelly told McMaster this week that he wanted him to remain as national security adviser, said two senior White House aides, and has encouraged him to make any staffing changes he deems necessary. McMaster took that as a green light this week to oust top intelligence aide Ezra Cohen-Watnick - a Michael Flynn hire who has a warm relationship with Jared Kushner, President Donald Trump's senior adviser and son-in-law - after months of trying.
Senate blocks Trump from making recess appointments over break (The Hill) The Senate blocked President Trump from being able to make recess appointments on Thursday as lawmakers leave Washington for their summer break by making sure the enate remains "in session" during their absence. Sen. Lisa Murkowski (R-Alaska), doing wrap up for the entire Senate, locked in nine "pro-forma" sessions - brief meetings that normally last roughly a minute. The move, which requires the agreement of every senator, means the Senate will be in session every three business days throughout the August recess.
Trump's Immigration Dead End (Bloomberg) The editorial board says that the new plan doesn't really reward skills. It just sabotages the economy.
With typical hyperbole, Trump said the new system "will reduce poverty, increase wages and save taxpayers billions and billions of dollars." How exactly this would happen is something of a mystery. Perhaps he's referring to the possibility that the most unskilled native workers might command modestly higher wages.
GOP states move to cut Medicaid (The Hill) Republican governors are working with the Trump administration to do something Congress couldn't accomplish: fundamentally alter their state Medicaid programs. At least six states with GOP governors - Arkansas, Kentucky, Arizona, Maine, Wisconsin and Indiana - have already drafted plans meant to introduce new rules people would have to meet to be eligible for Medicaid, which provides healthcare to low-income Americans and those with certain disabilities.
Some want to add work requirements or introduce drug testing for recipients. Others want to raise premium prices.

The Trump administration has to approve the plans. Some approvals could come in weeks.

Critics say the proposed changes will leave fewer people on Medicaid and hurt the poor and vulnerable.
Pope Francis's Associates Condemn American Religious Right (Common Dreams) An article in a Vatican-approved journal singles out Steve Bannon as "a supporter of apocalyptic geopolitics". The article written by two associates of Pope Francis in the Catholic journal La Civiltà Cattolica illustrates vast disagreements between the Pope and conservative American Catholics - a rift which has been growing since Pope Francis was elected in 2013.
EU
Call for 'military Schengen' to get troops moving (Politico) Push to ease movement of military personnel and equipment across EU and NATO borders is supported by the Netherlands and top US Army general in Europe. European leaders have made a priority of greater military cooperation, yet the ability of NATO forces to operate in Europe is still hindered by border restrictions and mismatched infrastructure, according to uniformed commanders and EU defense ministers.
Italy
Italy sees unexpected reduction in Mediterranean migration flows (Politico) The number of migrants crossing the Mediterranean to reach Italian shores dropped significantly in July, according to new figures. Data from the Italian interior ministry shows that about 11,100 migrants made the dangerous crossing in July compared to more than double that amount in the same month in 2016 (just over 23,500).
United Arab Emirates
Flames Engulf 86-Story Residential Skyscraper in Dubai (Bloomberg) A fire broke out after midnight in one of the world's tallest residential towers in Dubai, engulfing part of the skyscraper and sending chunks of debris plummeting below. More than 40 floors of the 86-story Torch Tower were burning on one side of the building, an Associated Press journalist near the scene of the blaze said. Building residents could be seen on the street outside crying with several saying the fire broke out just after 1 a.m. Friday local time.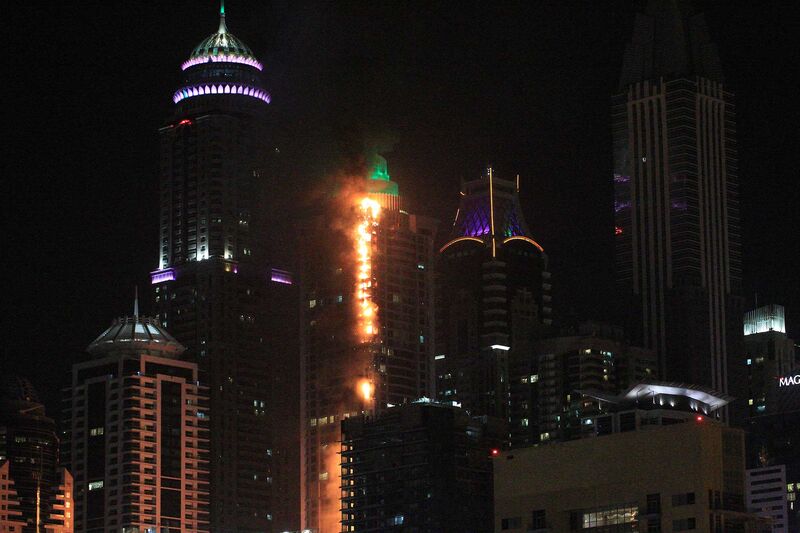 China
The Hollywood blackout is implemented during limited periods of the year in China to turn the spotlight on domestically-produced films
This year's annual summer blackout coincided with the commemoration of the founding of the People's Liberation Army on August 1
>>>>> Scroll down to view and make comments <<<<<<
Click here for Historical News Post Listing
Make a Comment
Econintersect

wants your comments, data and opinion on the articles posted. You can also comment using Facebook directly using he comment block below.
---
Econintersect Contributors
---
---
---
---
---
| | |
| --- | --- |
| Print this page or create a PDF file of this page | |
---
The growing use of ad blocking software is creating a shortfall in covering our fixed expenses. Please consider a donation to Econintersect to allow continuing output of quality and balanced financial and economic news and analysis.
---
---
---
---
---
---
---
---