posted on 02 August 2017
Written by Econintersect
Early Bird Headlines 02 August 2017
Econintersect: Here are some of the headlines we found to help you start your day. For more headlines see our afternoon feature for GEI members, What We Read Today, which has many more headlines and a number of article discussions to keep you abreast of what we have found interesting.
---
Please share this article - Go to very top of page, right hand side for social media buttons.
---
Global
U.S.
The U.S. Court of Appeals for the District of Columbia ruled Tuesday that attorneys general from 17 states and the District of Columbia may pursue the Trump administration's stalled appeal of a lawsuit alleging the federal government has been making these payments illegally.

The court agreed with the state officials that there's reason to believe the Trump administration isn't adequately acting on behalf of states. The Trump administration and House Republicans opposed the states' effort.
The crackdown is rippling across the world, and will likely spur an 84 percent slump in Chinese overseas property investment this year, and a further 18 percent drop in 2018, according to a report from Morgan Stanley. The most vulnerable real-estate markets are those in the U.S., U.K., Hong Kong and Australia, with office properties the most exposed, analysts including economist Robin Xing wrote.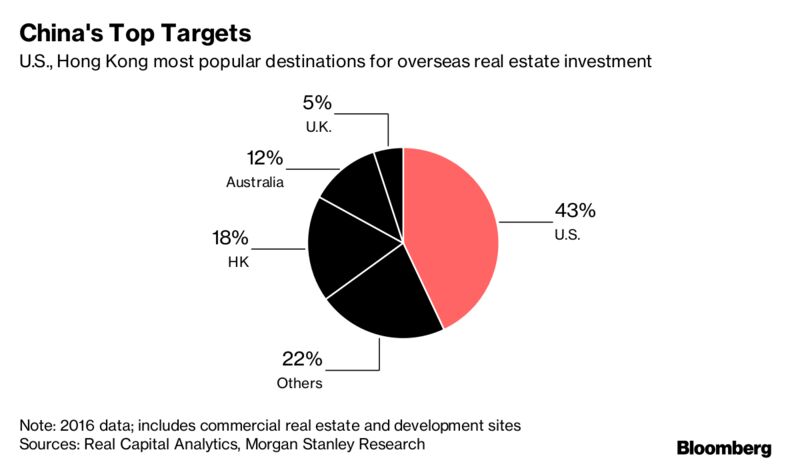 Earlier this year, President Donald Trump was shown a disturbing video of Syrian rebels beheading a child near the city of Aleppo. It had caused a minor stir in the press as the fighters belonged to the Nour al-Din al-Zenki Movement, a group that had been supported by the CIA as part of its rebel aid program.

The footage is haunting. Five bearded men smirk as they surround a boy in the back of a pickup truck. One of them holds the boy's head with a tight grip on his hair while another mockingly slaps his face. Then, one of them uses a knife to saw the child's head off and holds it up in the air like a trophy. It is a scene reminiscent of the Islamic State's snuff videos, except this wasn't the work of Abu Bakr al-Baghdadi's men. The murderers were supposed to be the good guys: our allies.
Trump Reportedly Calls White House 'A Real Dump' (The Huffington Post) The White House, the storied, 55,000-square-foot mansion that's housed America's first families for centuries, is apparently not up to snuff for President Donald Trump. Trump reportedly told members of his Trump National Golf Course in Bedminster, New Jersey:
"That White House is a real dump."
Consumer loan charge-offs (The Daily Shot) Consumer loan charge-offs have been on the rise recently despite a strong labor market.
Russia
Here's What Happened Last Time Moscow Kicked Out Hundreds Of U.S. Diplomatic Staff (The Huffington Post) After several rounds of expulsions in 1986, the Soviet Union banned approximately 200 locally hired Soviet nationals from working for the U.S. diplomatic mission. The move was meant to "bring the [U.S.] embassy to its knees," said Steven Pifer, a retired foreign service officer who worked at the embassy in Moscow at the time. Local hires handled mundane tasks like cleaning toilets and picking up milk shipments. Because they were familiar with the language, culture and Soviet bureaucracy, they also tended to act as fixers for American diplomats.
Determined not to let the Soviet Union shutter their operations, American diplomats created a rotating schedule in which they periodically set aside their regular duties to do the work previously done by the local hires. "Every two weeks instead of writing cables, I came to work dressed in dungarees," recalled retired diplomat John Herbst, who was also employed at the Moscow embassy. Pifer and Herbst remembered driving to the border to pick up shipments, unloading trucks and cleaning bathrooms. Even the spouses of embassy staffers pitched in.
China
The Trump administration is preparing a broad move against China over trade, according to people with knowledge of its plans
The move signals a shift by the administration away from its emphasis on greater cooperation between Washington and Beijing
Administration officials have become frustrated by China's reluctance to confront North Korea over its weapons programs
Shadow Banking Growth Rate Slows (The Daily Shot) This chart shows the growth of shadow banking assets in China. There are indications that the PBoC's tightening has moderated this expansion in recent months - see first graph below. About 43% of shadpw banking value is in investment vehicles - see second graph below.
Australia
Home ownership falling, debts rising - it's looking grim for the under 40s (The Conversation) Home ownership among young people is declining, as mortgage debt almost doubles for the same age group, results from the Household Income and Labour Dynamics in Australia (HILDA) survey show. It also shows young people are living with their parents longer. The survey shows the rate of home ownership among 18 to 39 year olds declined from 36% in 2002 to 25% in 2014. In the same age group, the decline in home ownership has been largest for families with dependent children, falling from 56% to 39%.
>>>>> Scroll down to view and make comments <<<<<<
Click here for Historical News Post Listing
Make a Comment
Econintersect

wants your comments, data and opinion on the articles posted. You can also comment using Facebook directly using he comment block below.
---
Econintersect Contributors
---
---
---
---
---
| | |
| --- | --- |
| Print this page or create a PDF file of this page | |
---
The growing use of ad blocking software is creating a shortfall in covering our fixed expenses. Please consider a donation to Econintersect to allow continuing output of quality and balanced financial and economic news and analysis.
---
---
---
---
---
---
---
---