posted on 31 July 2017
Written by Econintersect
Early Bird Headlines 31 July 2017
Econintersect: Here are some of the headlines we found to help you start your day. For more headlines see our afternoon feature for GEI members, What We Read Today, which has many more headlines and a number of article discussions to keep you abreast of what we have found interesting.
---
Please share this article - Go to very top of page, right hand side for social media buttons.
---
Global
Short positions tumbled for a fourth week, CFTC data show

Net-long position on WTI most bullish in three months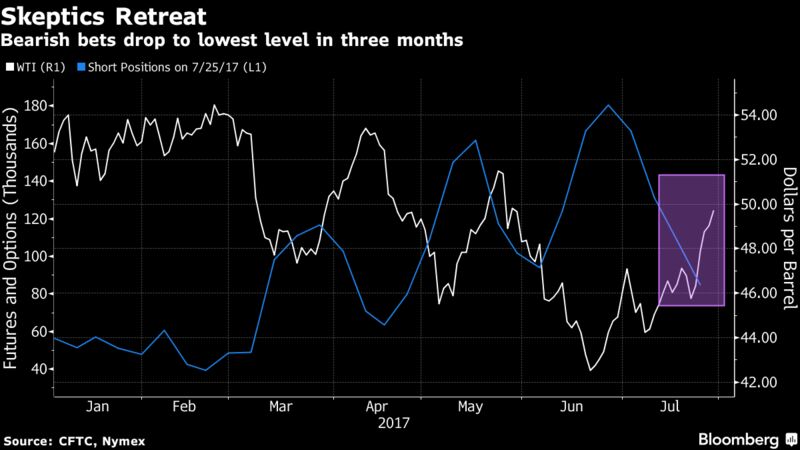 U.S.
Trump's Base Sticks, Except in the South (NBC News) This week a new set of state polls from Gallup showed President Donald Trump's job approval numbers are very uneven and hold some deep challenges, but a deeper look at the numbers reveals clues about potential shifts in the electorate. On the most basic level the Gallup data, based on daily tracking polls from Jan. 20 through June 30, show Trump's job approval is "underwater" (with higher "disapprove" than "approve" numbers) in 31 of the 50 states. His approval number is only 50% or higher in 17 states.
Rock-Solid Trump Country - There are three states in the Gallup polling that stand apart from the rest for their Trump support, North Dakota, West Virginia and Wyoming. In each state, the president's job approval is 20 points or more above his job disapproval.
The Flips That May Be Holding - Trump won in November by carrying reliably Republican states and then flipping others that had voted for Barack Obama twice, including Ohio and Iowa. Those two states still look pretty good for Trump in the Gallup data. He's underwater in them, but not by a lot and his job approval rating is 45 percent or more. Furthermore, Trump's stronger approval number is coming in tandem with a disapproval number that is under 50 percent.
The Solids That Look Weaker - The Gallup numbers include a big warning sign for Trump in states that have long been among the reddest parts of the Republican coalition, Texas, Arizona and Georgia. Republican presidential candidates have won all those states in every election since 2000. In each one Trump is at least 7 points underwater and his job disapproval number is at 50 percent or more.
The Blue Wall Reassembling? - Trump ultimately won the presidency with narrow victories in three states: Pennsylvania, Michigan and Wisconsin. Democrats thought of the states as a great "blue wall" around the Great Lakes, but Trump smashed through and won where no Republican had won since 1988. Now, however, the Gallup data suggest some of the bricks may be falling back into place here. Trump is underwater by 9 or more points in the three states and is at 52 percent job disapproval in all of them.
This Ohio factory owner says she has jobs but few sober applicants (CNN) An Ohio factory owner said Saturday that though she has blue-collar jobs available at her company, she struggles to fill positions because so many candidates fail drug tests. Regina Mitchell, a co-owner of Warren Fabricating & Machining in Hubbard, Ohio, told The New York Times this week that four out of 10 applicants otherwise qualified to be welders, machinists and crane operators will fail a routine drug test. In an interview Saturday with CNN's Michael Smerconish, Mitchell said that her requirements for prospective workers were simple. She said:
"I need employees who are engaged in their work while here, of sound mind and doing the best possible job that they can, keeping their fellow co-workers safe at all times. We have a 150-ton crane in our machine shop. And we're moving 300,000 pounds of steel around in that building on a regular basis. So I cannot take the chance to have anyone impaired running that crane, or working 40 feet in the air."
EU
The EU needs arrangements to help relocate refugees rapidly - and the UNHCR should be helping. But transferring billions of dollars to unaccountable transit countries is not a viable option. Crucially, any new measures must prevent the "extensive and avoidable suffering" currently caused by Australia's asylum policies.
UK
Brexit: UK will not cut taxes, says Philip Hammond (BBC News) The UK will not cut taxes and regulations after Brexit to try to undercut European rivals, Chancellor Philip Hammond has suggested. He told French newspaper Le Monde that the tax raised as a percentage of the British economy "puts us right in the middle" of the European pack.
Russia
Putin's Bet on a Trump Presidency Backfires Spectacularly (The New York Times) A little more than a year after the Russian effort to interfere in the American presidential election came to light, the diplomatic fallout - an unraveling of the relationship between Moscow and Washington on a scale not seen in decades - is taking its toll.
President Vladimir V. Putin bet that Donald J. Trump, who had spoken fondly of Russia and its authoritarian leader for years, would treat his nation as Mr. Putin has longed to have it treated by the West. That is, as the superpower it once was, or at least a major force to be reckoned with, from Syria to Europe, and boasting a military revived after two decades of neglect.

That bet has now backfired, spectacularly. If the sanctions overwhelmingly passed by Congress last week sent any message to Moscow, it was that Mr. Trump's hands are now tied in dealing with Moscow, probably for years to come.
India
India heroin bust: Coastguard seizes 1,500kg of drugs (BBC News) Indian authorities have seized a massive 1,500kg (3,300lb) haul of heroin from a ship off the coast of the western state of Gujarat. The narcotics were found on a merchant vessel, and were worth almost $550 million (£420 million), a statement from the coastguard said. Navy spokesman D K Sharma described it as "the largest single haul of narcotics to date".
South Korea
US bombers fly over Korean peninsula in show of force as Trump tweets China does 'NOTHING for us with North Korea' (Business Insider) The United States flew two supersonic B-1B bombers over the Korean peninsula in a show of force on Sunday after Pyongyang's recent tests of intercontinental ballistic missiles (ICBM), the U.S. and South Korean Air Forces said. North Korea said it conducted another successful test of an intercontinental ballistic missile (ICBM) on Friday that proved its ability to strike America's mainland, drawing a sharp warning from U.S. President Donald Trump.
China
Venezuela
Venezuela claims 41.5% turnout in violent constituent assembly vote (BBC News) Electoral officials in Venezuela say turnout in the controversial election for a constituent assembly was 41.5%, a figure disputed by the opposition. The opposition coalition said 88% of voters abstained and it refused to recognise the election. The opposition also called for more protests on Monday. Sunday's election was marred by violence, with widespread protests and at least 10 people killed. President Nicolfls Maduro hailed the election. He called it the "biggest ever vote for the revolution".
Mexico
178 migrants found abandoned in trailer in Mexico (CNN) Mexican authorities rescued 178 Central American migrants found abandoned in a trailer in Veracruz state, the country's National Institute for Migration said. Those rescued Saturday included women and children, and are being housed in the nearby town of Tantima, about 400 miles away from the US-Mexico border. Their health conditions were not immediately known.
>>>>> Scroll down to view and make comments <<<<<<
Click here for Historical News Post Listing
Make a Comment
Econintersect

wants your comments, data and opinion on the articles posted. You can also comment using Facebook directly using he comment block below.
---
Econintersect Contributors
---
---
---
---
---
| | |
| --- | --- |
| Print this page or create a PDF file of this page | |
---
The growing use of ad blocking software is creating a shortfall in covering our fixed expenses. Please consider a donation to Econintersect to allow continuing output of quality and balanced financial and economic news and analysis.
---
---
---
---
---
---
---
---