posted on 28 July 2017
Written by Econintersect
Early Bird Headlines 28 July 2017
Econintersect: Here are some of the headlines we found to help you start your day. For more headlines see our afternoon feature for GEI members, What We Read Today, which has many more headlines and a number of article discussions to keep you abreast of what we have found interesting.
---
Please share this article - Go to very top of page, right hand side for social media buttons.
---
Global
Goldman Sachs said it remained cautiously optimistic on oil prices, despite the rebound over the past month
Supportive factors included stock drawdown, falling U.S. rig count and robust demand, it said
But too large a price recovery will increase downside risk as shale production can ramp up rapidly, it added
U.S.
McConnell puts up a 'skinny repeal' bill targeting Obamacare (Associated Press) Buoyed by a signal from House Speaker Paul Ryan, Senate Majority Leader Mitch McConnell introduced a pared-down health care bill late Thursday that he hoped would keep alive Republican ambitions to repeal "Obamacare." Votes on the measure were expected deep into the night. See next article.
UPDATE: WASHINGTON (AP) - Congressional Budget Office says 16 million more uninsured would result from GOP's pared-down health care bill.
Senate defeats ObamaCare repeal measure (The Hill) The Senate voted down a scaled-down ObamaCare repeal bill on Friday in a surprise vote that is a major defeat for GOP leaders. The vote was 49-51. The Senate voted down the "skinny" bill, that would have repealed ObamaCare's individual and employer mandates and defunded Planned Parenthood. Three GOP votes - Sens. Susan Collins of Maine, Lisa Murkowski of Alaska and John McCain of Arizona doomed the measure.
'Final' Senate GOP ACA Change Bill Draft Is 8 Pages Long (ThinkAdvisor) Senate Republicans have unveiled their proposed Health Care Freedom Act legislation, an ultra-skinny proposal for changing the Affordable Care Act. A copy of the text, which was posted on the Senate Budget Committee website this evening, is available here. The bill would leave most ACA provisions intact.
GOP's repeal of insurance mandate could backfire (Associated Press) Getting rid of the Affordable Care Act's highly unpopular penalty for not having health insurance could backfire on Republicans, prompting significant premium increases if it were actually to pass. One of the main reasons GOP lawmakers have given in their quest to overturn "Obamacare" is that they want to lower premiums for people who buy individual health insurance policies, particularly constituents who get no help from the law's tax credits. Some states are facing a second year of double-digit hikes. Larry Levitt of the nonpartisan Kaiser Family Foundation said:
"There is no doubt whatsoever that premiums in the individual insurance market would go up. There is irony here in that the mantra from Republicans throughout this debate has been the need to lower premiums, but this step would do just the opposite."
GOP lawmakers openly defy president as frustration mounts (The Washington Post) They passed legislation to stop him from lifting sanctions on Russia. They recoiled at his snap decision to ban transgender Americans from the military. And they warned him in no uncertain terms not to fire the attorney general or the special counsel investigating the president and his aides.
Republican lawmakers have openly defied President Trump in meaningful ways this week amid growing frustration on Capitol Hill with his surprise tweets, erratic behavior and willingness to trample on governing norms. But at the same time, they've worked to advance legislation they want him to sign.

In the latest signs of a backlash, Sen. Charles E. Grassley (R-Iowa), chairman of the Senate Judiciary Committee, said Wednesday he would not hold hearings on a replacement if Trump dismissed Attorney General Jeff Sessions, and Sen. Lindsey O. Graham (R-S.C.) said Thursday he would pursue legislation that would prevent Trump from summarily firing special counsel Robert S. Mueller III.
Transgender ban: No policy change for now, says top general (BBC News) Apparently the U.S. milkitary does not take orders by Tweet. Transgender people will not be banned from serving in the US military until the president issues guidance to the Pentagon, military officials say. In a surprise tweet on Wednesday, President Donald Trump announced that the government would not allow them to serve "in any capacity". It was not clear whether troops on active service would be forced out. But Gen Joseph Dunford wrote to senior commanders:
"We will continue to treat all of our personnel with respect."
House Judiciary Committee Republicans call for a new special counsel to investigate Hillary Clinton, James Comey and Loretta Lynch
The lawmakers said they were seeking to restore "public confidence in our nation's justice system and its investigators, specifically the Department of Justice (DOJ) and the Federal Bureau of Investigation (FBI)"
White House Leaps Into Culture Wars on Gay Rights (The New York Time) The Trump administration abruptly waded into the culture wars over gay rights this week, signaling in three separate actions that it will use the powers of the federal government to roll back civil rights for gay and transgender people. Without being asked, the Justice Department intervened in a private employment lawsuit on Wednesday, arguing that the ban on sex discrimination in the Civil Rights Act of 1964 does not protect workers on the basis of their sexual orientation. The friend-of-the-court brief, filed at the United States Court of Appeals for the Second Circuit in New York, was a striking shift in tone from the Obama administration, which had shied away from that question.
The move ended a day that began with a tweet from President Trump announcing a ban on transgender people serving in the military, surprising Pentagon leaders and reversing a year-old Obama administration policy.

Also on Wednesday, Mr. Trump announced that he would nominate Sam Brownback, the governor of Kansas and a vocal opponent of gay rights, to be the nation's ambassador at large for international religious freedom.

The constellation of events raised alarm among gay rights advocacy groups, which portrayed the moves as a concerted effort to limit advancements in gay rights.
EU
The Bond Market's Cruel Summer (Bloomberg Businessweek) One big driver of demand, the European Central Bank's corporate bond buying program, might be about to disappear. And there are growing signs investors are suffering low-rate fatigue as credit spreads sink to record lows. The ECB meeting on Sept. 7 should address how their QE programs are tapered next year. The central bank now holds over 100 billion euros ($116.6 billion) of mostly investment-grade corporates, and the sheer scale of its buying power has driven borrowing costs down for all grades of issuers.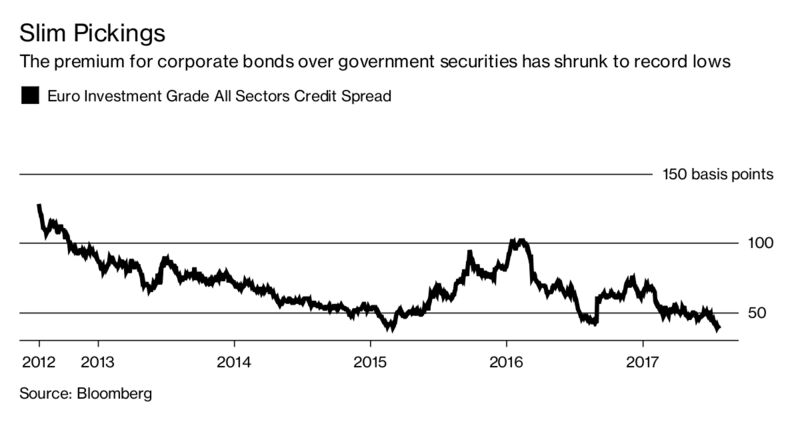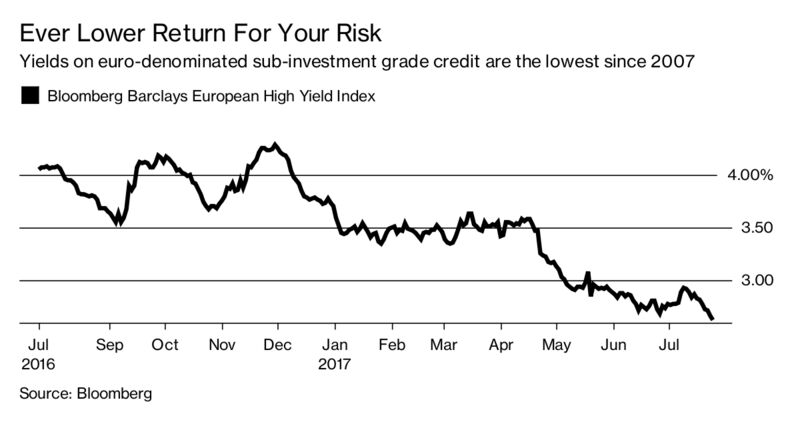 UK
Syria
Syria war: US says coalition partners must only fight IS (BBC News) The US has warned its coalition partners in Syria to focus exclusively on the fight against so-called Islamic State (IS) and not regime forces. A Pentagon spokesman told reporters the US's aim in Syria and Iraq was to "fight ISIS, and fight ISIS only". One rebel group has left a joint base after clashing with the regime. It comes after President Donald Trump ended the CIA's clandestine program to provide weapons and supplies to Syrian rebel groups.
That decision to end the programme, which started under the Obama administration in 2013 in an attempt to put pressure on President Bashar al-Assad to stand down, was made more than a month ago as part of an effort to improve ties with Russia, officials said last week.
Pakistan
The Supreme Court will decide if the case is to be dismissed, sent to trial or if he should simply be disqualified.

No civilian prime minister of Pakistan has ever completed a five-year term.
>>>>> Scroll down to view and make comments <<<<<<
Click here for Historical News Post Listing
Make a Comment
Econintersect

wants your comments, data and opinion on the articles posted. You can also comment using Facebook directly using he comment block below.
---
Econintersect Contributors
---
---
---
---
---
| | |
| --- | --- |
| Print this page or create a PDF file of this page | |
---
The growing use of ad blocking software is creating a shortfall in covering our fixed expenses. Please consider a donation to Econintersect to allow continuing output of quality and balanced financial and economic news and analysis.
---
---
---
---
---
---
---
---