posted on 27 July 2017
Written by Econintersect
Early Bird Headlines 27 July 2017
Econintersect: Here are some of the headlines we found to help you start your day. For more headlines see our afternoon feature for GEI members, What We Read Today, which has many more headlines and a number of article discussions to keep you abreast of what we have found interesting.
---
Please share this article - Go to very top of page, right hand side for social media buttons.
---
Global
Hours after Halliburton Co. warned Monday that explorers are "tapping the brakes" on drilling, Anadarko Petroleum Corp. said it's trimming spending in the first earnings report this quarter from a major shale producer.

That could make this week a turning point for the troubled global oil market -- the moment when shale companies showed signs of bowing to the low prices they helped inflict. The surge in U.S. production this year has stymied efforts by OPEC and other major oil exporters to unwind a supply glut that's weighed on the crude market for three years.
Bitcoin erased the initial gains it saw after developers last week appeared to avoid a currency split.
Disagreement over other upgrade proposals could still cause bitcoin to split.
The digital currency briefly fell below $2,500, little changed for July.
Singapore and Hong Kong's Airport Dominance Is Under Threat (Bloomberg) New China hubs may be most powerful threat to old world order dominated by Singapore and Hong Kong. but the established hubs push on with billion-dollar expansions to try to compete. Pictured below is artists rendition of the planned new terminal at Beijing Airport.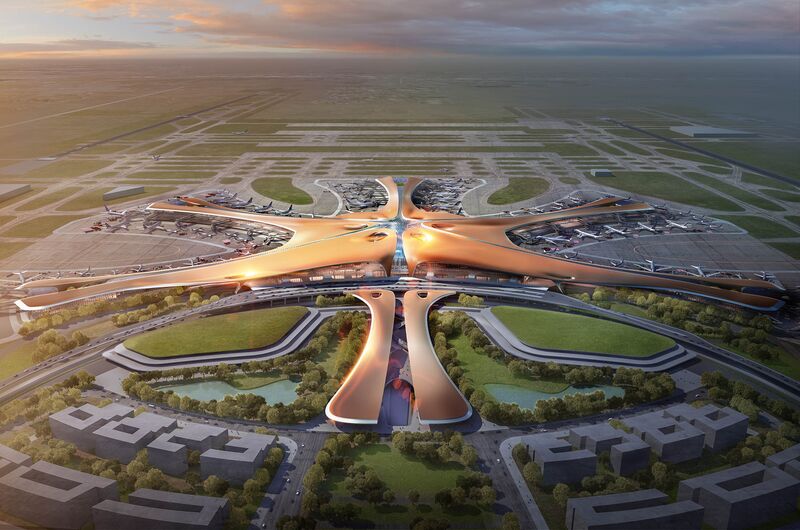 U.S.
It's unclear if Trump would support rate for highest earners

White House plan released in April called for 35% as top rate
Bare bones repeal plan gains steam in Senate (The Hill) Momentum for a "skinny" ObamaCare repeal bill is growing in the Senate as one by one other measures to reform the nation's healthcare law fall by the wayside. Legislation to repeal ObamaCare with a two-year delay only secured 45 votes on Wednesday, a day after a repeal-and- replace bill won just 43 votes in a procedural motion. Those tallies suggest Senate Republicans may have to narrow their goals to win 51 votes for legislation in the face of unified Democratic opposition.
The Skinny on the GOP's Last Resort on Health Care: 'Skinny Repeal' (Rolling Stone) The skinny repeal bill would repeal some of the historically unpopular provisions of the Affordable Care Act while keeping most of the framework in place. Republicans plan to target the ACA's individual mandate - the part of the health care bill that requires individuals to either have insurance or pay a fine for not having it.
For years, Republicans have rallied their base around the idea that the government shouldn't force its citizens to pay for health care if they don't want it. (The penalty, which is paid when one's taxes are filed, is $695 a year, or 2.5 percent of one's household income.) Not one of the Republican-authored health care plans includes the individual mandate.

There is a practical reason why the Affordable Care Act included the individual mandate, though: People without insurance rack up huge health care bills, and they don't pay those costs themselves - the rest of the population does. Back in 2008, before the ACA went into effect, the uninsured generated $116 billion in health care costs, and paid for just 37 percent of those costs.

Compelling everyone to be part of the health insurance market makes health care cheaper for everyone.
'Skinny' Obamacare repeal may leave 16 million more uninsured, CBO estimates (CNBC) A version of the Obamacare repeal plan the Senate could pass this week may leave 16 million more Americans uninsured over a decade, according to a Congressional Budget Office estimate requested by Senate Democrats. Democrats on two key Senate committees asked for the score based on reported features of a "skinny" Affordable Care Act repeal. Here are those provisions, according to a Democratic spokesperson:
A repeal of Obamacare's individual mandate, which requires Americans to have coverage or pay a penalty
Scrapping the employer mandate requiring employers of a certain size to provide coverage
Getting rid of the medical device tax
Defunding women's health care provider Planned Parenthood
Dropping the Prevention and Public Health Fund, which invests in various health initiatives
26 hours, 29 Trumpian false or misleading claims (The Washington Post) The president grossly overestimated the attendance for his speech at the National Boy Scout Jamboree. You'll have to go to the article for the other 28 items cited.
Dems at odds over direction of 'Better Deal' (The Hill) Democrats say they're united behind their newly launched "A Better Deal" agenda, but they appear to be at odds over where the platform is headed. Party leaders want to keep the focus exclusively on economic issues in hopes of engaging the working-class voters who flocked to President Trump last year. But a number of Democrats are concerned that excluding liberal social issues - like abortion rights, immigration reform, LGBT rights and the environment - may deflate their base and sink their chances of making big gains in 2018.
FHFA House Price Index: Real Index Level Last Seen in August 2007 (Jill Mislinski, Advisor Perspectives) JM contributes to GEI. The Federal Housing Finance Agency (FHFA) has released its U.S. House Price Index (HPI) for May. The first chart below illustrates the monthly HPI series, which is not adjusted for inflation, along with a real (inflation-adjusted) series using the Consumer Price Index: All Items Less Shelter. The second chart below shows how the Owners' Equivalent Rent of Residences used in calculation of the Consumer Price Index (CPI) fails to capture the fluctuations in house prices.
UK
UK GDP growth edges up to 0.3% in Q2 (Financial Times) Growth in the UK economy edged up in line with forecasts in the second quarter, in figures that will underscore Britain's loss of economic momentum after a sharp growth slump at the start of the year. Official figures from the Office for National Statistics estimate the economy expanded 0.3% in the three months to June, up from 0.2% in the first quarter. Year on year growth slowed to 1.7% from 2% in the first quarter.
Greece
A Russian man suspected of laundering at least $4 billion of criminal funds by switching them into the digital currency bitcoin has been arrested in Greece, police said on Wednesday.
Police sources identified the individual as Alexander Vinnik, 38.
It was thought that 'at least' $4 billion in cash had been laundered through a bitcoin platform since 2011.
Congo
Clean electric cars are built on pollution in Congo (Financial Times) Behind every clean electric car there is cobalt. And behind cobalt is the Democratic Republic of Congo. Cobalt is a critical element in lithium-ion batteries used in electric cars. Congo's cobalt bonanza looks set to benefit only elites and mining companies.
Canada
Covered bonds: the European link to Canada's house price boom (Financial Times) Last summer, Canadian authorities in Vancouver became so concerned about the flows of Chinese money into their housing market that they introduced a new tax on foreign buyers. The 15% charge was designed to cool a property sector where prices have spiralled in recent years, and was followed this year by a similar measure in Toronto.
There is, however, another, less commonly discussed flow of European money into the Canadian market - one that operates through the obscure machinery of bank lending, subtly linking homes in Toronto, Vancouver and Montreal to officials in Frankfurt.

First fashioned in 18th century Prussia, covered bonds are at the heart of European finance. The instruments, regarded as ultra-safe, are issued by banks to investors to fund mortgage lending. The debt is then secured against the mortgages, providing bondholders with extra security in the event of a default.
>>>>> Scroll down to view and make comments <<<<<<
Click here for Historical News Post Listing
Make a Comment
Econintersect

wants your comments, data and opinion on the articles posted. You can also comment using Facebook directly using he comment block below.
---
Econintersect Contributors
---
---
---
---
---
| | |
| --- | --- |
| Print this page or create a PDF file of this page | |
---
The growing use of ad blocking software is creating a shortfall in covering our fixed expenses. Please consider a donation to Econintersect to allow continuing output of quality and balanced financial and economic news and analysis.
---
---
---
---
---
---
---
---