posted on 22 July 2017
Written by Econintersect
Early Bird Headlines 22 July 2017
Econintersect: Here are some of the headlines we found to help you start your day. For more headlines see our afternoon feature for GEI members, What We Read Today, which has many more headlines and a number of article discussions to keep you abreast of what we have found interesting.
---
Please share this article - Go to very top of page, right hand side for social media buttons.
---
U.S.
Senate Parliamentarian Zaps Some Better Care Bill Provisions (ThinkAdvisor) Elizabeth McDonough, the Senate parliamentarian, has blessed two major Better Care Reconciliation Act commercial health insurance provisions, bounced two, and put off making decisions on two. McDonough's review could determine what parts of the Affordable Care Act change bill have a hope of passing in the Senate, or it might not matter at all, if Senate leaders decide to use the "nuclear option," and change traditional Senate rules to make it easier to pass an Affordable Care Act change bill. See also Parliamentarian deals setback to GOP repeal bill (The Hill) The provisions that would likely be removed include polices important to conservatives, such as restrictions on tax credits being used for insurance plans that cover abortion. Language in the bill defunding Planned Parenthood for a year also violates budget rules, according to the parliamentarian. That guidance is sure to anger anti-abortion groups who backed the bill specifically because of those provisions. Two other provisions of the GOP law that would require 60 votes to reach the Senate floor:
Temporarily continuing the current Affordable Care Act cost-sharing reduction subsidy program through 2019: McDonough ruled the provision is unnecessary because it replicates the Affordable Care Act, which already requires the subsidy payments to continue.
Requiring uninsured people who get health coverage to go through a six-month waiting period before their benefits begins.
Can a president pardon himself? Four days before Richard Nixon resigned, his own Justice Department's Office of Legal Counsel opined no, citing "the fundamental rule that no one may be a judge in his own case." We agree.

The Justice Department was right that guidance could be found in the enduring principles that no one can be both the judge and the defendant in the same matter, and that no one is above the law.

The Constitution specifically bars the president from using the pardon power to prevent his own impeachment and removal. It adds that any official removed through impeachment remains fully subject to criminal prosecution. That provision would make no sense if the president could pardon himself.
South Miami Approves Solar Roof Rules, Inspired by a Teenager (Inside Climate News) South Miami just became Florida's first city to require new homes to include rooftop solar installations, thanks to a teenage girl who helped write the ordinance. Now, despite facing opposition from a Washington, D.C.-based organization, she's set on spreading the measure across the state. The ordinance received initial approval from South Miami's city commission last week, and was approved on Tuesday by a vote of 4-1. But its origins date back more than a year, to when Delaney Reynolds, then a 16-year-old high school student from Miami-Dade County, read about a similar measure passed in San Francisco, the first major U.S. city to require rooftop solar for new construction.
Donald Trump's Addled and Ominous Interview with the Times (The New Yorker) A partial transcript of the interview, which the Times posted online, shows him eager to impress his interlocutors despite the fact that they work for a publication he has many times described as "failing" and "fake news." He boasted about the response he received to the speech he recently gave in Poland, and how much the French President, Emmanuel Macron, likes him. John Cassidy writes:
You have to give points for creativity, I suppose. Like many con men, Trump never lacks a defense. But what he said in the interview was directly contradicted by his own words on July 27, 2016, just weeks after the Trump Tower meeting, when he publicly urged the Kremlin to hack Clinton's e-mail, saying, "Russia, if you're listening, I hope you're able to find the thirty thousand e-mails that are missing."
The email went to 500 researchers on June 19 to give them time to comment on the proposed changes and prepare. In it, Debra Willard, coordinator for the USGS Climate Research and Development Program, wrote that the cuts "would reduce or eliminate the availability of current data and collaborations between the USGS, other agencies and universities."
UK
... perennial problem of shortages due to price controls which must inevitably exist in a system such as the NHS. For as long as the price of healthcare services is held artificially low (or free) by state intervention, individual consumers will no longer have an incentive to economise and question whether they really need a given service, or whether those scarce resources should go to others in more desperate need. This inevitably leads to a greater number of people clamouring to extract services than the supply can handle, leading to the shortages, long waiting times, and rationing which have characterised the piteous state of NHS services throughout its history. So immutable is the economic law that price controls lead to shortages that, in the words of Ludwig von Mises, "even capital punishment could not make price control work, in the days of Emperor Diocletian and the French Revolution." The fact that public support for the NHS remains so high, despite these major problems inherent in the nature of the system itself, provides a stark real-life example of the dangers of choosing to ignore the insights of economics.
Germany
Deutsche Bank Among German Firms Hit by Deepening Turkey Row (Bloomberg) A German government warning to companies against doing business with Turkey has put some of the country's biggest firms on notice. Deutsche Bank AG, Siemens AG and Volkswagen AG are among the German companies with deep roots in Turkey that date back many decades. German manufacturers also have numerous factories in the country that employ thousands of workers, leaving them vulnerable to the deterioration in diplomatic relations that has intensified in recent days.
Germany on Friday dismissed a list of 678 "items and accusations" from Turkey involving German companies as "not concrete," declining to investigate further. The deepening dispute -- with Foreign Minister Sigmar Gabriel announcing a "re-orientation" of policy toward Turkey -- prompted a lobby of German exporters to say the threat to business was "real." The two countries' trading ties were worth more than $36 billion last year, with more than 6,800 German firms currently operating in Turkey.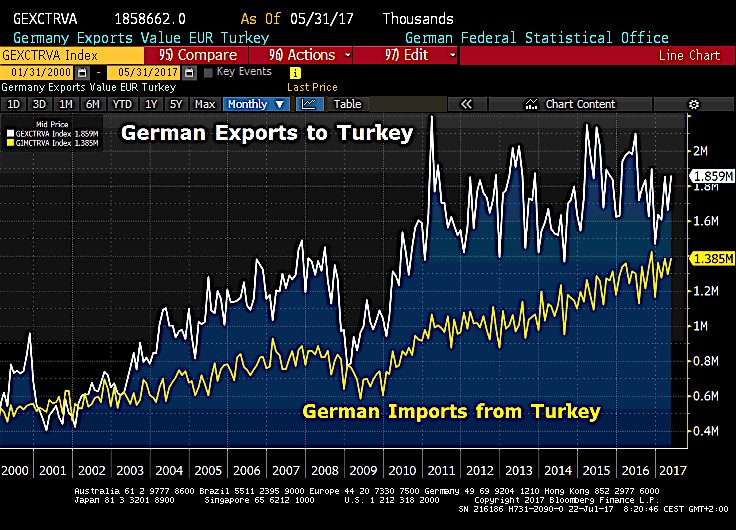 Palestine
Bank project offers Palestinian women independence (Al Monitor) On July 5, the Ramallah-based National Bank (TNB) launched its latest version of Hayati (My Life), a program that targets women. The privately owned bank first introduced the program in 2015, focusing on savings accounts and offering a limited number of 0% interest loans for modest amounts. The revamped program, the first of its kind in Palestine, offers comprehensive banking services for women, including accounts of all types, credit cards and low-interest housing, personal, car and small-business loans.
India
India shines brighter on NASA map, China feels slighted (The Economic Times) China's growing unease with India reached an absurd level when it tied itself in knots trying to prove that India looking brighter than China does not mean it is more electrified. An indicator of electrification, a map from NASA's Earth's City Lights project shows India shining brighter than China at night. However, China's state-sponsored People's Daily Online quibbles that it's China that should look brighter because it's more electrified than India. See first article under China below.
Bhutan
Doklam Standoff: Misunderestimating Bhutan's Sovereignty (The Wire) Hat tip to Sanjeev Kulkarni. Today, as two Asian powers face off with Bhutan at the centre of this delicate situation, the outcome will show whether the Asian century has a chance to be a peaceful one, or whether it will replay the violence of the colonial period.
As the Doklam plateau stand-off continues well into its second month, analysts in India, China and globally have focussed primarily on the India-China interaction. Those that have mentioned Bhutan - the Doklam plateau dispute is between Bhutan and China - have characterised Bhutan as either a protectorate, a state whose relationship with India limits its sovereign actions, or merely as a vassal state being bullied by India. These characterisations ignore Bhutan's long history of fighting for its sovereignty as well the reasons (and context) in which Bhutan has pursued its special relationship with India.
China
India looks brighter than China on a map, but really it's not (People's Daily Online) The State Grid Corporation of China has provided three reasons for why India shines brighter than China in the Earth's City Lights of image, a NASA project to map urbanization. According to the Shanghai based media outlet The Paper, India has more plains than China and is surrounded by seas on three sides, which makes the lights appear brighter. See map image under India, above. Below is a light nmap that this article argues is a better representation of electrification of the two countries.
Canada
Toronto tears down elderly man's $550 staircase, promises to build new one for $10K (National Post) Hat tip to Sig Silber. Toronto city workers tore down a controversial wooden staircase on Friday morning after it sparked a debate about "ridiculous" infrastructure costs. A 73-year-old retired mechanic built the wooden staircase that led from a public parking lot on Bloor Street into Tom Riley Park in Toronto's west end after the city estimated that the project would cost between $65,000 and $150,000. Adi Astl (pictured below on a section of the steps) visits the park every day with his partner, Gail Rutherford. He said he was tired of seeing his neighbours injure themselves going down a steep hill into the park that hosts a community garden. He thought the city's estimate was "just not right," so he decided to build the stairs himself. The were constructed in a single day, on June 22, with the help of a homeless man he hired. It all cost just $550. The city declared the steps to be unsafe and took them down.
>>>>> Scroll down to view and make comments <<<<<<
Click here for Historical News Post Listing
Make a Comment
Econintersect

wants your comments, data and opinion on the articles posted. You can also comment using Facebook directly using he comment block below.
---
Econintersect Contributors
---
---
---
---
---
| | |
| --- | --- |
| Print this page or create a PDF file of this page | |
---
The growing use of ad blocking software is creating a shortfall in covering our fixed expenses. Please consider a donation to Econintersect to allow continuing output of quality and balanced financial and economic news and analysis.
---
---
---
---
---
---
---
---