posted on 20 July 2017
Written by Econintersect
Early Bird Headlines 20 July 2017
Econintersect: Here are some of the headlines we found to help you start your day. For more headlines see our afternoon feature for GEI members, What We Read Today, which has many more headlines and a number of article discussions to keep you abreast of what we have found interesting.
---
Please share this article - Go to very top of page, right hand side for social media buttons.
---
Global
Worldwide, few confident in Trump or his policies (Pew Research Center) Relatively few people across the globe have confidence in U.S. President Donald Trump to do the right thing when it comes to world affairs. And some of his most prominent policy proposals - such as building a wall between the U.S. and Mexico, withdrawing from trade and climate agreements, and restricting people from some Muslim-majority countries from entering the U.S. - are deeply unpopular. Opposition to the United States' possible withdrawal from the Iran nuclear agreement is less intense worldwide, and such a move would be welcomed by a majority of the public in Jordan and Israel.
In terms of personal characteristics, Trump is seen by most publics around the world as arrogant, intolerant and even dangerous. At the same time, he is seen by sizable percentages as a strong leader.
U.S.
John McCain diagnosed with brain cancer (The Hill) Sen. John McCain (R-Ariz.) has been diagnosed with brain cancer, the Mayo Clinic Hospital in Phoenix said Wednesday. The tumor was discovered after the senior Arizona senator underwent a minor procedure last week to remove a blood clot from above his left eye. McCain was successfully treated for skin cancer in 2000. The hospital said in a statement:
"Subsequent tissue pathology revealed that a primary brain tumor known as a glioblastoma was associated with the blood clot. The Senator and his family are reviewing further treatment options with his Mayo Clinic care team. Treatment options may include a combination of chemotherapy and radiation."
Republicans' Push to Overturn Health Law Is Back From the Dead (The New York Times) The Republican health care push was declared dead Wednesday morning. By afternoon it had a breath of life. Legislation in Washington can assume Frankenstein-like qualities. On the cusp of a humiliating and politically disastrous defeat, President Trump and the Senate majority leader, Mitch McConnell, took extraordinary resuscitative measures on Wednesday to pump oxygen back into their badly fading effort to overturn the Affordable Care Act. They somehow managed to stave off its imminent demise.
Source: Senate leaders to offer $200 billion to win over moderates (The Hill) In a bold move to revive their healthcare bill, Senate Republican leaders are getting ready to propose giving $200 billion in assistance to states that expanded Medicaid, according to a person familiar with internal Senate negotiations.
The huge sum would be funded by leaving in place ObamaCare's net investment income tax and its Medicare surtax on wealthy earners, according to the source briefed on the proposal.

The figure is likely to outrage conservatives who would prefer to use the savings from the Senate healthcare bill to pay down the deficit.
Mr. Trump conflated data about health care premiums, selectively chose the largest increases, and falsely suggested they were representative.
He made misleading claims that the Senate bill will "substantially lower premiums."
He falsely said that people with pre-existing medical conditions will have "better" coverage than under Obamacare.
He falsely said the bill will "provide better coverage for low-income Americans."
Trump warns Mueller against investigating his family's finances beyond Russia probe (The Hill) President Trump warned special counsel Robert Mueller from investigating his family's finances beyond the scope of the probe into ties between his administration and Russia in an interview with The New York Times on Wednesday. Trump during the interview said he wasn't ruling out firing Mueller as special counsel on the Russia probe. He did not say that he would order the Justice Department to fire Mueller or under what circumstances he would fire him, but he indicated Mueller investigating his family's finances would cross a line. See also article about Deutsche Bank under Germany, below.
UK
London's Super-Prime Housing Slump Spreads to Luxury Properties (Bloomberg) A slump in super-prime home values in London is rippling down the luxury-property market. Sales values per square foot for houses priced between £2 million ($2.6 million) and £5 million fell by 8.4%in the second quarter from a year earlier as political uncertainly deterred potential buyers, according to data compiled by researcher Lonres. Selling prices for super-prime properties -- those over £5 million pounds -- fell 3.2%.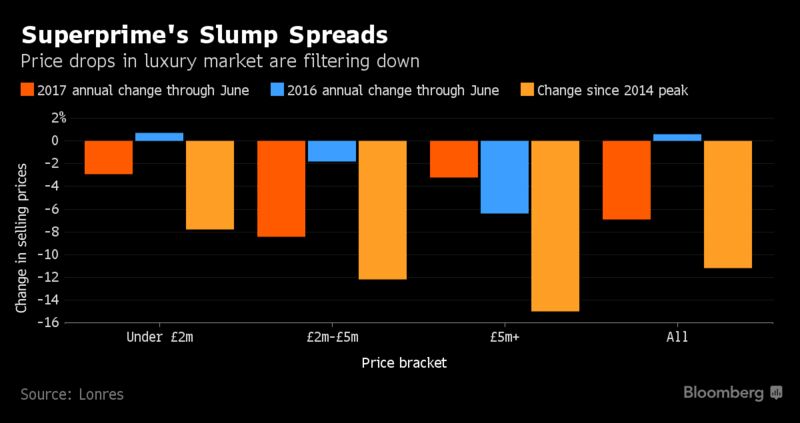 Germany
Big German Bank, Key to Trump's Finances, Faces New Scrutiny (The New York Times) Banking regulators are reviewing hundreds of millions of dollars in loans made to Mr. Trump's businesses through Deutsche Bank's private wealth management unit, which caters to an ultrarich clientele, according to three people briefed on the review who were not authorized to speak publicly. The regulators want to know if the loans might expose the bank to heightened risks.
Separately, Deutsche Bank has been in contact with federal investigators about the Trump accounts, according to two people briefed on the matter. And the bank is expecting to eventually have to provide information to Robert S. Mueller III, the special counsel overseeing the federal investigation into the Trump campaign's ties to Russia.
India
India's New Tax Is a Work in Progress (Bloomberg) A country rarely praised for its efficient bureaucracy, India has managed its biggest administrative reform in years pretty well. Its new goods-and-services tax, replacing 40 other taxes and levies, came into force earlier this month without undue disruption. This policy deserves to be a great success -- but to make the most of it, the government still has work to do.
Japan
The Bank of Japan keeps monetary policy unchanged
The BOJ cuts inflation forecasts for fiscal years 2017/2018 and 2018/2019
The BOJ raises GDP expectations for fiscal years 2017/2018 and 2018/2019
China
Economic talks end with no joint statement from two countries

Ross says trade imbalance not driven by market forces
>>>>> Scroll down to view and make comments <<<<<<
Click here for Historical News Post Listing
Make a Comment
Econintersect

wants your comments, data and opinion on the articles posted. You can also comment using Facebook directly using he comment block below.
---
Econintersect Contributors
---
---
---
---
---
| | |
| --- | --- |
| Print this page or create a PDF file of this page | |
---
The growing use of ad blocking software is creating a shortfall in covering our fixed expenses. Please consider a donation to Econintersect to allow continuing output of quality and balanced financial and economic news and analysis.
---
---
---
---
---
---
---
---