posted on 06 July 2017
Written by Econintersect
Early Bird Headlines 06 July 2017
Econintersect: Here are some of the headlines we found to help you start your day. For more headlines see our afternoon feature for GEI members, What We Read Today, which has many more headlines and a number of article discussions to keep you abreast of what we have found interesting.
---
Please share this article - Go to very top of page, right hand side for social media buttons.
---
Global
Most Asia markets lost ground despite Wall Street's mostly stronger close amid oil's wobble (CNBC) Most Asian markets lost ground on Thursday despite the mostly stronger close on Wall Street, as oil prices recouped some losses after falling around 4 percent overnight. The dollar index, which measures the dollar against a basket of rivals, was nearly flat at 96.238 at 12:00 p.m. HK/SIN. Brent crude futures gained 0.67% to trade at $48.11 a barrel and U.S. crude advanced 0.66% to trade at $45.43. Spot gold was nearly flat at $1,226.70 per ounce at 0421 GMT. It touched $1,217.14 in the previous session, its lowest since May 10. U.S. gold futures for August delivery gained 0.4% to $1,226.40 per ounce.
U.S.
Some Trump supporters thought NPR tweeted 'propaganda.' It was the Declaration of Independence. (The Washington Post) NPR tweeted the entire Declaration of Independence to celebrate the Independence Day. There, in 113 consecutive posts, in 140-character increments, was the text of the treasured founding document of the United States, from its soaring opening to its searing indictments of King George III's "absolute tyranny" to its very last signature. But plenty of Twitter users reacted angrily to the thread, accusing NPR of spamming them - or, worse, trying to push an agenda. Go to this Wapo article for the mostly silly reactions.
Voter fraud commission may have violated law (The Hill) President Trump's voter fraud commission may have violated the law by ignoring federal requirements governing requests for information from states, several experts on the regulatory process told The Hill.
Experts say the failure to submit the request to states through the Office of Management and Budget's Office of Information and Regulatory Affairs (OIRA) violates a 1980 law known as the Paperwork Reduction Act (PRA). They also say the failure could be significant, since states could argue it means they are under no obligation to respond.
Worrying about the deficit.
Making policy needlessly complex.
"Targeting" government benefits at the poor.
Leaving job creation to the capitalists..
But the catalyst for the comments seems to be the co-host's scathing take on the fact that Trump was exposed for having fabricated a cover of Time magazine and showcasing it at his various properties. The day before the tirade, Brzezinski covered the story by mocking Trump and saying, "He was so needy that he had not been on Time yet that he made his own … a phony, fake, pathetic, made-up cover of Time Magazine." It wasn't the last time Scarborough and Brzezinski would go all-in on the Time Magazine story; the next day, as they covered the Senate's push to repeal and replace Obamacare, the subject of the Time cover came up again with Brzezinski saying, "Nothing makes a man feel better than making a fake cover of a magazine about himself lying every day and destroying the country" and adding that his hands were covered in the chosen image for the feigned cover "because they're teensy." After Trump lashed out at Brzezinski, she clapped back at his tweets by posting a picture of a cereal box that boasted the log line, "Made for little hands."
Inventories declined by about 13 million barrels over 17 consecutive weeks as the Energy Department delivered supplies it sold in recent months. That brought stocks down to 682 million as of June 30. In two sales held in January and February, the agency sold almost 17 million barrels of crude from its salt caverns in Texas and Louisiana to companies including Chinese state-owned PetroChina Co. Ltd.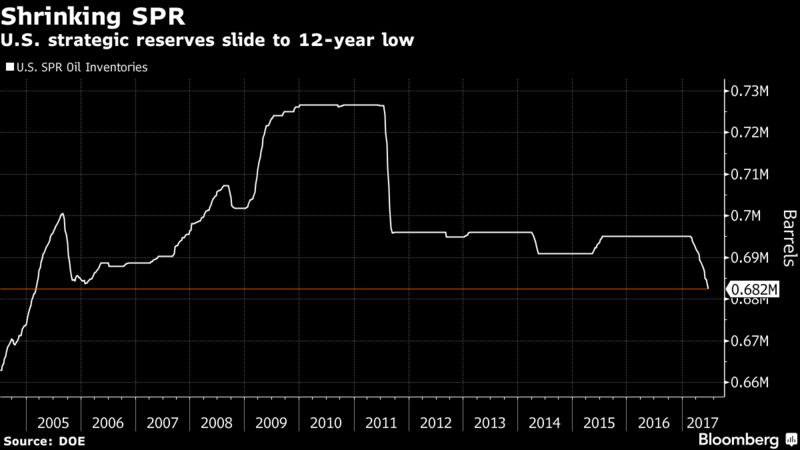 Poland
In March, Polish Defense Minister Antoni Macierewicz said he planned to sign a contract, valued at less than 30 billion zloty ($8 billion), with Patriot producer Raytheon Co. by the end of the year. The first deliveries of the missile interceptors, which have been a source of tension between NATO and Russia, may take place within two years, he said then.

Poland, a formerly communist nation that shares a border with Russia, is one of the few NATO members that meet the alliance's defense-spending target of 2 percent of economic output.
Turkey
Erdogan declined to say if he trusts President Trump more than Russian President Vladimir Putin, an unusual demurral given Turkey's membership in NATO. Erdogan has clashed with western leaders in recent years, as he implemented increasingly authoritarian changes to the Turkish political system and grew frustrated with U.S. plans to defeat the Islamic State in neighboring Syria.
Russia
Sergei Kislyak: Work with Trump team 'unfolding uneasily' (Washington Examiner) A top Russian diplomat wants the impending meeting between President Trump and Russian President Vladimir Putin to provide a "turnaround" from U.S. efforts to impose economic sanctions on the Russians. Sergei Kislyak, the Russian ambassador to the United States, told a Kremlin-run media outlet:
"There are always opportunities for positive turnarounds. What is needed is the resolve not to miss such opportunities. Let's see what the U.S. will do for the meeting."
North Korea
North Korea Test Ramps Up Pressure on U.S. Missile Defense (Bloomberg) Kim Jong Un's test of an ICBM capable of striking the U.S. mainland is putting renewed pressure on a U.S. missile defense system racing to keep up with North Korea's quickly evolving military threat. While the U.S. "completely obliterated" a mock intercontinental ballistic missile in a late May test of its $36 billion ground-based defense system, according to the Missile Defense Agency, outside analysts call those tests choreographed events that don't reflect real-world scenarios. That would require knocking down an unexpected launch, with a warhead possibly masked by sophisticated decoys launched under adverse conditions. See also Kim Jong Un's Big Nuclear Push Is Closing In on America.
China
Trump Faces the Limits of China Strategy After North Korean Missile Launch (Bloomberg) Donald Trump is grappling with the limits of his strategy to rely on China to get North Korea to limit its nuclear and ICBM programs following Kim Jong Un's July 4 test of an intercontinental ballistic missile. The U.S. president must now decide whether the test, coupled with the death last month of an American college student who had been imprisoned in North Korea, means giving up on collaboration and more directly confronting Beijing. Those advocating a hard line within the administration are emboldened by the recent North Korean actions, and the White House is weighing a series of gestures that could antagonize President Xi Jinping's government.
>>>>> Scroll down to view and make comments <<<<<<
Click here for Historical News Post Listing
Make a Comment
Econintersect

wants your comments, data and opinion on the articles posted. You can also comment using Facebook directly using he comment block below.
---
Econintersect Contributors
---
---
---
---
---
| | |
| --- | --- |
| Print this page or create a PDF file of this page | |
---
The growing use of ad blocking software is creating a shortfall in covering our fixed expenses. Please consider a donation to Econintersect to allow continuing output of quality and balanced financial and economic news and analysis.
---
---
---
---
---
---
---
---