posted on 07 April 2017
Written by Econintersect
Early Bird Headlines 07 April 2017
Econintersect: Here are some of the headlines we found to help you start your day. For more headlines see our afternoon feature for GEI members, What We Read Today, which has many more headlines and a number of article discussions to keep you abreast of what we have found interesting.
---
Please share this article - Go to very top of page, right hand side for social media buttons.
---
Global
U.S.
Russia

Misogyny

Comey

Wikileaks
UK
Britain's trade with Europe further illustrates that Britain has never been a trading nation, an illusion as following map shows the state of the European Union's single market in terms of trade imbalances between member states that Britain is the sucker in the room, being conned to the tune of Euro 200billion that goes towards employing a net several millions of German, Italian and Eastern European workers. So the only additional thing to note to that which I have written before is that Italy also hugely benefits at Britain's expense.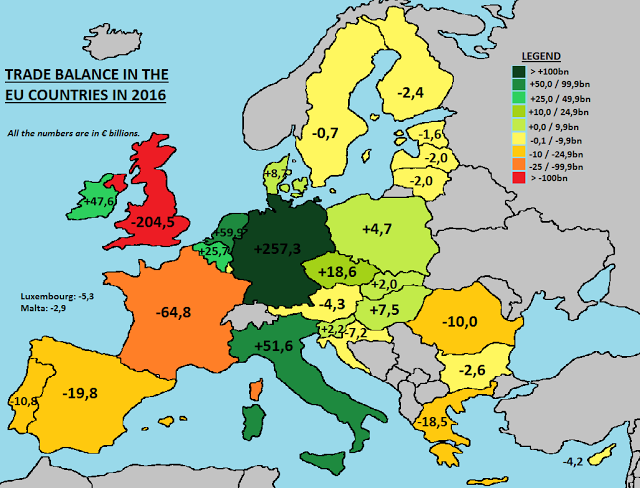 Syria
In 2013, when a sarin nerve gas attack left more than 1,400 dead outside Damascus, President Barack Obama went to Congress to get approval to strike.

In a vote, 183 Republicans voted against bombing the country. Only 12 Republicans, including then-House Speaker John Boehner (R-Ohio), voted with the president to launch a strike. Ultimately, Congress did not approve the strike, with 243 Congressional members voting against it.
The nerve agents all degrade in the environment, both by evaporation and by contact with moisture or other chemicals.

Sarin evaporates quite quickly, usually faster than water.

Tabun, an older nerve agent, and Soman, a somewhat more expensive nerve agent, both evaporate slower than Sarin.

VX is highly persistent, and evaporates extremely slowly.

Finally, much can be learned from the fragments and residue of the weapon system itself, whether it be a rocket, shell, or improvised barrel bomb.

The size, shape, and method of dissemination (for example, explosive bursting) can give clues to how the incident happened.

Air-dropped bombs, for example, narrow the suspects to those with aircraft.
That was then. Suddenly, after a chemical-weapons attack earlier this week, the U.S hasn't just done a 180-degree rhetorical turn; it's now talking about military options to remove Assad. On Thursday, Tillerson said "steps are underway" to remove him from power. CNN's Dana Bash reported that President Trump has told members of Congress he's considering military options. Reuters also reported Trump and Defense Secretary James Mattis "are in detailed discussions on military options to respond to a poison gas attack in Syria that killed scores of civilians," with Mattis headed to Trump's Mar-a-Lago resort in Florida for the weekend.
"Tonight, I call on all civilized nations to join us in seeking to end the slaughter and bloodshed in Syria and also to end terrorism of all kinds and all types.

"We asked for God's wisdom as we face the challenge of our very troubled world. We pray for the lives of the wounded and for the souls of those who passed. And we hope as long as America stands for justice and peace and harmony will in the end prevail.

"Using a deadly nerve agent, Assad choked out the lives of helpless men, women and children. It was a slow and brutal death for so many. Even beautiful babies were cruelly murdered in this very barbaric attack. No child of God should ever suffer such horror."
Russia
"President Putin regards the US attacks on Syria as an aggression against a sovereign state in violation of the norms of international law, and under a trumped-up pretext at that."
China
"We've had a long discussion already and so far I have gotten nothing!"
>>>>> Scroll down to view and make comments <<<<<<
Click here for Historical News Post Listing
Make a Comment
Econintersect

wants your comments, data and opinion on the articles posted. You can also comment using Facebook directly using he comment block below.
---
Econintersect Contributors
---
---
---
---
---
| | |
| --- | --- |
| Print this page or create a PDF file of this page | |
---
The growing use of ad blocking software is creating a shortfall in covering our fixed expenses. Please consider a donation to Econintersect to allow continuing output of quality and balanced financial and economic news and analysis.
---
---
---
---
---
---
---
---