posted on 02 April 2017
Written by Econintersect
Early Bird Headlines 02 April 2017
Econintersect: Here are some of the headlines we found to help you start your day. For more headlines see our afternoon feature for GEI members, What We Read Today, which has many more headlines and a number of article discussions to keep you abreast of what we have found interesting.
Global
The United Nations has said that close to twenty million people in Nigeria, Somalia, South Sudan, and Yemen are at risk of starving to death. The food crises in all four of these countries are due, at least in part, to ongoing conflicts there, says Arif Husain, chief economist at the World Food Program (WFP), a UN agency. Without an end to the fighting, international aid can do little more than provide "Band-Aids," he says. "In most of these areas, if there is peace, and people have seeds, tools, and agricultural inputs, they can go back - they can restart."
U.S.
"On the deregulatory front he's been phenomenal." [Trump's picks to staff his administration, Norquist said, were] "all people who understand the costs of the regulatory burden and are committed to ruling back the over-regulations of both George W Bush and Obama".
The speeches were not included in a form that Flynn signed electronically on February 11, which the White House also released on Saturday.

The discrepancy on reporting income linked to Russia could add to Flynn's legal woes. The retired general, who was forced to resign after only 24 days, is under scrutiny for his contacts with Russian officials in a wider investigation into Russian meddling in the 2016 U.S. presidential election.
UK
Germany
"... they show, however, that the U.S. obviously wants to move away from free trade and trade agreements. ... We must seek constructive dialogue and explain that the reasons for the U.S. trade deficit are not just abroad,"
Turkey
Opponents say the constitutional changes, which would allow Erdoğan to rule until 2029 and consolidate power in his office, would lead to one-man rule with little oversight by a friendly parliament and a judiciary that would be appointed by him and the ruling party.

But supporters of the yes campaign argue there are enough checks and balances in the amendments, which will revise a constitution imposed under military rule in 1982. They say it will end the fractious politics of coalition governments that have plunged Turkey into recession in the past, and end a longstanding uncertainty in executive authority that has deadlocked administrations.
Iraq
China
Today's China offers a rude awakening for Americans who believe that the United States and the United States alone should dominate world power. Donald Trump seems to count himself among these neoconservatives, and China is their deepest phobia today. Trump is following a game plan that has characterized US "grand strategy" against major rivals dating back to World War II. Each time America has had a rival for global leadership, the United States has aimed to cut the rival down to size and to subordinate it to US power. For a while it worked, at least to a point.

More recently, it has failed badly. And with China, any attempt to pursue such a course will fail disastrously for the United States, not to mention the world.
Colombia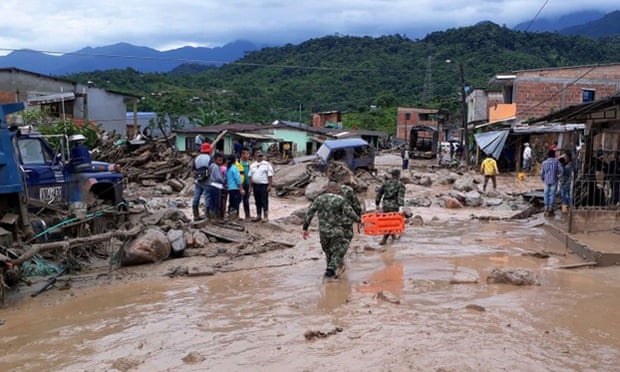 Mexico
Although serial fabrication is currently popular in the White House, we believe facts matter. This is pertinent when examining President Donald Trump's statements on Mexico. Trump's many mischaracterizations threaten $500 billion in annual trade, U.S.-Mexico relations, and America's national interests.

The United States has a vital national interest in continuing to avoid hostile or failed states on its borders. A prolonged crisis with Mexico - not least because of effects on ordinary Americans and U.S. domestic politics - would inevitably divert the administration's time, attention, and resources away from other U.S. core national interests - including working with allies to contain China's hegemonic ambitions in Asia and Russia's neo-imperial policies in Europe, as well as to successfully combat international terrorism. While U.S.-Mexico relations have long been stable, Trump's "alternative facts" could reverse this record. Here we evaluate six of the president's untrue assertions about Mexico, showing the dangers they pose to the United States and to the U.S.-Mexico relationship.
>>>>> Scroll down to view and make comments <<<<<<
Click here for Historical News Post Listing
Make a Comment
Econintersect

wants your comments, data and opinion on the articles posted. You can also comment using Facebook directly using he comment block below.
---
Econintersect Contributors
---
---
---
---
---
| | |
| --- | --- |
| Print this page or create a PDF file of this page | |
---
The growing use of ad blocking software is creating a shortfall in covering our fixed expenses. Please consider a donation to Econintersect to allow continuing output of quality and balanced financial and economic news and analysis.
---
---
---
---
---
---
---
---