posted on 01 April 2017
from the St Louis Fed
-- this post authored by Ana Maria Santacreu
Research and development (R&D) activity around the world is concentrated in a few rich countries. The U.S. is one of the most innovative countries of the world, based on its R&D intensity.[1]
Furthermore, the U.S. has a comparative advantage in those sectors that are also more R&D intensive. This seems to be a general feature of rich and innovative countries. That is, they tend to export relatively more from sectors that are technologically intensive.
The figure below shows the average R&D intensity (averaged over 2005-2015) for 35 Organization for Economic Cooperation and Development (OECD) countries as reported by the OECD STAN database.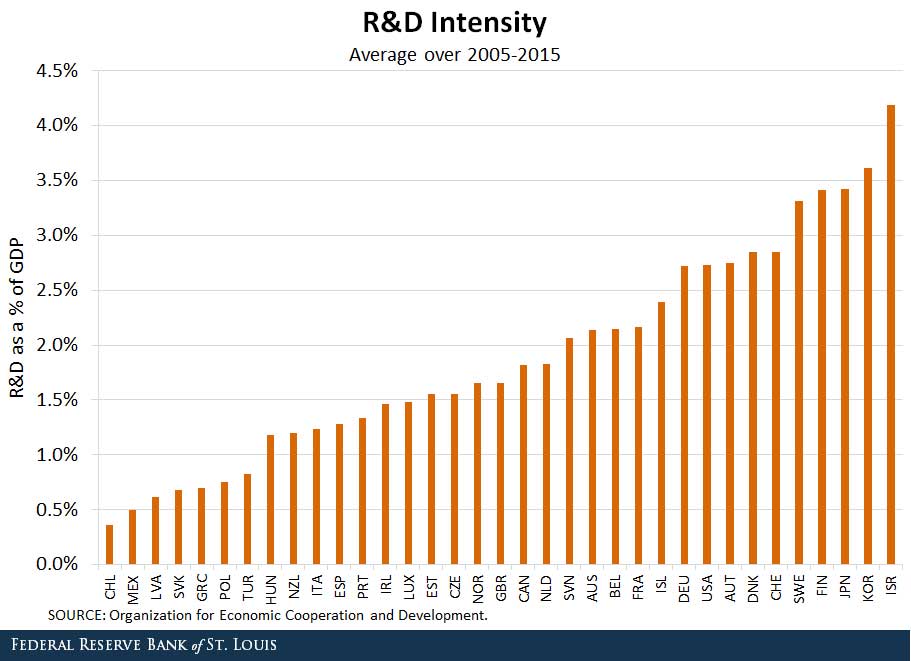 The U.S., South Korea and Japan are among the most innovative countries. On the other hand, Latvia, Poland and Greece are among the least innovative countries.
R&D Intensive Industries
Countries that do more R&D also have a comparative advantage on R&D intensive industries. The OECD STAN database reports the R&D intensity for the 35 countries featured in the figure and for 21 industries.
In the manufacturing sector, the most R&D intensive industries are:
We found that the U.S., South Korea and Japan export relatively more from these industries.
Conversely, the least R&D intensive industries are:
Food products, beverages and tobacco

Textiles, textile products, leather and footwear
Less developed countries that do less R&D have a comparative advantage in these industries. For instance, Greece exports relatively more from these two industries, plus the other non-metallic mineral products category. Similarly, Poland has a comparative advantage in industries such as the textiles, textile products, leather and footwear category, other non-metallic mineral products category, the manufacturing n.e.c. and recycling category and the wood and products of wood and cork category.
Policies that target technologically intensive industries in the U.S. may promote innovation by incentivizing a larger reallocation of resources toward these industries.
Notes and References
1 We're measuring R&D intensity as the R&D expenditures of the private sector as a percentage of the country's gross domestic product.
Additional Resources
Source
https://www.stlouisfed.org/on-the-economy/2017/march/exports-innovative-countries
Disclaimer
Views expressed are not necessarily those of the Federal Reserve Bank of St. Louis or of the Federal Reserve System.
>>>>> Scroll down to view and make comments <<<<<<
Click here for Historical News Post Listing
Make a Comment
Econintersect

wants your comments, data and opinion on the articles posted. You can also comment using Facebook directly using he comment block below.
---