posted on 15 February 2017
Written by Econintersect
Early Bird Headlines 15 February 2017
Econintersect: Here are some of the headlines we found to help you start your day. For more headlines see our afternoon feature for GEI members, What We Read Today, which has many more headlines and a number of article discussions to keep you abreast of what we have found interesting.
Global
U.S.
Phone records and intercepted calls show that members of Donald J. Trump's 2016 presidential campaign and other Trump associates had repeated contacts with senior Russian intelligence officials in the year before the election, according to four current and former American officials.
The officials interviewed in recent weeks said that, so far, they had seen no evidence of such cooperation.
The United States is much better off without Michael Flynn serving as national security adviser. But no one should be cheering the way he was brought down.

The whole episode is evidence of the precipitous and ongoing collapse of America's democratic institutions - not a sign of their resiliency. Flynn's ouster was a soft coup (or political assassination) engineered by anonymous intelligence community bureaucrats. The results might be salutary, but this isn't the way a liberal democracy is supposed to function.

Unelected intelligence analysts work for the president, not the other way around. Far too many Trump critics appear not to care that these intelligence agents leaked highly sensitive information to the press - mostly because Trump critics are pleased with the result.
Israel
"A two-state solution that doesn't bring peace is not a goal that anybody wants to achieve. Peace is the goal, whether it comes in the form of a two-state solution, if that's what the parties want, or something else. If that's what the parties want, we're going to help them."
India
"…a few disquieting thoughts that have lingered and languished in distressed silence in mentation demand expression at the parting with a pulpit touch..."
"….a growing impression in contemporary existence seems to acknowledge, the all pervading pestilent presence of corruption almost in every walk of life, as if to rest reconciled to the octopoid stranglehold of this malaise with helpless awe…"
"…the common day experiences indeed do introduce one with unfailing regularity, the variegated cancerous concoctions of corruption with fearless impunity gnawing into the frame and fabric of the nation's essentia…"
"…Innovative nuances of evidential inadequacies, processual infirmities and interpretational subtleties, artfully advanced in defence, otherwise intangible and inconsequential, ought to be conscientiously cast aside with moral maturity and singular sensitivity to uphold the statutory sanctity, lest the coveted cause of justice is a causality.."
"…this pernicious menace stemming from moral debasement of the culpables, apart from destroying the sinews of the nation's structural and moral set-up, forges an unfair advantage of the dishonest over the principled, widening as well the divide between the haves and have nots..."
Philippines
Japan
South Korea
China
Trump Administration is coming out swinging. On the campaign trail, Trump previously vowed to label China a currency manipulator on "day one", but he's since backed off slightly, though the issue still makes his list of priorities for the first 100 days. Though the US has refrained from taking that official step, Trump and his surrogates continue to make vague threats about leveling the global FX playing field.
What few casual observers realize is that China has been intervening in the currency market to "manipulate" the yuan's value, but instead of devaluing it, the country has actually been up the value of its currency. If the US opts to label China a 'currency manipulator' in the coming months, the People's Bank of China would have less incentive to spend this money to support its currency and the yuan's depreciation could accelerate.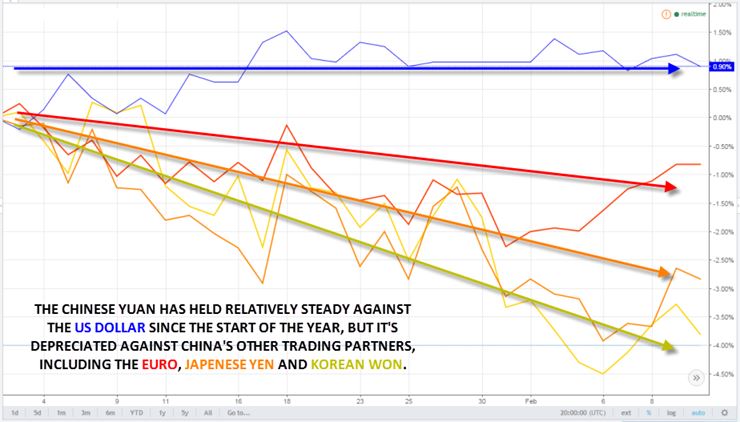 >>>>> Scroll down to view and make comments <<<<<<
Click here for Historical News Post Listing
Make a Comment
Econintersect

wants your comments, data and opinion on the articles posted. You can also comment using Facebook directly using he comment block below.
---
Econintersect Contributors
---
---
---
---
---
| | |
| --- | --- |
| Print this page or create a PDF file of this page | |
---
The growing use of ad blocking software is creating a shortfall in covering our fixed expenses. Please consider a donation to Econintersect to allow continuing output of quality and balanced financial and economic news and analysis.
---
---
---
---
---
---
---
---