posted on 20 November 2016
from Lakshman Achuthan, Co-Founder and Chief Operations Officer of ECRI
Inflation expectations haven't been this high in over a decade, according to a recent survey of money managers, whose "stagflation expectations" are approaching a four-year high. While these are partly post-election pops, they've really been rising since the summer, when bond yields bottomed.
Please recall that, back in March, ECRI cautioned that "underlying inflation pressures - though relatively restrained - have started perking up." At the time, "[w]ith U.S. economic growth sluggish and slowing, and inflation low but rising," we had warned of "stagflation lite," which is now a reality: while year-over-year (yoy) core PCE inflation is the highest it's been in a couple of years, yoy payroll job growth is down to a 32-month low, yoy real personal income growth has fallen to a 33-month low, and yoy GDP growth - excluding the onetime Q3 pop in soybean exports - is at a 3¼-year low.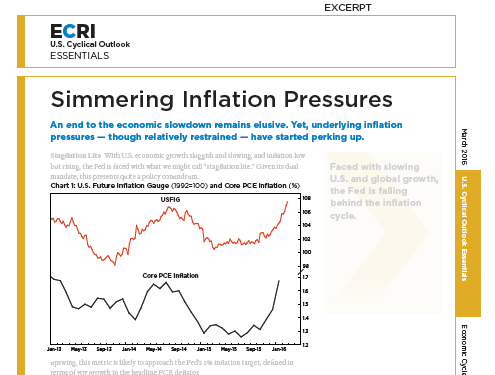 In May, we reaffirmed that "U.S. inflation remains in a cyclical upswing, amid structural lowflation."
In July, even though inflation expectations were still falling, we ratcheted up the alarm, noting that, with ECRI's U.S. Future Inflation Gauge (USFIG) "climbing to an eight-year high - its most elevated reading since the eve of the [Global Financial Crisis] - inflation is likely to rise further in the next few months. In effect, this is a Baked-Alaska economy, with a chilly core of structural lowflation and a sizzling topping of cyclical inflation."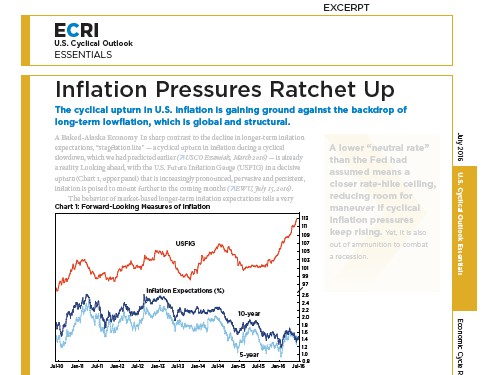 The recent, belated rise in inflation expectations and stagflation fears - now that our forecasts have been vindicated - are par for the course, with the "miss" being at least partly attributed to Donald Trump's election victory. But with the USFIG climbing to a 101-month high, this inflation story is far from over.
>>>>> Scroll down to view and make comments <<<<<<
Click here for Historical News Post Listing
Make a Comment
Econintersect

wants your comments, data and opinion on the articles posted. As the internet is a "war zone" of trolls, hackers and spammers -

Econintersect

must balance its defences against ease of commenting. We have joined with Livefyre to manage our comment streams.

To comment, using Livefyre just click the "Sign In" button at the top-left corner of the comment box below. You can create a commenting account using your favorite social network such as Twitter, Facebook, Google+, LinkedIn or Open ID - or open a Livefyre account using your email address.



You can also comment using Facebook directly using he comment block below.
---