posted on 08 November 2016
Written by Lance Roberts, Clarity Financial
The Real 401k Plan Manager - A Conservative Strategy For Long-Term Investors
---
NOTE: I have redesigned the 401k plan manager to accurately reflect the changes in the allocation model over time. I have overlaid the actual model changes on top of the indicators to reflect the timing of the changes relative to the signals.
There are 4-steps to allocation changes based on 25% reduction increments. As noted in the chart above a 100% allocation level is equal to 60% stocks. I never advocate being 100% out of the market as it is far too difficult to reverse course when the market changes from a negative to a positive trend. Emotions keep us from taking the correct action.
9-Straight Declines
The bad news is the market finally broke crucial support at 2125 last week. This now raises alert levels in portfolios particularly as "sell signals" continue to strengthen in the overall market.
By the time breaks of major support occur, and signals are registered, the markets tend to be grossly oversold. This is the case now and suggests a rally will likely ensue next week.
We will want to use that rally to clean up portfolios as discussed in detail in the missive above.
The lower allocations to "risk" in portfolios has lowered volatility and kept principal safe over the last several months. Once we can get past the election and get some clarity when can start making decisions about the "seasonally strong" period of the year.
However, as noted three weeks ago:
"We are dangerously close to triggering a second sell signal, the bottom part of the chart, which will likely coincide with a failed rally attempt over the next week or two. Such an outcome would suggest a weaker market environment in the intermediate term with a high degree of caution required."
Well, that warning turned out to be correct and remain patient paid off.
Sit tight for now and I will update you on Tuesday.
If you need help after reading the alert; don't hesitate to contact me.
---
Current 401-k Allocation Model
The 401k plan allocation plan below follows the K.I.S.S. principal. By keeping the allocation extremely simplified it allows for better control of the allocation and a closer tracking to the benchmark objective over time. (If you want to make it more complicated you can, however, statistics show that simply adding more funds does not increase performance to any great degree.)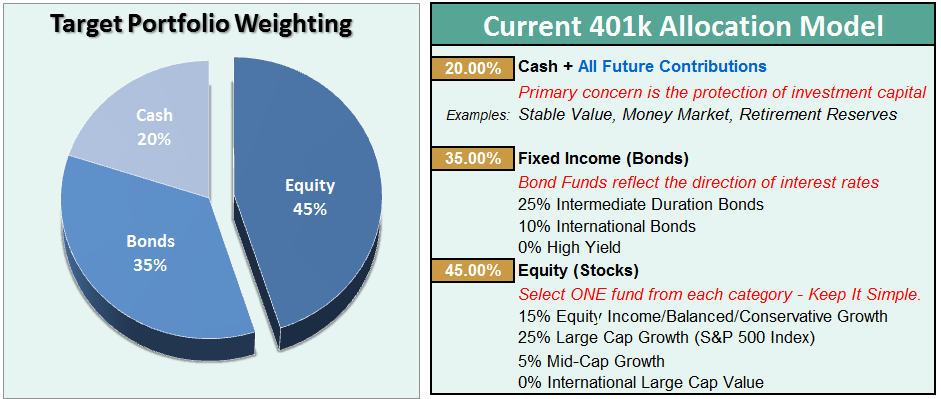 401k Choice Matching List
The list below shows sample 401k plan funds for each major category. In reality, the majority of funds all track their indices fairly closely. Therefore, if you don't see your exact fund listed, look for a fund that is similar in nature.
>>>>> Scroll down to view and make comments <<<<<<
Click here for Historical News Post Listing
Make a Comment
Econintersect

wants your comments, data and opinion on the articles posted. As the internet is a "war zone" of trolls, hackers and spammers -

Econintersect

must balance its defences against ease of commenting. We have joined with Livefyre to manage our comment streams.

To comment, using Livefyre just click the "Sign In" button at the top-left corner of the comment box below. You can create a commenting account using your favorite social network such as Twitter, Facebook, Google+, LinkedIn or Open ID - or open a Livefyre account using your email address.



You can also comment using Facebook directly using he comment block below.
---