posted on 05 November 2016
from Lakshman Achuthan, Co-Founder and Chief Operations Officer of ECRI
The employment/population (E/P) ratio peaked at 65% in the spring of 2000. After two 21st century recessions, it then bottomed out at 58% in mid-2011. Since then, it's clawed back less than a quarter of that loss (not shown).
Yet, the gains have been far from uniform across demographics. Among those with at least a high school diploma, the E/P ratio - about 80% back in 2000 - now stands around 75%, with the gap between non-Hispanic Whites and Blacks/Hispanics widening a bit (purple lines).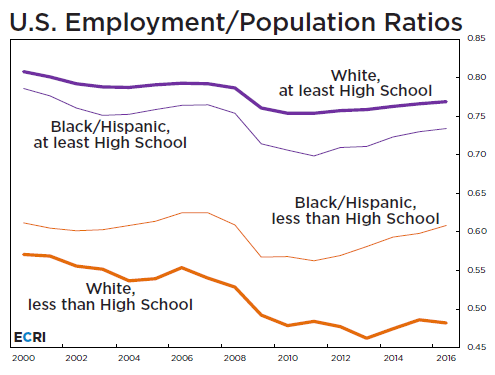 But for those with less than a high school diploma, the E/P ratios - 57% for Whites and 61% for Blacks and Hispanics in 2000 - now stand at 48% and 61%, respectively (orange lines). So the E/P ratio is back near a record high for less-educated Blacks and Hispanics; but for less-educated non-Hispanic Whites - having dropped under 50% in 2009 - it's stayed below that threshold and near a record low ever since. Naturally, the E/P ratio for Whites has fallen far below that for Blacks and Hispanics.
Therefore, while the percentage of Blacks and Hispanics with jobs is back up near record highs, most less-educated non-Hispanic Whites have been without a job for seven long years. It should be no surprise that there's such angst among certain sections of the populace, even with the official jobless rate at only 5%.
>>>>> Scroll down to view and make comments <<<<<<
Click here for Historical News Post Listing
Make a Comment
Econintersect

wants your comments, data and opinion on the articles posted. As the internet is a "war zone" of trolls, hackers and spammers -

Econintersect

must balance its defences against ease of commenting. We have joined with Livefyre to manage our comment streams.

To comment, using Livefyre just click the "Sign In" button at the top-left corner of the comment box below. You can create a commenting account using your favorite social network such as Twitter, Facebook, Google+, LinkedIn or Open ID - or open a Livefyre account using your email address.



You can also comment using Facebook directly using he comment block below.
---