posted on 01 October 2016
from Lakshman Achuthan, Co-Founder and Chief Operations Officer of ECRI
The final release of Q2 GDP leaves its year-over-year growth rate at a three-year low of 1-1/4%, in line with the Fed's decision to skip a rate hike in September.
This weakness in GDP growth should come as no surprise to those who have been following our calls - specifically, the overall U.S. growth rate cycle (GRC) downturn that began over a year and a half ago. This was the reason we warned in the summer of 2015 that the Fed's rate hike plans were on a collision course with the economic cycle.
Then, right after the December rate hike, when major Wall Street houses were expecting four or five additional rate hikes in 2016, we declared that, "With the GRC downturn set to deepen, a full-blown rate hike cycle remains improbable" (USCO Essentials, December 2015).
This rate hike "cycle" has been exceptionally ill-timed in cyclical terms, starting a full year inside a GRC downturn. As a result, we have seen the longest lag ever between the first and second Fed rate hikes, assuming one takes place in coming months.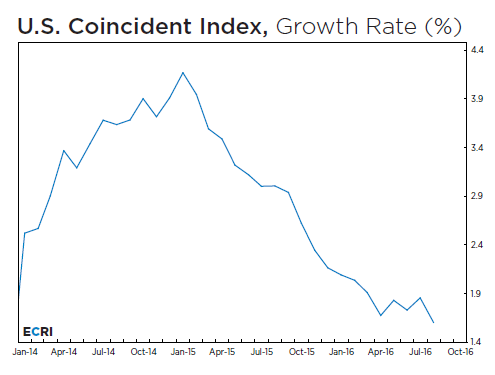 The reason for the Fed's difficulties in this regard should be clear. The chart shows that the most recent reading of ECRI's U.S. Coincident Index (USCI) growth rate (yoy) is at a 32-month low, illustrating the pronounced, pervasive and persistent cyclical downturn in growth that has been going on for over a year and a half.
And unless a growth rate cycle upturn begins to take shape, the Fed's next move may end up being a rate cut.
>>>>> Scroll down to view and make comments <<<<<<
Click here for Historical News Post Listing
Make a Comment
Econintersect

wants your comments, data and opinion on the articles posted. You can also comment using Facebook directly using he comment block below.
---