posted on 18 September 2016
from Zillow
-- this post authored by Lauren Bretz
The conventional, 30-year, fixed-rate mortgage has become the bedrock of American housing finance in large part because of its broad appeal. Its promise of low, consistent monthly payments is immensely attractive to home buyers in search of stability. And the ease with which a majority of these loans can be bought and sold for profit on the secondary market is desirable to lenders and investors alike.
But even an instrument as venerable and seemingly stable as the 30-year, fixed mortgage can evolve in the face of changing market forces, demographics and demand - particularly when those changes are as rapid and transformational as those experienced over the past decade or so. Zillow analyzed recently published data on millions of conventional, conforming mortgages acquired by Fannie Mae between 2000 and the first quarter of 2015,[1] identifying key trends among borrowers and focusing on loan amounts, down payments, creditworthiness, occupancy status and property type.
Our analysis revealed that while some aspects of conventional mortgages have returned to pre-recession patterns, for others a new normal has emerged.
North of The Wall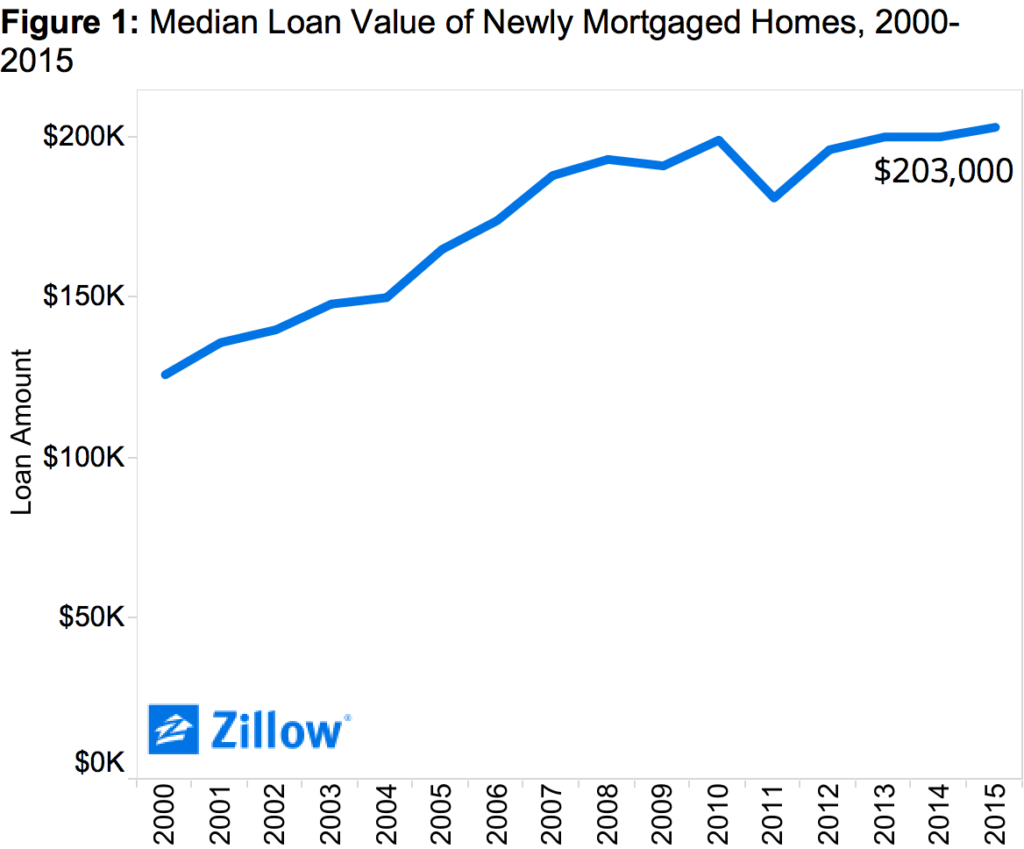 As last decade's housing bubble inflated, home prices skyrocketed. And as home prices rose, buyers were forced to take out larger loans. Between 2000 and 2008, the median conventional loan value climbed from $126,000 to $193,000, a 53 percent increase (figure 1).
However, there's a federal cap - known as the conforming loan limit - on how large these loans can get before they lose their status as "conforming." Homebuyers covet these conforming loans because of their low interest rates.[2] So, buyers of expensive homes often make strategically large down payments so that their remaining loan balance is just below the limit, allowing them to qualify for those low rates.
This phenomenon creates the conspicuous "wall" in figure 2, where large mortgages cluster at the limit. This wall has shifted to the right over time, as the Federal Housing Finance Administration upped the conforming loan limit from $252,700 to $417,000 between 2000 on 2006 to keep pace with the market during the boom years.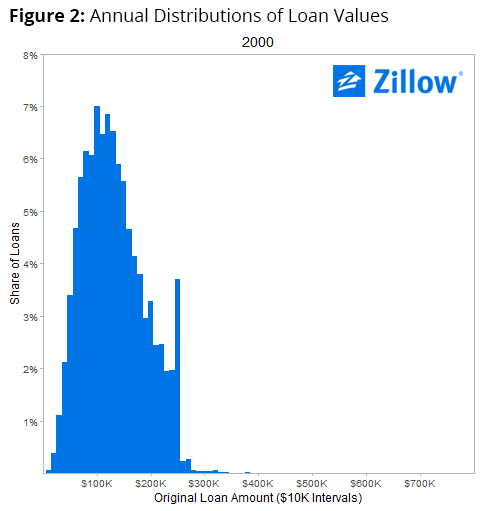 The collapse of the housing market spelled the end of dramatic increases in home loan values. Between 2008 and 2015, the median loan amount grew by only 5.2 percent to its current value of $203,000. Similarly, the FHFA has not increased the conforming loan limit since 2006 - it has now remained at $417,000 for 10 years in a row.
Legislation in 2008 did designate a collection of high-cost areas (HCAs) with special loan limits, allowing buyers in 38 counties to obtain conforming mortgages as high as $625,500 (for a short period, this limit was extended as high as $729,000 in very high-cost areas, which does register in the data). This explains why, as seen in figure 2, some buyers in later years were able to break through the wall.[3]
Down with Down Payments
A 20 percent down payment is often seen as standard for conventional loans. But in reality, prior to the recession, less than one-third of buyers opted for a 20 percent down payment (figure 3). Most of the remainder was split between 10 percent, 5 percent and even 3 percent down payments - meaning some borrowers owed almost the full value of their homes.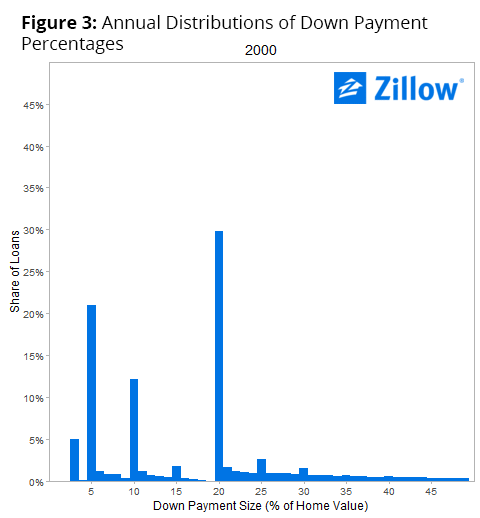 When the housing market crashed, it became much more difficult to obtain mortgages as lenders turned extremely cautious and more risk-averse. The more money a buyer had to put down, the less risky they were considered to be for default. As such, small down payments became markedly less common. Between 2009 and 2011, half of all new mortgages had a 20 percent or 25 percent down payment. Only one in five mortgages had a 10 percent or 5 percent down payment.
But in recent years, although higher down payments are still more common than they were before the recession, low down payments have staged a comeback. A 5 percent down payment is now just as common as a 20 percent down payment. This return in the popularity of higher debt is likely caused by easier lending standards and very low interest rates, which help keep overall costs down even as the total amount borrowed rises.
But lending standards haven't eased across the board, and it can still be very difficult for borrowers with low credit scores, who are typically seen as riskier by lenders. Between 2007 and 2009, the average down payment (as a percentage of home value) spiked by more than 10 percentage points among borrowers with low credit scores (figure 4). Essentially, for the few low-credit homebuyers not forced out of the conventional mortgage space during the recession, enormous down payments (almost 30 percent, on average) were required before lenders would even consider giving these borrowers a loan.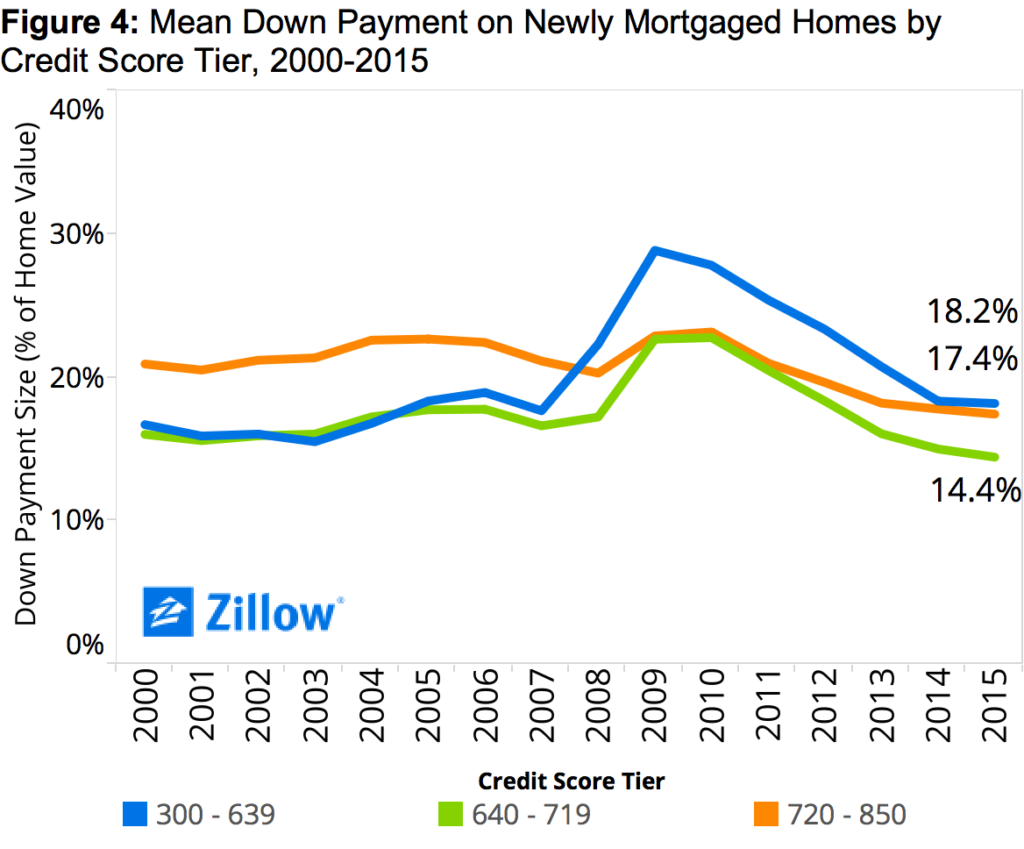 This recession-era increase in down payments among low-credit homebuyers contributed to an interesting shift in down payment dynamics that has persisted even after the end of the recession. Prior to 2008, the down payments of high-credit borrowers were consistently about 5 percentage points larger than those of low- and moderate-credit borrowers.[4] This likely occurred because borrowers with good credit had the means to make larger relative down payments in order to minimize their debt burden, while those with worse credit did not have this financial flexibility - especially as home prices climbed.
But beginning in 2008, those with low credit scores began making larger down payments than those with high credit scores. This dynamic has persisted even as down payment amounts have declined among all credit tiers, likely in response to historically low interest rates in a market that is still somewhat wary of unconventional lending.
Credit Where Credit is Due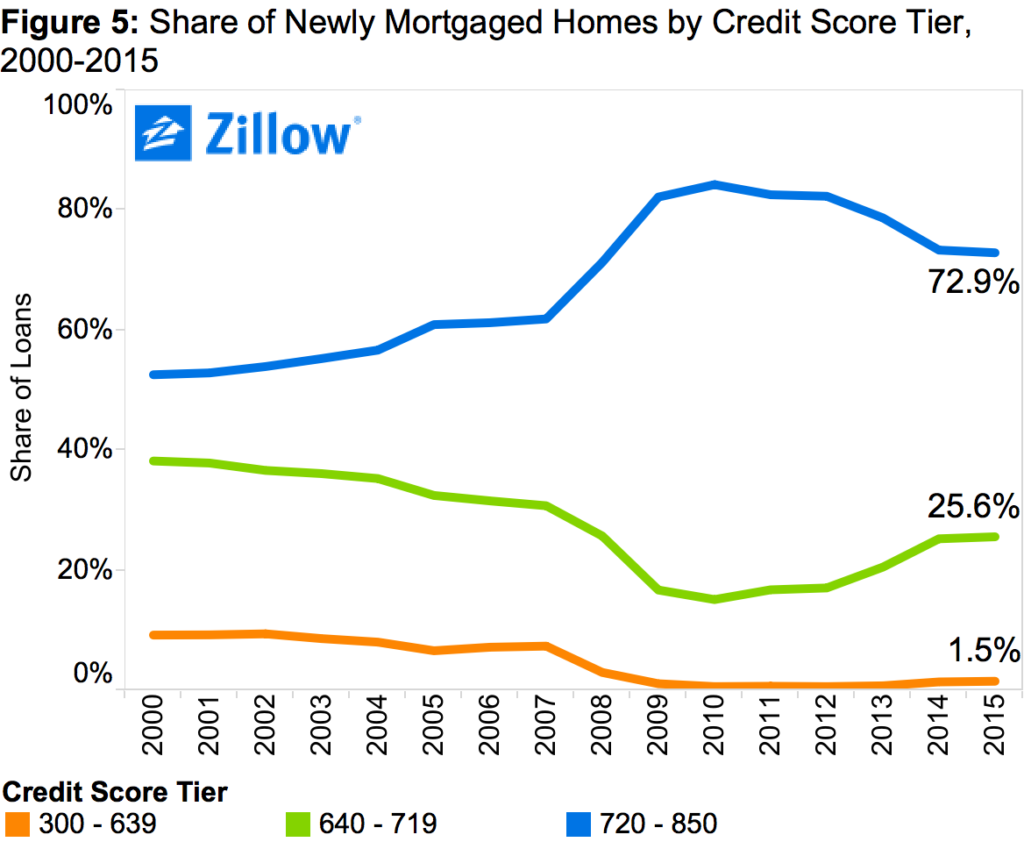 As the housing bubble burst, borrowers with excellent credit scores came to dominate the conventional loan market. By 2010, high-credit buyers accounted for an astonishing 84 percent of new mortgages purchased by Fannie Mae, up from barely half in 2000. Since then, moderate-credit borrowers have regained some market share as lending has eased, but conventional loans to those with scores below 640 have all but disappeared (figure 5).
In general, the credit score used to determine mortgage terms (and to perform this analysis) is known as the "representative" score.[5] Essentially, this is the lowest credit score among all borrowers listed on a mortgage. For example, if two people wanted to buy a home together, only the lower of their two credit scores would be factored into important calculations like the mortgage's interest rate.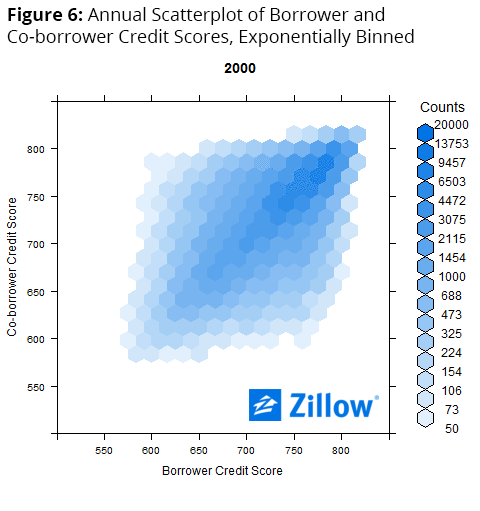 So, why don't pairs of borrowers just put the name of the person with the highest credit score on the mortgage papers? The most important reason is that each person listed on the mortgage has a legal ownership stake in the home. This can be financially or emotionally important to couples and investor groups. In addition, a co-borrower's income and assets can be used for qualifying purposes even if their credit score is not.
The dynamic between borrowers and their co-borrowers changed dramatically between 2008 and 2010 (figure 6). As noted, it became almost impossible for borrowers with a low representative credit score to qualify for a conventional loan during the recession. This is reflected in figure 6 as the bulk of loans shifts to the upper right corner of the graph, where both borrowers and their co-borrowers have high credit scores. In addition to having higher representative scores, borrowers and their co-borrowers had much more similar scores - that is, among those who qualified for loans during the recession, there were rarely mismatches in credit scores. Only those applicants who were both low-risk and low-variance were able to get conventional loans.
On the Picket Fence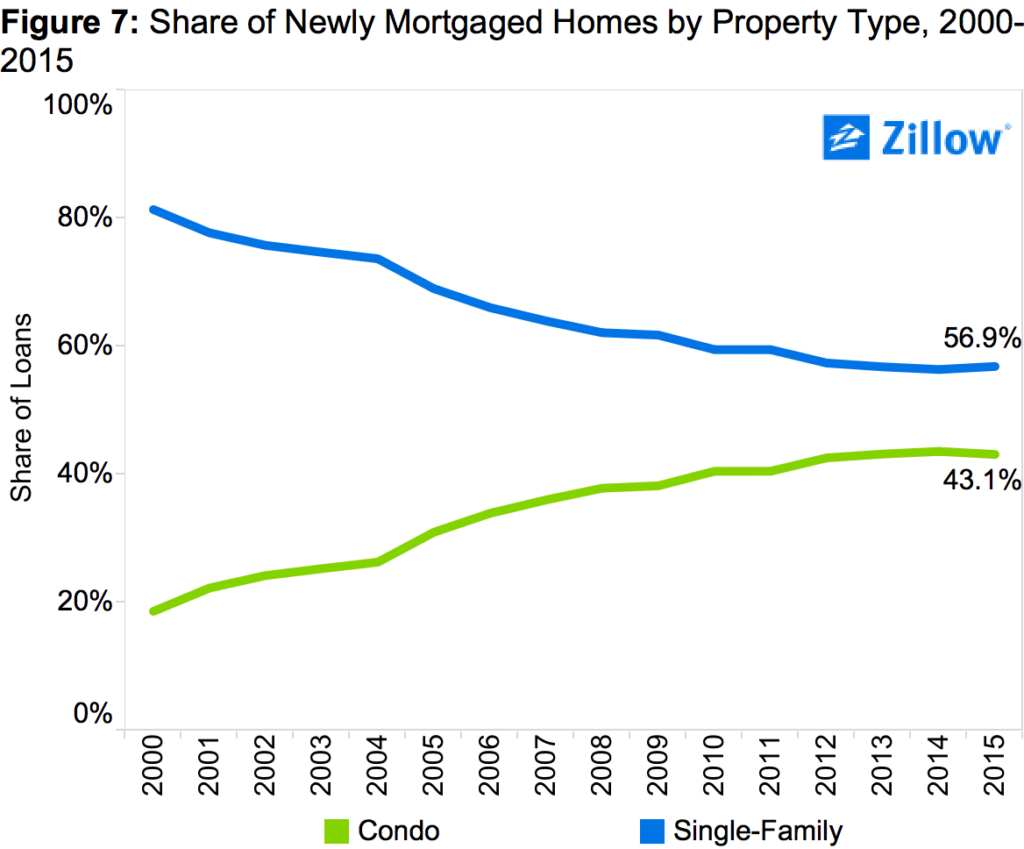 Over the past 15 years, as the characteristics of borrowers and the loans they take out has changed, so too have the types of homes they're buying with those loans. The share of conventional loans used to finance single-family home purchases has been steadily declining, from more than 80 percent in 2000 to 57 percent in 2015 (figure 7). Supplanting single-family home purchases are purchases of condominiums,[6] possibly because people tend to live in single-family homes longer (meaning less frequent purchases) and because there is a growing preference for urban living, where condos are much more common.
The share of mortgages taken out for single-family home purchases has been declining relative to condos. But among those planning on actually living in a home as a primary or secondary residence, investors are more likely to buy single-family properties. Further, the share of investment properties that are single-family homes has been declining at a slower rate than the share of primary and secondary residence home purchases - even ticking up marginally in 2013 and 2014 (figure 8). Investors' propensity to buy single-family homes is likely due to their relative affordability, as many investors purchase these properties in order to make modest improvements and sell it at a profit, or rent it out at a high profit margin.
Lone Loans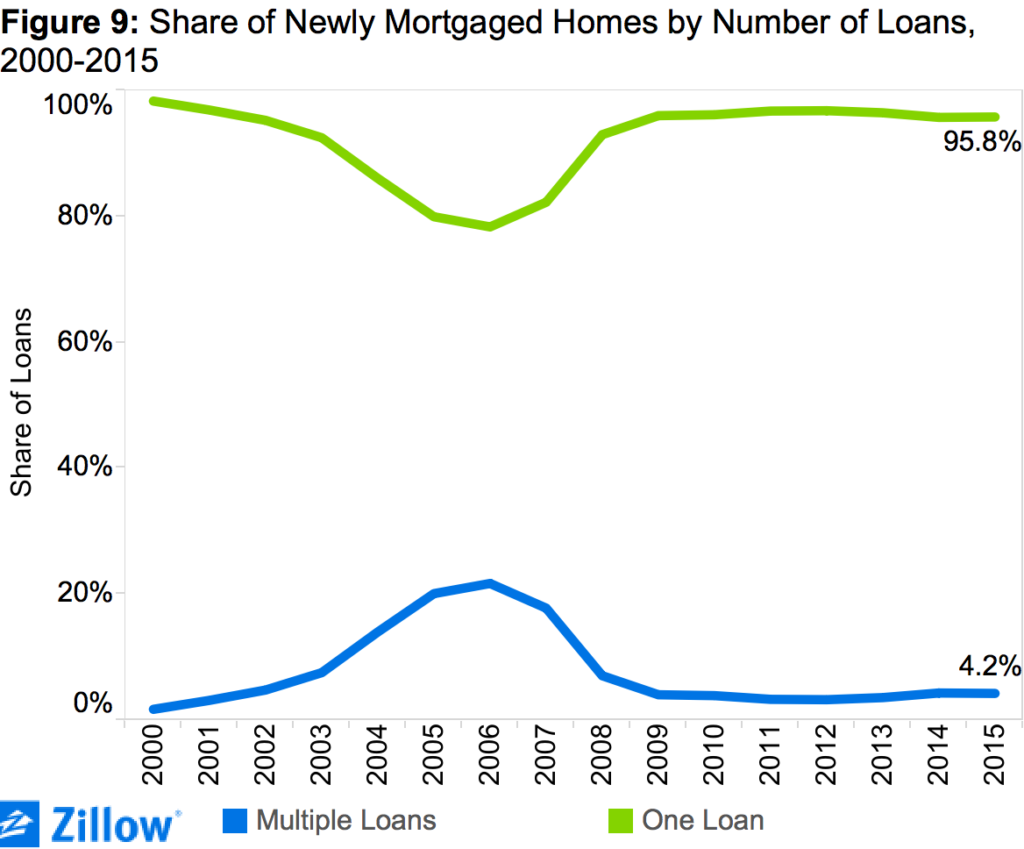 As was the case prior to the recession, more than 95 percent of borrowers currently take out only one mortgage to finance their homes. But between 2002 and 2008, there was a marked jump in the use of multiple loans to make home purchases, peaking at 22 percent of all mortgages in 2006 (figure 9). This reflects both skyrocketing home prices and ease of borrowing during the housing bubble, creating an incentive among borrowers to take out multiple loans to afford increasingly expensive homes.
Although this jump in multiple-loan use was most dramatic among high- and moderate-credit borrowers, it was also present among low-credit homebuyers. For all groups, this trend was facilitated by the ease of borrowing during the housing boom. But motivations for taking out multiple loans may have differed between poorer and wealthier borrowers.
As prices rose and more buyers of modest means were attracted to the market, many took out second or even third loans in order to afford the down payment on their home, then took out a conventional loan to cover the balance of the home's value. In essence, these borrowers were not putting any of their own money into a home purchase, instead relying entirely on borrowed money.
In contrast, at the high end, some buyers may have used multiple loans as a way to avoid exceeding the conventional loan limit on homes priced far above the limit. By taking out a first mortgage equal to the limit followed by a second mortgage to cover the remainder of their home purchase, these borrowers could obtain lower interest rates than they would if they'd been forced to take out a non-conventional, jumbo loan.
Between 2002 and 2008, buyers of primary residences were more likely than buyers of secondary homes or investment properties to take out multiple loans to finance each purchase (figure 10). This is likely the result of two factors: Second homes and investment properties are often cheaper, and those purchasing them are usually at a later stage in their lives when they have accumulated wealth, obviating the need for multiple loans.
The end of this practice of taking out multiple loans coincided with the beginning of the recession, as well as the federal designation of HCAs that extended conventional loan limits. Thus it is likely that a combination of tighter lending, especially to those with poor credit, and access to larger conventional loans removed the imperative to obtain multiple mortgages for a single property.
Closing the Deal
While many of the market anomalies caused by the housing bubble were temporary, there have been some seemingly more permanent changes in the mortgage landscape that affect the types of loans that homebuyers qualify for and ultimately choose.
While the median mortgage amount is not rising as quickly as it did during the housing bubble, higher loan values for homes at the upper end have been facilitated by the designation of federal high-cost areas (HCAs) for conventional loan limits. In conjunction with low interest rates, this has allowed high-credit borrowers to get better loans for more expensive homes, and these savings have translated into lower down payments for these buyers. Meanwhile, down payments are larger but decreasing quickly among borrowers with poorer credit as lending eases post-recession.
This recent facility in borrowing is also evidenced by a broader range of acceptable credit scores among both borrowers and their co-borrowers after extreme tightening during the recession. Along with the designation of HCAs, this has also contributed to a reversal in the trend toward multi-mortgaged homes that proliferated in the bubble era.
In contrast, the rising popularity of condos over single-family homes shows no signs of reversing - the share of new conventional mortgages each year that are taken out on condos has doubled since 2000. This may be due to an increasing preference for homes in urban areas, where condos are more common, as well as less-frequent moves among those who live in single-family homes.
Source
http://www.zillow.com/research/conventional-mortgage-changes-12999/
Footnotes
[1] Details: http://www.fanniemae.com/portal/funding-the-market/data/loan-performance-data.html
[2] The government-sponsored enterprises (GSEs) Fannie Mae and Freddie Mac were established to bolster stability and liquidity in the housing market by purchasing conventional mortgages from investors on the secondary market. However, the GSEs may only repurchase mortgages if they are "conforming" loans, meaning that they adhere to certain federal risk requirements (such as the conforming loan limit). As a result, lenders like to issue conforming loans because they are easy to resell to the GSEs, meaning that they are relatively liquid, safe assets. And because they are not very risky, conforming loans tend to have low interest rates. This makes them attractive to homebuyers, who strive to qualify for them when taking out new mortgages.
[3] 2016 conforming loan limits by county: http://www.fhfa.gov/DataTools/Downloads/Pages/Conforming-Loan-Limits.aspx
[4] For the purposes of this analysis, high credit scores are defined as those at or above 720, moderate scores as 640-719, and low scores as below 640.
[5] Fannie Mae's guidelines for determining the representative credit score on a mortgage loan:https://www.fanniemae.com/content/guide/selling/b3/5.1/02.html
[6] This definition of condos includes planned urban developments (PUDs).
ABOUT THE AUTHOR
Lauren Bretz is an Economic Analyst at Zillow.
>>>>> Scroll down to view and make comments <<<<<<
Click here for Historical News Post Listing
Make a Comment
Econintersect

wants your comments, data and opinion on the articles posted. You can also comment using Facebook directly using he comment block below.
---