posted on 10 September 2016
from Lakshman Achuthan, Co-Founder and Chief Operations Officer of ECRI
Days before the Brexit vote - responding to client questions amid widespread fears about the economic threat to the U.K. - we said that, "even though Brexit could be a negative shock to the economy, it is unlikely to tip it into recession at this time.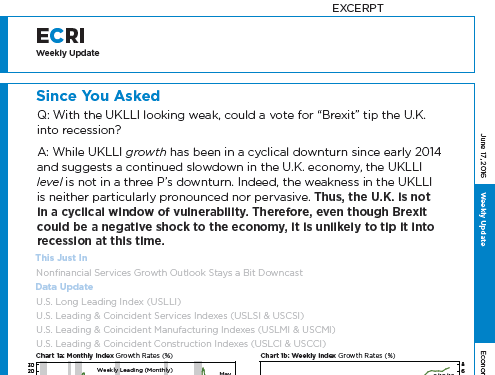 Right after the Brexit vote, we followed up with a detailed analysis, justifying our conclusion that, "[w]hile potentially damaging longer-run U.K. and European growth prospects, the vote for Brexit is unlikely to unleash an immediate recession." Of course, we were practically alone in our view.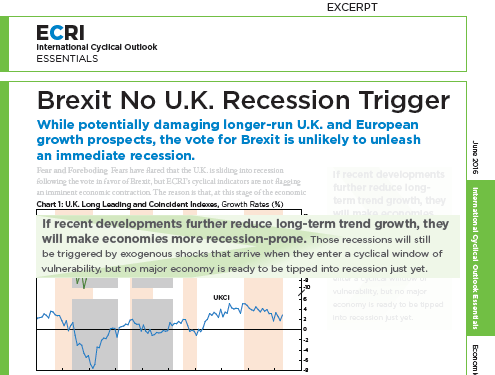 At the time, there was a virtual consensus that a Brexit vote would trigger a recession. Only now, with evidence mounting that such a recession hasn't materialized, is there puzzlement about the "Brecession blunder" - how could so many economists have been so wrong.
Part of the explanation is that most analysts' expectations were heavily influenced by their widely shared view that Brexit would trigger an economic catastrophe - for which they used the term "recession" as a singularly inappropriate shorthand. Because most economists think a recession results from any serious negative shock - such as the Brexit vote - it was natural for them to forecast a recession. But that isn't how recessions work.
In fact, recessions are "triggered by exogenous shocks that arrive when [economies] enter a cyclical window of vulnerability." What we understood at ECRI that most economists didn't is that the U.K. wasn't in such a recessionary window of vulnerability at the time.
Therefore, we expected the U.K. economy to be resilient to the shock of the Brexit vote, and avoid an immediate recession, which is precisely what has happened.
>>>>> Scroll down to view and make comments <<<<<<
Click here for Historical News Post Listing
Make a Comment
Econintersect

wants your comments, data and opinion on the articles posted. As the internet is a "war zone" of trolls, hackers and spammers -

Econintersect

must balance its defences against ease of commenting. We have joined with Livefyre to manage our comment streams.

To comment, using Livefyre just click the "Sign In" button at the top-left corner of the comment box below. You can create a commenting account using your favorite social network such as Twitter, Facebook, Google+, LinkedIn or Open ID - or open a Livefyre account using your email address.



You can also comment using Facebook directly using he comment block below.
---