posted on 18 June 2016
from Lakshman Achuthan, Co-Founder and Chief Operations Officer of ECRI
In summer of 2015 we declared that the "Fed's rate hike plans are on a collision course with the economic cycle." This was because the Fed was pressing for the long awaited "liftoff" from the zero lower bound at a time when ECRI's leading indexes were pointing to a cyclical slowdown in U.S. economic growth, i.e., a growth rate cycle (GRC) downturn.
On December 16, 2015, the Fed did push through a rate hike in the face of a continuing slowdown in U.S. economic growth. The following day, we informed our members that, "[w]ith the GRC downturn set to deepen, a full-blown rate hike cycle remains improbable" (U.S. Essentials, December 2015). Please recall that, at the time, both the Fed and prominent Wall Street houses were projecting an additional four to five rate hikes in 2016.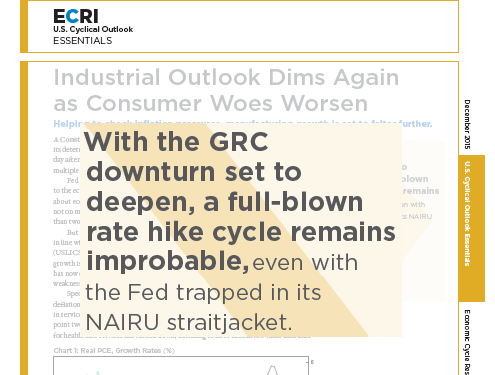 The attempt at a rate hike cycle has been exceptionally ill-timed, starting a full year inside of a cycle slowdown - the longest lag ever between the start of a GRC downturn and the beginning of a Fed rate hike cycle. Now - no matter what - we would have seen the longest lag ever between the first and second Fed rate hikes.
Meanwhile, as we had expected, the slowdown has continued through the first half of 2016. Amidst slowing global growth we therefore reiterated in early June that a "rate hike cycle remains unlikely."
It is in this context that, before Chair Yellen's recent press conference on Wednesday, we explained that, "Unless a growth rate cycle upturn begins to take shape, its [the Fed's] next move may well end up being a rate cut."
The Fed and the consensus of economists did not foresee the "headwinds" that have effectively scuttled the Fed's rate hike plans. This is because they were oblivious to the direction on the economic cycle, which remains the unwavering focus of ECRI's leading indexes.
>>>>> Scroll down to view and make comments <<<<<<
Click here for Historical News Post Listing
Make a Comment
Econintersect

wants your comments, data and opinion on the articles posted. As the internet is a "war zone" of trolls, hackers and spammers -

Econintersect

must balance its defences against ease of commenting. We have joined with Livefyre to manage our comment streams.

To comment, using Livefyre just click the "Sign In" button at the top-left corner of the comment box below. You can create a commenting account using your favorite social network such as Twitter, Facebook, Google+, LinkedIn or Open ID - or open a Livefyre account using your email address.



You can also comment using Facebook directly using he comment block below.
---