posted on 12 June 2016
from Lakshman Achuthan, Co-Founder and Chief Operations Officer of ECRI
The success of Bill Clinton's 1992 election campaign was partly credited to its focus on "the economy, stupid," when referring to what voters cared about. Today, that refrain still resonates for many who feel the cycle slowdown that is now a year and a half old, but the drop in May payroll job growth still jolted the Wall Street consensus.
Regardless of the lens through which one views the economy, it should be concerning that, month-to-month gyrations aside, year-over-year (yoy) job growth has now fallen to a 27-month low (Chart), with yoy growth in not-seasonally-adjusted payroll jobs also dropping to a 27-month low (not shown).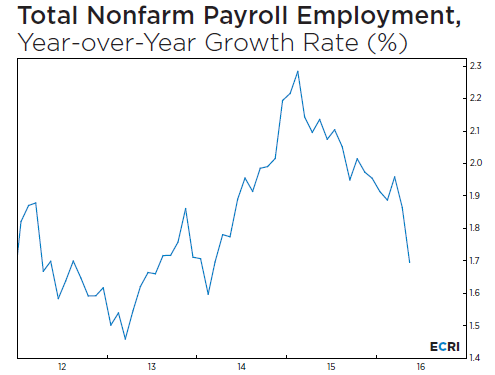 But a month earlier, yoy payroll job growth was already in a clear cyclical downturn that had begun in February 2015. In fact, at the time it was just a hair (0.02 percentage points) above a 21-month low. In cyclical terms, nothing fundamental has changed as a result of Friday's job report.
This cyclical downturn in job growth is part of the overall U.S. growth rate cycle (GRC) downturn that began a year and a half ago. This was the reason we warned last summer that the Fed's rate hike plans were on a collision course with the economic cycle.
Then, right after the December rate hike, when major Wall Street houses were expecting four or five additional rate hikes in 2016, we declared that, "With the GRC downturn set to deepen, a full-blown rate hike cycle remains improbable" (USCO Essentials, December 2015).
This rate hike cycle has been exceptionally ill-timed in cyclical terms, starting a full year inside a cycle slowdown - the longest lag we have ever seen between the start of a GRC downturn and the beginning of a Fed rate hike cycle. Now - even if a mid-2016 hike were not effectively off the table - we would have seen the longest lag ever between the first and second Fed rate hikes.
The reason for the Fed's difficulties in this regard should be clear. But it does not seem to realize that its plans are still on a collision course with the economic cycle. And unless a growth rate cycle upturn begins to take shape, its next move may end up being a rate cut.
>>>>> Scroll down to view and make comments <<<<<<
Click here for Historical News Post Listing
Make a Comment
Econintersect

wants your comments, data and opinion on the articles posted. As the internet is a "war zone" of trolls, hackers and spammers -

Econintersect

must balance its defences against ease of commenting. We have joined with Livefyre to manage our comment streams.

To comment, using Livefyre just click the "Sign In" button at the top-left corner of the comment box below. You can create a commenting account using your favorite social network such as Twitter, Facebook, Google+, LinkedIn or Open ID - or open a Livefyre account using your email address.



You can also comment using Facebook directly using he comment block below.
---