posted on 11 June 2016
from the Lee Adler, Wall Street Examiner
Smaller banks often deposit funds in bigger banks. The level of banks' deposits at other banks is a reflection of their confidence in the system as a whole. The ECB measures and is kind enough to share with us the level of bank deposits in other banks in Europe, breaking the data down by country and the Eurozone as a whole.
Banks have been pulling their money out of other banks in Europe like rats deserting a sinking ship since 2012. Even the advent of QE in 2014 only slowed the stampede. European banks are still gettin' out of Dodge.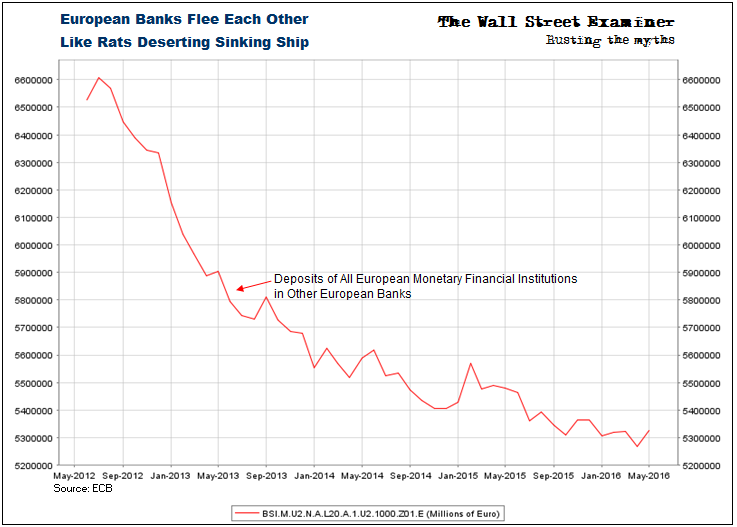 Current data is as of month end April. Since June of 2012 when European interbank deposits peaked, the banks have pulled €1.28 trillion or 19.4% of their total deposits from other European banks. That's an annual rate of decline of 5.2%. In the past year they have withdrawn €164 billion at an annual rate of decline of 2.8%. And the number is only that good because of a seasonal dead cat bounce in April.
The picture is even worse for Germany, with its biggest bank, Deutsche Bank on the ropes. European banks have pulled €243 billion, or 16.2% of their total deposits from German banks since the 2012 peak. That's an annual rate of decline of 4.3%. But unlike in the rest of the European banking system, the withdrawals from German banks have accelerated in the past 13 months, falling by 8.9%. That's more than triple the rate of decline from 2012-2015. And it's more than triple the rate of decline from European banks in total.
Frankfurt, we have a problem.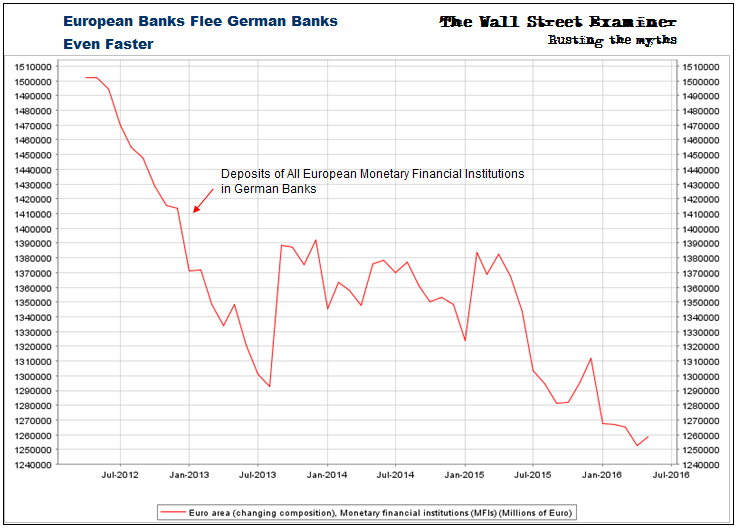 ---
Read more about the situation of the European banking system in the Wall Street Examiner Pro Trader Banking Liquidity Report to be posted Saturday morning. Read these reports and our proprietary Macro Liquidity Reports risk free for 90 days.
---
>>>>> Scroll down to view and make comments <<<<<<
Click here for Historical News Post Listing
Make a Comment
Econintersect

wants your comments, data and opinion on the articles posted. As the internet is a "war zone" of trolls, hackers and spammers -

Econintersect

must balance its defences against ease of commenting. We have joined with Livefyre to manage our comment streams.

To comment, using Livefyre just click the "Sign In" button at the top-left corner of the comment box below. You can create a commenting account using your favorite social network such as Twitter, Facebook, Google+, LinkedIn or Open ID - or open a Livefyre account using your email address.



You can also comment using Facebook directly using he comment block below.
---