posted on 07 June 2016
Written by Econintersect
Early Bird Headlines 07 June 2016
Econintersect: Here are some of the headlines we found to help you start your day. For more headlines see our afternoon feature for GEI members, What We Read Today, which has many more headlines and a number of article discussions to keep you abreast of what we have found interesting.
Global
Why is everyone covering up their laptop cameras? (The Guardian) Big Brother could be watching you. Even the U.S. FBI director has put tape over his camera lenses.

Developing world invests more in renewable energy than rich countries for first time, new study says (Independent) Last year broke records for investment in renewable energy with countries like China, India and even Mauritania in the forefront. A total of about £196.5bn was spent renewable power and fuels globally in what was a record year for investment in the sector, according to the Renewables 2016 report by the Renewable Energy Policy Network for the 21st Century (Ren21). But more than £107bn of that total, which doesn't include large hydropower schemes and heating and cooling technologies, took place in developing countries such as China, India and Brazil. Econintersect: Why? These countries do not have entrenched fossil fuel giants controlling their governments, most have pollution problems to address, they have less invested in fossil fuel burning facilities to be decommissioned, they recognize the value to a developing economy to have stable energy prices and probably recognize the future cost will be less than fossil fuels.
U.S.
To the brave and patient voters of California, New Jersey, Montana, North Dakota, South Dakota, New Jersey, and New Mexico,

The Associated Press has just declared that Hillary Clinton has clinched the Democratic nomination. And the BBC and the New York Times and Politico and USA Today are all following its lead by making this their top story. The Huffington Post even says "it's official".

It is not official. At the very least, the media stating this is incorrect and misleading. At most it is an outright lie. Don't let them fool you. As much as The Democratic Party would like to officially declare Hillary Clinton as the nominee, they have not done so and will not do so, because that would be breaking the law (more on that below). Unless Hillary Clinton averages more than 71% of the vote in every single one of your states, she will not be the nominee on June 8th.

The real purpose of declaring the race as "officially over", the night before many hundreds of delegates are at stake, is to discourage all of YOU from going out and exercising your most important right as Americans. They hope that, if you do not vote, if you give up, then their fantasy will come true. If you stay home and do not vote, then Hillary Clinton will become the nominee in reality.

The media is trying to trick you into thinking that super-delegates already count, and they don't. They don't vote until the convention in late July. Most importantly, throughout history, when it comes down to it, a large amount of super-delegates always change their mind.
John Oliver buys and forgives $15m worth of medical debt (The Guardian) Last Week Tonight spent about $50 to create a debt-acquisition company in Mississippi. The corporation's name is Central Asset Recovery Professionals Inc - also known as Carp. According to Oliver, soon after its creation, Carp was offered a portfolio of medical debt worth $14,922,261.76 at a cost of "less than half a cent on a dollar, which is less than $60,000". But, instead of doing the collection thing, Oliver decided to forgive the debt and did so with the help of RIP Medical Debt charity.
Econintersect note: Yesterday in 'What We Read Today' we discussed several articles on excessive debt problems and debt-deflation. Tonight the Documentary of the Week will have a lecture on the same subject, including some thoughts about large-scale debt write-off (aka 'debt jubilee').
EU
Nato countries begin largest war game in eastern Europe since cold war (The Guardian) A ten-day military exercise, Anaconda-2016, will involve 31,000 troops and thousands of vehicles from 24 countries. This will be the biggest ever movement of foreign allied troops in Poland in peace time. For the first time since the Nazi invasion of Soviet-occupied Poland began on 22 June 1941, German tanks will cross the country from west to east.
UK
The UK's EU rebate - explained (The Conversation) In 2014, the latest year for which data was shown in the article, the UK got a rebate of just under 24% of its payments to the EU. The basis for this invovles some rather arcane agricultural sector factors plus other complicated factors. For more details, read the article. Bottom line: The UK has the lowest EU contrivution and gets some of it back.
Turkey
Istanbul bomb blast kills 11 people, wounds 36: governor (Reuters) A car bomb attack on a Turkish police bus killed 11 people, seven of them police officers, in the central Istanbul district of Vezneciler on Tuesday, Istanbul Governor Vasip Sahin told reporters near the scene. He said 36 people were wounded in the attack and three of them were in a critical condition.
India
Modi looks to cement US-India ties before Obama's term ends (CNBC) With U.S. President Barack Obama's tenure coming to an end, India's Narenda Modi is on a mission to cement his country's relationship with the world's largest economy. But he may meet a less-friendly America than on previous visits. Modi arrived in the U.S. on Tuesday for a two-day summit, marking his fourth official visit - a remarkable turnaround for the former Gujarat minister who was banned from entering the country for a nearly a decade before his presidential victory in May 2014. The U.S. is India's largest trading partner, not to mention a major source of capital and military equipment so Modi will seek to consolidate those ties regardless of who becomes President.
China
This Region Holds the Key to China's Modern Day Silk Road (Bloomberg) The southwestern China city of Chongqing (formerly known in the west at Chungking) and the province of the same name is destined to be the eastern anchor of the new silk road that China hopes to build through Asia and ultimately to Europe.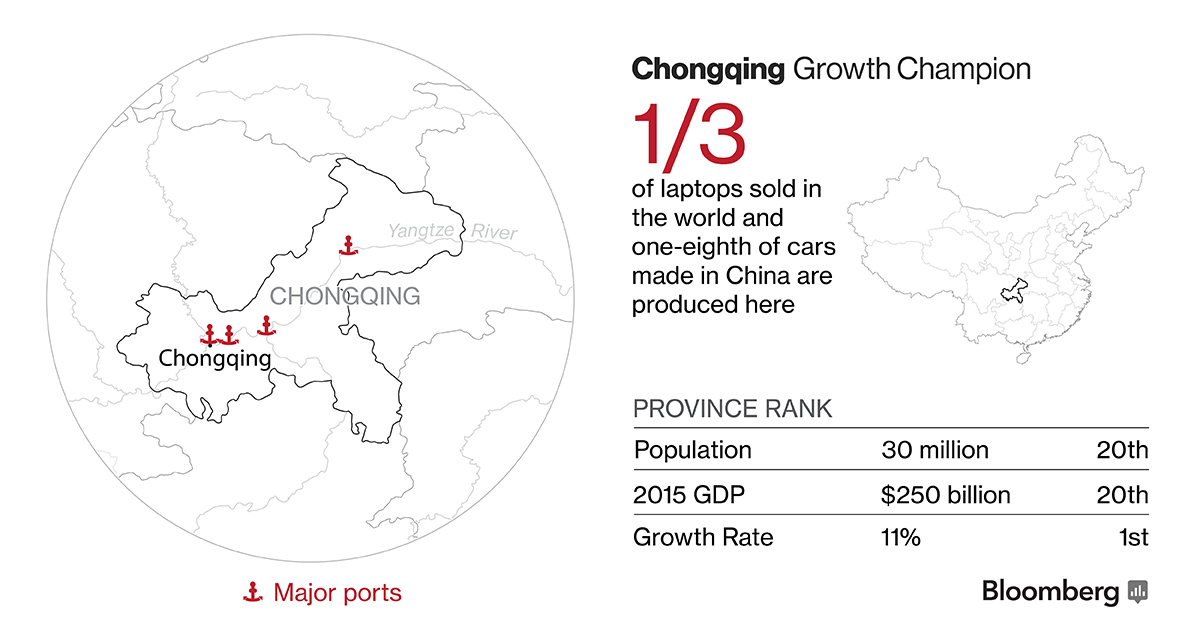 >>>>> Scroll down to view and make comments <<<<<<
Click here for Historical News Post Listing
Make a Comment
Econintersect

wants your comments, data and opinion on the articles posted. You can also comment using Facebook directly using he comment block below.
---
Econintersect Contributors
---
---
---
---
---
| | |
| --- | --- |
| Print this page or create a PDF file of this page | |
---
The growing use of ad blocking software is creating a shortfall in covering our fixed expenses. Please consider a donation to Econintersect to allow continuing output of quality and balanced financial and economic news and analysis.
---
---
---
---
---
---
---
---