posted on 28 May 2016
from Lakshman Achuthan, Co-Founder and Chief Operations Officer of ECRI
The Fed may welcome higher inflation, but it is important not to forget what inflation does to real wage growth - which is what folks on Main Street depend on. Inflation eats away at wages, and as a result, real wage growth has been declining since last fall.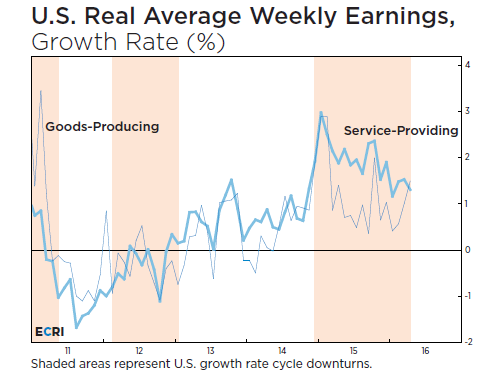 In fact, yoy real average weekly earnings (AWE) growth peaked just under 3% at the beginning of 2015 in both the goods-producing sector and the service-providing sector. Real AWE growth in the goods-producing sector is now under 1½%, i.e., about half of what it was at the beginning of 2015 (thin blue line), while real AWE growth in the service-providing sector is even lower, and is approaching January's 15-month low (thick blue line).
So, even though the pick-up in nominal wage growth is welcome, it is worth recalling that, in the fall of 2014, when the economy was still accelerating (and not decelerating as it is today), Ms. Yellen put off rate hikes because yoy real (i.e., inflation-adjusted) wage growth was essentially "nonexistent," being not far above zero. Indeed, in mid-2014, she had effectively declared that clearly positive real wage growth was a precondition for Fed rate hikes, stating that "[t]here is some room ... for real wage gains before we need to worry that that's creating an overall inflationary pressure for the economy."
But as ECRI noted at the time, "because higher inflation eats away at real earnings growth," historical evidence showed "that it would take an inflation cycle downturn for real earnings growth to satisfy Ms. Yellen's condition for initiating Fed rate hikes" (USCO Focus, October 2014).
Today we have an inflation cycle upturn in progress, eroding real wage growth, making Ms. Yellen's 2014 real wage growth goals even more distant. It is also likely to frustrate hopes for a sustained revival in real consumer spending growth.
>>>>> Scroll down to view and make comments <<<<<<
Click here for Historical News Post Listing
Make a Comment
Econintersect

wants your comments, data and opinion on the articles posted. As the internet is a "war zone" of trolls, hackers and spammers -

Econintersect

must balance its defences against ease of commenting. We have joined with Livefyre to manage our comment streams.

To comment, using Livefyre just click the "Sign In" button at the top-left corner of the comment box below. You can create a commenting account using your favorite social network such as Twitter, Facebook, Google+, LinkedIn or Open ID - or open a Livefyre account using your email address.



You can also comment using Facebook directly using he comment block below.
---