posted on 21 May 2016
from Zillow
-- this post authored by Aaron Terrazas
The effects of a slowing energy industry first showed up early last year in local rental markets, particularly in Texas. They are now starting to bubble up in purchase markets, too, as home values fall and negative equity rises in parts of the country heavily dependent on the energy and oil industries.
Since mid-2014, the price of oil has declined precipitously, and employment in the energy sector - until recently a source of huge economic growth in many areas - is suffering as a result. Industry benchmark West Texas Intermediate Crude was selling for more than $100 per barrel in summer 2014.[1] Prices are currently hovering well below $40 per barrel.
And as oil prices have plunged, median home values have grown less quickly (or fallen) in areas with higher employment in the mining and oil/gas extraction industries, and negative equity has declined at a slower rate and even started to rise in some (figure 1).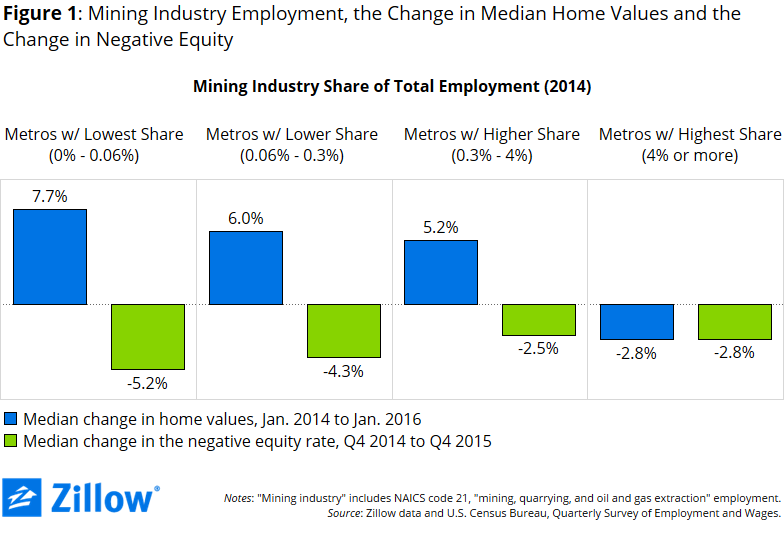 Home values declined in five of the six U.S. metros [2] with the highest dependence on energy-industry employment.[3]Midland, Texas, where the energy industry directly accounts for almost one-in-four local jobs (and many more indirectly after counting those whose business relies on the energy-sector) experienced a decline in median home values of 2.4 percent between January 2014 and January 2016. Over the same period, home values in the U.S. and the state of Texas overall grew by 7.7 percent and 9.8 percent, respectively.
Declining home values often bring rising negative equity. The share of U.S. homeowners overall with a mortgage in negative equity fell to 13.1 percent in Q4 2015, from to 16.9 percent in Q4 2014. But in the most energy-industry-dependent parts of the country, negative equity has started to reverse course and has begun increasing.
The six metros[4] nationwide where negative equity increased year-over-year had a median mining-industry share of total employment in 2014 of 3.4 percent and a median number of mining-industry employees of 1,500 (figure 1). By contrast, metros where negative equity declined from a year earlier had a median share of mining employees in the total workforce of just 0.2 percent and a median number of mining industry employees of about 100.
Despite these trends, slowing housing markets in the most energy employment dependent metros are unlikely to spillover to housing or financial markets nationwide. Residential mortgage lending standards are more conservative than in the pastand the largest local economies in oil country - notably Houston, Dallas and Denver - are more diversified than ever before.
Overall, when it comes to housing markets, the recent decline in oil prices largely boils down to big problems for mostly smaller places, and small problems for bigger places.
Source
http://www.zillow.com/research/energy-negative-equity-home-values-12180/
Footnotes
[1] U.S. Energy Information Administration, West Texas Intermediate Crude Spot Price at Cushing, Oklahoma.
[2] The exception is Greely, Colorado, which has benefited from extraordinary growth in the Greater Denver area overall, much of it driven by the technology sector.
[3] Share of total employment in the mining, quarrying, oil and gas extraction industry (North American Industry Classification System, NAICS, code 21) in 2014 according to the U.S. Census Bureau's Quarterly Census of Employment and Wages (QCEW).
[4] Midland, Texas; Longview, Texas; Laredo, Texas; Anchorage, Alaska; Morgantown, West Virginia; and Canton, Ohio.
About the Author
Aaron Terrazas is a Senior Economist at Zillow.
>>>>> Scroll down to view and make comments <<<<<<
Click here for Historical News Post Listing
Make a Comment
Econintersect

wants your comments, data and opinion on the articles posted. You can also comment using Facebook directly using he comment block below.
---