posted on 20 May 2016
from Zillow
-- this post authored by Sarah Mikhitarian
In many American cities, more means more - and not in a particularly good way. More tightly regulated land use in these cities is associated with more rapidly rising rents, more acute shortages of homes for sale and more adults living with roommates in the face of rising housing costs and fewer housing options.
While a number of factors impact growth in rents and the number of homes for sale in a given market, local housing and land-use regulation are inextricably linked to a city's ability to ensure it has enough housing to meet demand. Using the Wharton Residential Land Use Regulation Index[1] and data from the U.S. Census, combined with Zillow data on rents and inventory, Zillow analyzed the relationships between land-use regulation and:
Percent change in median rents

Percent change in the share of homes for sale

The number of adults per household
Rents and Regulation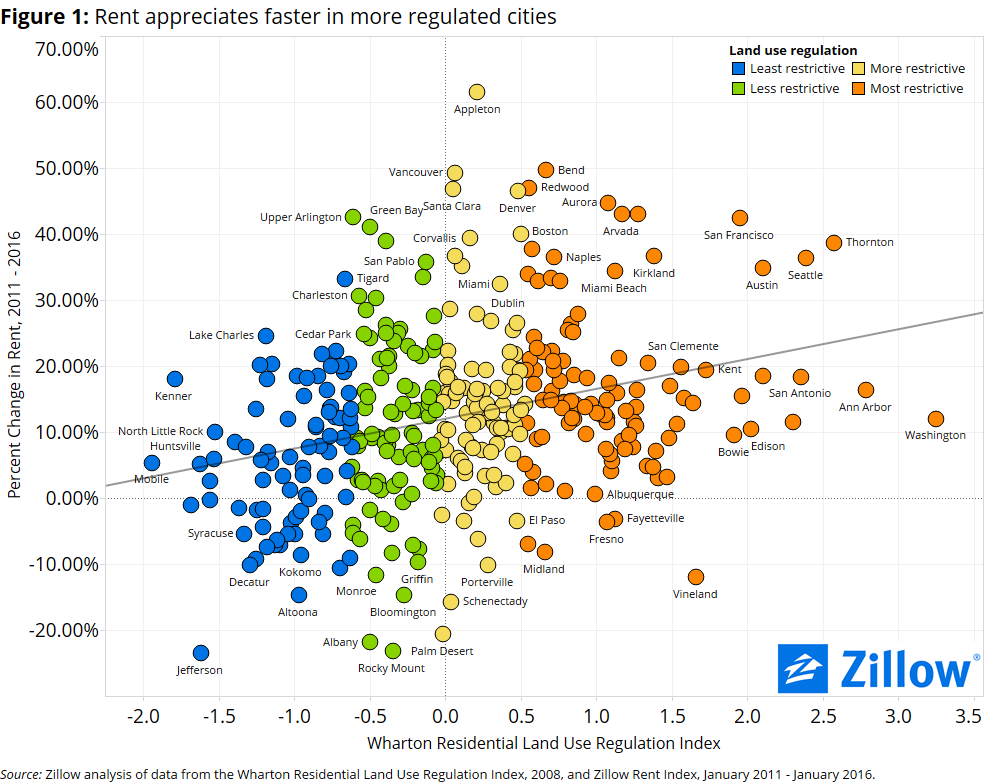 Stricter zoning ordinances and building codes in more tightly regulated cities make it more difficult to construct new units, often leading to fewer apartments available to lease and faster growth in rents (figure 1).
For example, over the past five years[2] the typical rent in the highly regulated city of San Francisco increased 42.4 percent. In more laissez-faire Chicago, median rent increased just 7 percent over the same period. On average, rents in the nation's least restrictive cities rose 6.1 percent over the past five years, while rents in the most restrictive cities rose 16.7 percent. And while land use regulations are not the whole story, they certainly contribute.
Taking (Housing) Stock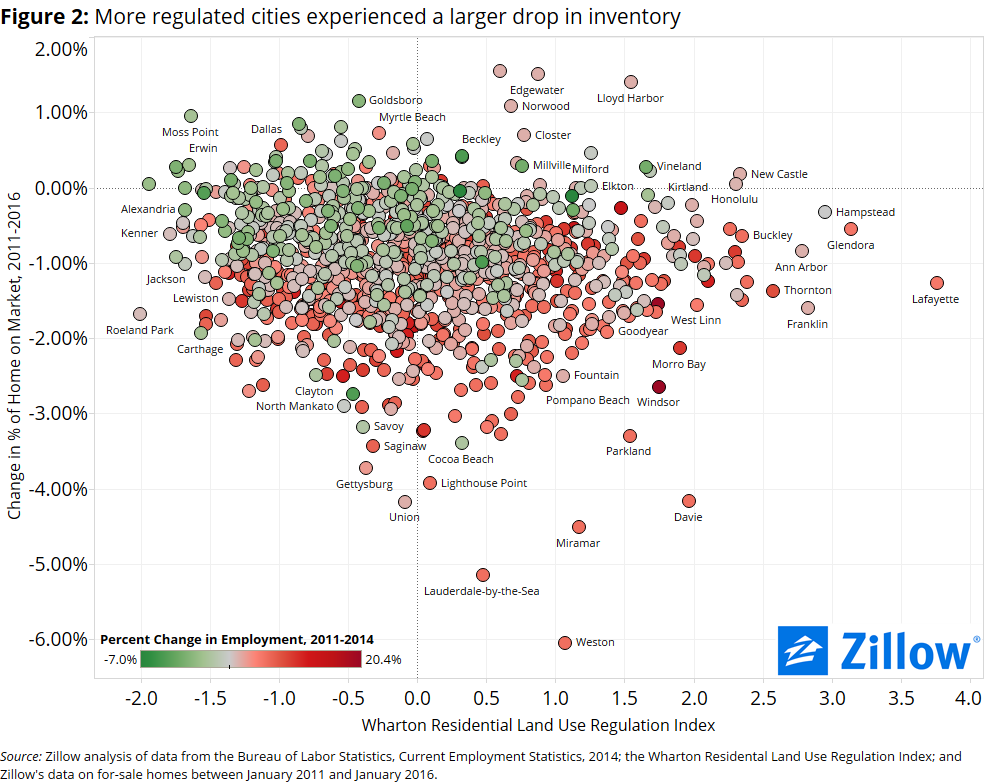 Those looking to purchase rather than rent a home face a similar situation. Again, because it is more difficult to build new homes in cities with more restrictive regulation, these cities experienced a larger drop in the share of homes listed for sale. This is particularly true in fast-growing cities struggling to keep pace with rapid job growth and the strong demand for housing that comes with it (figure 2).
Consider the cities of Syracuse, New York, and Seattle, Washington. Seattle is both highly regulated and fast-growing, boosting its employment rate by 8.6 percent between 2011 and 2014. Seattle's stricter regulation has made it difficult for the city to meet the increasing demand brought on by job growth, contributing to a large 1.3 percentage point drop in the share of homes for sale over the past five years.
Syracuse is less regulated, giving the city more flexibility to add more housing when needed to better meet demand. But that demand has been slower to materialize in Syracuse, with employment only growing by 0.9 percentage points from 2011 through 2014. These two factors play an important role in Syracuse's steady supply of homes on the market, which has fallen by only 0.1 percent over the past five years.
Double Trouble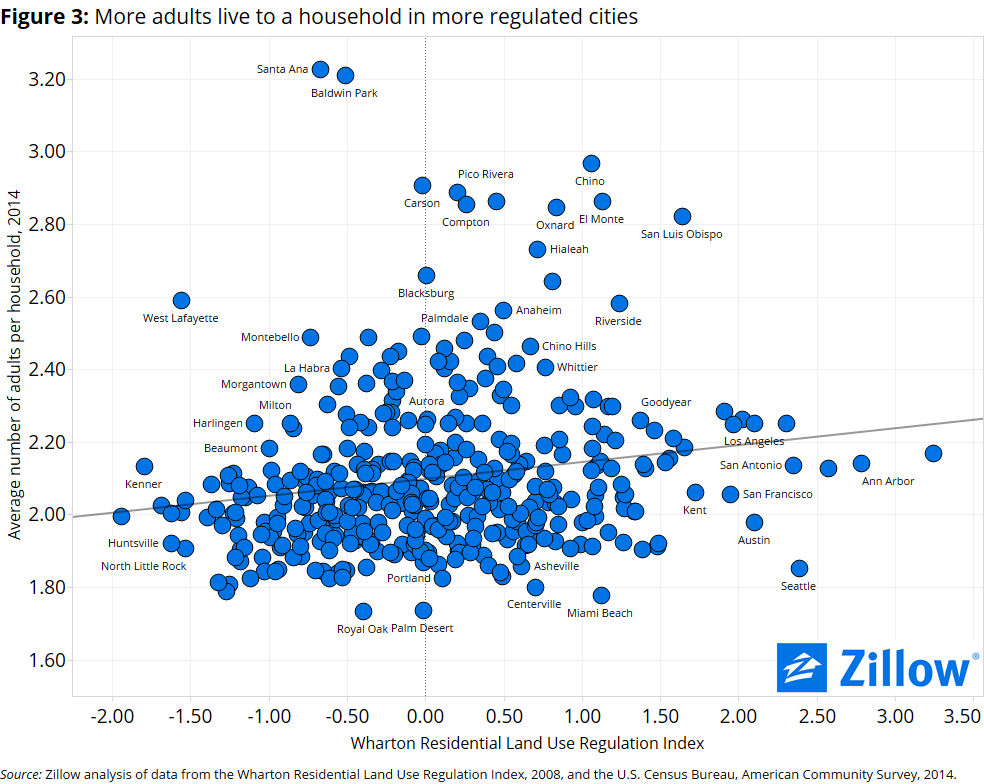 As regulation increases, so does the average number of adults per household (figure 3). Whether they choose to rent or own, adults have to live somewhere. And given limited supply of both for-sale homes and rental apartments in the most highly regulated cities, more adults choose to - or are forced to - consider finding a roommate to live within the city limits.[3]
And when regulation is restrictive, residents also tend to add more roommates over time. Between 2011 and 2014, the gap in the average number of adults per household grew almost twice as much in the most restrictive cities compared to cities with the least regulation (figure 4). The magnitude of this effect is admittedly small, but significant.[4]
Anecdotal Acceptance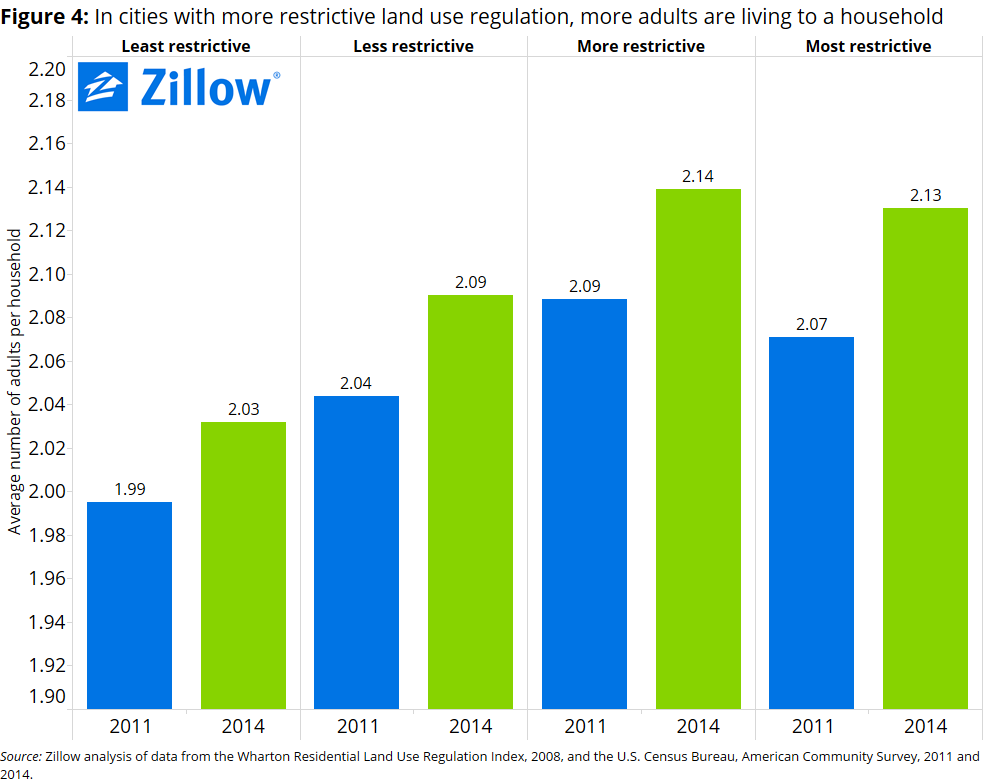 As renters and buyers continue to struggle with rising rents and diminishing for-sale inventory, we will probably continue to see a rise in doubling up. Anecdotal evidencesuggests this phenomenon is gaining popularity not only among younger adults just starting out in their careers, but also among more established professionals and retirees looking for ways to both save money and live more socially.
It's likely that in coming years, land-use regulation overall will only become more restrictive. That more adults have shown a greater willingness to share their home with friends or family, particularly in the fastest-growing and/or most highly regulated cities, is a good sign that these areas will continue (for now) to be able to cope with rapid growth.
Because in the end - as housing costs rise, new housing construction lags and housing options vanish - residents of these areas may realistically not have many other choices.
Source
http://www.zillow.com/research/land-use-regulation-12159/
Footnotes
[1] The Wharton index assigns a numerical score to cities based on the restrictiveness of local land-use policies. The scale ranges from about minus two to plus four, with higher values indicating more restrictive policies.
[2] January 2011 to January 2016
[3] Some cities - notably California cities including Santa Ana, Baldwin Park and Chino, to name a few - do buck the trend: Regulation in these cities is not particularly severe, but there are almost three adults per household in these areas (compared to a national average of 2.1 as of 2014). This is driven in part by the large Hispanic population in these areas - Hispanics are more likely to live in multi-generational households. Some other outliers - including the cities of West Lafayette, Indiana, Blacksburg, Virginia, and San Luis Obispo, California - are large college towns, where students live with a handful of roommates to get by on meager student budgets. Were we to exclude these kinds of exceptions from the analysis, the association between regulation and doubling up would be even stronger.
[4] The higher averages in cities categorized as "more restrictive" relative to cities categorized as "most restrictive" is insignificant. This is at least partly attributable to the fact that some of these areas have relatively large minority populations that are, again, more likely to live in multi-generational households.
About the Author
Sarah Mikhitarian is an Economic Analyst at Zillow
>>>>> Scroll down to view and make comments <<<<<<
Click here for Historical News Post Listing
Make a Comment
Econintersect

wants your comments, data and opinion on the articles posted. You can also comment using Facebook directly using he comment block below.
---