posted on 19 April 2016
Written by Econintersect
Early Bird Headlines 19 April 2015
Econintersect: Here are some of the headlines we found to help you start your day. For more headlines see our afternoon feature for GEI members, What We Read Today, which has many more headlines and a number of article discussions to keep you abreast of what we have found interesting.
Global
Most Asia markets advance; Nikkei jumps 3.3% as yen weakens (CNBC) Most Asian markets gained on Tuesday, led by a jump in Japan shares, as oil prices steadied after Monday's drop on producers' failure to reach a production-freeze deal over the weekend. The benchmark Nikkei 225 jumped 3.31%, retracing most of its 3.4% loss in the previous session, boosted by a relatively weaker yen against the dollar and as market players digested the extent of damage from last week's earthquakes.
Negative rates put pressure on central banks to take risks (Financial Times) Investors ranging from small German savers to global life insurers have long complained about central banks' use of negative interest rates. Now, however, another group is feeling the pain from negative rates - central banks themselves. A poll of reserve managers from 77 central banks, entrusted with reserves worth $6 trillion last August, found a clear majority were changing their portfolio management strategy as a result - including taking steps such as buying riskier assets. Econintersect: This article falls short of telling the full story. While some central banks may indeed be concerned about return on assets, those would only include those that require stability with respect to the major global currencies: the yen, pound, euro, yuan renminbi and U.S. dollar. Many other central banks, such as those of Singapore, Australia and Canada, for example, have very little pressure to reach for yield as well. So the concerns talked about in this article would apply to only part of the list of 77 central banks mentioned. The reason is that many central banks, including all the biggest, have no need to have a positive balance sheet - they cannot run out of money, they print it. See Central Banks Are Protected From Insolvency Due To Their Ability To Create Money And Can Therefore Operate With Negative Equity.

Is the commodities rebound over? (Nikkei Asian Review) The collapse of talks in Doha on April 17 among major oil producers aimed at freezing output levels and curbing the global supply glut has renewed broader concerns about the state of the global commodities market.

The bad smell hovering over the global economy (The Guardian) China's economy appears to have bottomed out. Fears of a $20 oil price have receded. Prices have stopped falling in the eurozone. Employment growth has continued in the US. The International Monetary Fund is forecasting growth in the global economy of just over 3% this year - nothing spectacular, but not a disaster either. But don't be fooled. China's growth is the result of a surge in investment and the strongest credit growth in almost two years. There has been a return to a model that burdened the country with excess manufacturing capacity, a property bubble and a rising number of non-performing loans. The economy has been stabilized, but at a cost. The upward trend in oil prices also looks brittle. The fundamentals of the market - supply continues to exceed demand - have not changed. Then there's the US. Here there are two problems - one glaringly apparent, the other lurking in the shadows. The overt weakness is that real incomes continue to be squeezed, despite the fall in unemployment.
U.S.
US shale could drive prices after Doha disaster (CNBC) U.S. shale drillers created the world's oil glut, and now they could be the biggest force in ending it. With the failure of OPEC and other major oil-producing nations to reach a deal to cap output, focus shifts to the U.S. industry's role as a relatively new "swing producer."
EU prepares for Android crackdown (Financial Times) The EU has given its strongest signal to date of its intent to crack down hard on Google's mobile operating system, comparing an imminent antitrust case against Android to Brussels' epic confrontation with Microsoft a decade ago. People involved in the case said EU regulators were very close to opening a long-expected new front in their showdown with Google, which has already been hit with charges that it abused its dominance of online searches. The thrust of the EU charges will be aimed at forcing Google to unbundle the Android system from apps that run on it.
UK
Treasury Brexit dossier sparks Tory rebel fury (Financial Times) George Osborne's attempt to conquer the economic battlefield on Brexit with dire Treasury predictions of the damage leaving the EU would inflict on the country has brought the deep split on Europe within the Conservative party right to the heart of government. Justice secretary Michael Gove, the cabinet's leading Leave campaigner, will on Tuesday accuse the pro-EU campaign of treating voters "like children" in a furious response to Mr Osborne's declaration that pro-Brexit advocates were "economically illiterate".
Greece
Discord Grows Among the Parties Over Greek Debt Talks (The New York Times) Executives of the International Monetary Fundmutter darkly about Greeks tapping their phones in Athens. Greek government officials accuse the fund of torpedoing their economy via tough austerity measures. And both the Greeks and the fund moan about the refusal of Germany to consider any form of debt relief for Greece. Signs of the growing tensions over Greece and its debt were evident at meetings of the I.M.F. in Washington last week. But nothing exemplifies the growing discord more than a simple chart on a draft memorandum drawn up by the fund that has been making the rounds at meetings here. The chart depicts just how wide the gap is between Europe and the I.M.F. in terms of assessing Greece's ability to pay down its growing debt burden - currently close to 180 percent of its gross domestic product - in the coming decades.
South Korea
South Korea finmin says downside risks to economy bigger than expected (Reuters) South Korea's finance minister said downside risks to the local economy were bigger than he expected as domestic consumption continued to limp and offshore risks persisted. The finance minister added the recent GDP forecast downgrades by the International Monetary Fund (IMF) and the Bank of Korea reflected these downside risks. The Bank of Korea lowered its GDP forecast for this year to 2.8% from 3.0%, while the IMF downgraded its projection to 2.7% from 2.9% last week.
China
It's All Suddenly Going Wrong in China's $3 Trillion Bond Market (Bloomberg) The unprecedented boom in China's $3 trillion corporate bond market is starting to unravel. Spooked by a fresh wave of defaults at state-owned enterprises, investors in China's yuan-denominated company notes have driven up yields for nine of the past 10 days and triggered the biggest selloff in onshore junk debt since 2014. Local issuers have canceled 60.6 billion yuan ($9.4 billion) of bond sales in April alone, and Standard & Poor's is cutting its assessment of Chinese firms at a pace unseen since 2003.
Australia
Click for large image at Macro Business.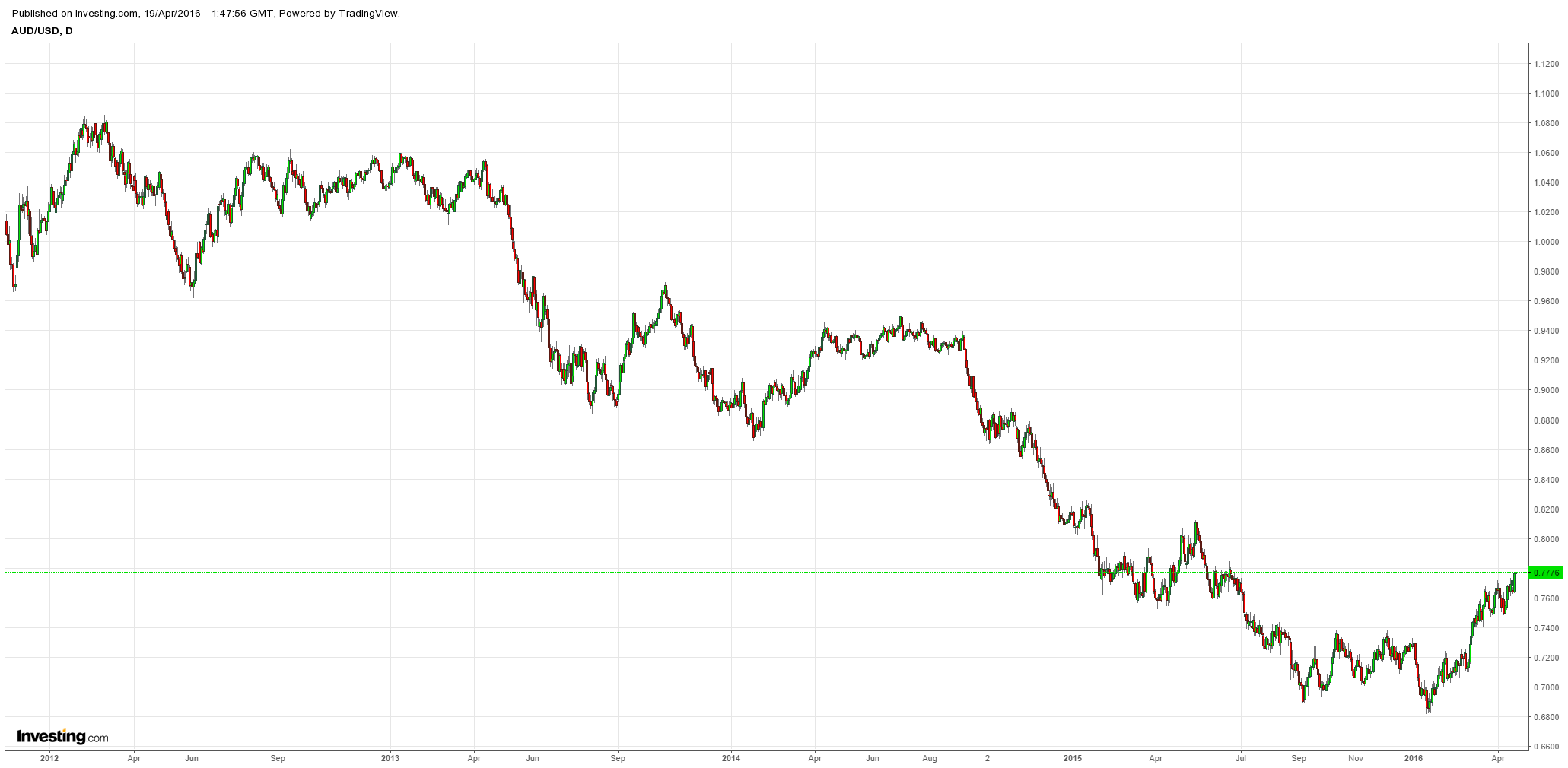 Brazil
With Dilma Rousseff impeached, Brazil is set for years of political turmoil (The Conversation) The extent to which the vote will resolve the political crisis is highly questionable, while it also reveals the fundamental divisions and deep-seated problems of Brazil's fragile democracy. The country has become further divided, as symbolized by the "wall of impeachment" erected in front of the Brazilian Congress to separate pro and anti-government protesters. Hundreds of thousands of Brazilians took to the streets ahead of the vote but this is not a straightforward story of a virtuous political class attempting to remove an unpopular president given a public outcry. It doesn't help that the leaders of the impeachment movement are themselves facing corruption charges, many of them worse than the charges against Rousseff. It has become clear that Brazilians are rejecting not only Rousseff, but most other potential presidents too. And that makes for a deeply uncertain political future.
Ecuador
"... and to think that Smith's writings were immediately used to promote opposite of what he said."
>>>>> Scroll down to view and make comments <<<<<<
Click here for Historical News Post Listing
Make a Comment
Econintersect

wants your comments, data and opinion on the articles posted. You can also comment using Facebook directly using he comment block below.
---
Econintersect Contributors
---
---
---
---
---
| | |
| --- | --- |
| Print this page or create a PDF file of this page | |
---
The growing use of ad blocking software is creating a shortfall in covering our fixed expenses. Please consider a donation to Econintersect to allow continuing output of quality and balanced financial and economic news and analysis.
---
---
---
---
---
---
---
---