posted on 13 March 2016
from Zillow
-- this post authored by Jamie Anderson
In pure U.S. dollars and cents, the median American home is currently worth roughly 6.4 percent less than it was prior to the great recession. But foreign buyers looking to invest their Russian rubles and kopeks in U.S. real estate, or Brazilian reais and centavos (among other currencies), will find U.S. homes are more expensive than they've been in at least two decades - and maybe ever.
A Zillow analysis of home values and exchange rates for eight major foreign currencies and the U.S. dollar revealed that U.S. homes became more expensive far more quickly last year for buyers using any of the eight foreign currencies analyzed than for domestic buyers. And as the U.S. dollar continues to strengthen against a basket of foreign currencies, it's likely to get worse before it gets better for buyers using currency from six of those eight nations.
At the close of 2015, the typical U.S. home was 4 percent more expensive for domestic buyers than it was at the end of 2014, thanks to basic annual appreciation in home values (from a median of $176,400 in December 2014 to $183,500 in December 2015). But that appreciation, coupled with an exchange rate tilted in the dollar's favor against most major foreign currencies in 2015, meant the typical U.S. home denominated in their own currencies appreciated more than 4 percent for many foreign buyers.
And for some, the appreciation has been particularly dramatic. For those looking to invest Russian rubles in U.S. real estate, the typical U.S. home now costs 31 percent more in than it did at the end of 2014 (figure 1). That is actually a slowdown in appreciation from last spring, when U.S. homes, as priced in Russian rubles, grew in value by 84 percent year-over-year. Over the past two years, the typical U.S. home has gotten roughly 2.5 times more expensive for buyers using Russian rubles.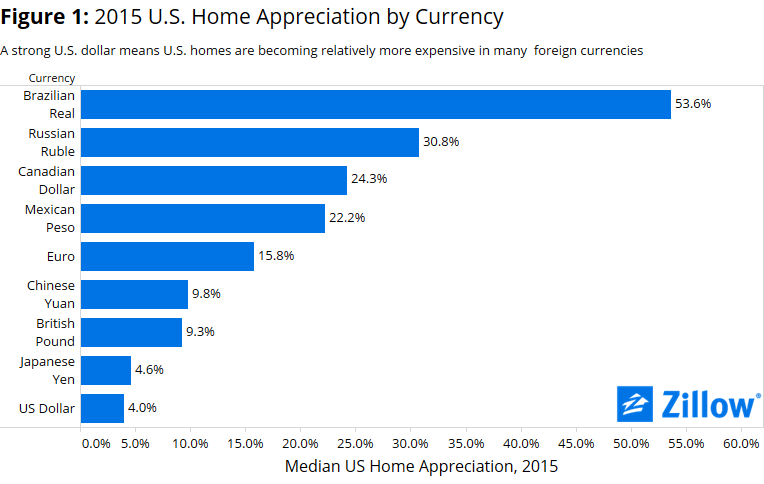 The decline in the Russian ruble against the U.S. dollar has been well documented, but Russian buyers aren't alone in their exchange-rate woes. For buyers using Brazilian reais, the typical U.S. home now costs 54 percent more than it did a year ago. Our Mexican and Canadian neighbors should currently expect to pay 22 percent and 24 percent more in their native currencies, respectively, for a U.S. home than they would have a year ago.
Looking Ahead
Using current CME futures prices on exchange rates [1] and the Zillow Home Value Forecast, we projected how much it would cost to buy a median U.S. home at the end of this year for holders of the same eight foreign currencies, both nationally and in the 25 largest U.S. metro markets (link to figure 2).
The Zillow Home Value Forecast currently expects U.S. home values to grow by 2.6 percent in 2016, making homes at least that much more expensive for both domestic buyers and those holding six of the eight currencies analyzed. And as the dollar strengthens, even at a more modest pace than we've seen, U.S. homes are likely to get even more expensive than that for many foreign buyers.
However, both the euro and the Japanese yen are expected to appreciate against the U.S. dollar faster than the rate of anticipated home value appreciation. If this holds, the median U.S. home - along with the median home in most of the top 25 markets analyzed (all but Miami) - would actually cost less by December than it does now for buyers using those currencies.
So What?
According to the National Association of Realtors, foreign buyers spent roughly $104 billion on homes between April 2014 and March 2015, representing 8 percent of the existing home sales market. Shifting exchange rates, then - both up and down as the U.S. dollar ebbs and flows globally - can have a large impact on foreign demand and purchases of U.S. homes.
Logically, one might assume that as the dollar strengthens and foreign purchasing power wanes, foreign demand for U.S. real estate might also fall. But given the extreme recent volatility in global markets, and the relative stability of the U.S. housing market and U.S. economy overall, it's actually possible that foreign demand for U.S. homes may pick up even as the dollar continues to gain strength.
The kind of Russian or Chinese buyer interested in purchasing U.S. homes, for example, is likely less sensitive to exchange rates than the more typical Russian or Chinese consumer. Rather than be dissuaded by exchange rates, they may be encouraged by U.S. housing's stable return of about 3 percent per year - particularly if their domestic economies are contracting. And for those looking ahead at exchange rate futures, many may decide they'd rather purchase sooner instead of later while exchange rates are more favorable, providing more of a short-term boost to foreign purchases.
Footnote
[1] Future exchange rates as of the close of trading on February 3.
About the Author
Jamie Anderson is a Data Scientist at Zillow.
>>>>> Scroll down to view and make comments <<<<<<
Click here for Historical News Post Listing
Make a Comment
Econintersect

wants your comments, data and opinion on the articles posted. You can also comment using Facebook directly using he comment block below.
---