posted on 12 March 2016
from Zillow
-- this post authored by Cory Hopkins
So far in the 2016 presidential campaign, immigration policy is hot and housing policy is not. But if recent trends in unauthorized immigration continue, the housing market could get hit with a raft of unintended consequences.
The construction industry has long had a complicated relationship with immigrants, particularly unauthorized immigrants. These workers bring a ready labor supply (and often new skills) to the homebuilding industry, helping keep costs down and make new homes more affordable to entry-level buyers. But immigrants also provide new, often pliable, competition to existing workers, including both U.S. born workers and earlier generations of immigrants.
But the number of immigrants in the U.S. who entered the country illegally declined during the recession and has remained flat since then, according to data from Pew Hispanic Center. The undocumented Mexican immigrant population in the United States, in particular, is now almost 20 percent smaller than it was in 2007.
If these trends persist, Americans should expect more opportunities for U.S.-born construction workers, but also a jump in housing construction costs and a continued focus by builders on the upper end of the market, according to the Q1 Zillow Home Price Expectations Survey. The quarterly survey, sponsored by Zillow and conducted by Pulsenomics LLC [i], asked more than 100 U.S. economic and real estate experts about their expectations for the housing market. Of those, 85 panelists answered a question about how a continuation of current undocumented immigration trends might affect the housing market.
Among the key findings:
More than two-thirds of those with an opinion (67.1 percent) said construction labor costs would rise if current trends continued.

About 43 percent said a continuation of current undocumented immigration trends would result in more construction jobs for U.S.-born workers and other, authorized foreign-born workers.

Forty percent said builders were likely to focus more on high-end construction, which has a higher profit margin, in the face of continued shortages of construction labor.

More than 30 percent of respondents predicted the number of new homes built will remain lower than historic norms.
The overall inventory of homes for sale has been consistently falling nationwide, and is currently down 7.7 percent from the end of 2014. These inventory constraints have been particularly acute among the kinds of entry-level homes typically sought by first-time and lower-income buyers, and that have historically been a substantial part of new construction.
But instead of focusing on the lower end of the market to meet this strong demand, builders have instead been building larger homes priced for more affluent buyers. Over the past few years, builders have been squeezing bigger, more expensive homes with more bedrooms and bathrooms onto smaller lots. While median U.S. home values overall remain 6.4 percent below their pre-recession peaks, the median, seasonally adjusted price of a new home sold in December wasalmost 7 percent above pre-recession peaks.
Builders are also struggling to attract workers at a pace consistent with historic norms, even as housing starts pick up and hiring overall is strong. Cutting into this already slim labor pool by curtailing immigration (legal and otherwise), as many candidates have proposed, would likely force builders to pay workers more. But while rising wages are generally viewed as a positive, they also typically translate into higher costs that find their way back to consumers, in this case in the form of higher prices for new homes.
And as new home prices rise, new homes themselves may become inaccessible to larger numbers of potential buyers, shrinking the pool of potential buyers and limiting new home sales growth. In fact, when asked to name the biggest factors limiting new home construction overall in a prior survey, panelists cited rising labor costs as one of the biggest obstacles.
In this election cycle, it makes some sense for candidates to focus on a broader set of global and domestic economic, social and security issues, at the expense of the kinds of housing discussions that dominated the 2012 and particularly the 2008 elections. When asked to offer their opinion on the level of federal involvement in the U.S. housing market, a majority of panelists that responded (57 percent) said they would like to see Uncle Sam reduce its footprint in housing.
But with a total value north of $28 trillion (and growing) the U.S. housing market is too big and too intertwined with the broader economy and with Americans' day-to-day lives not to impact (and be impacted by) virtually every economic and social policy debate to some degree or another.
Looking Ahead: Growth, But How Much?
On average, the 104 experts surveyed said they expected the median U.S. home to appreciate by roughly 3.7 percent in 2016, up from expectations of about 3.4 percent growth in the last edition of the survey.
Respondents also said they expect growth to slow somewhat in coming years, to a 3.3 percent average annual growth rate through 2020 - slower than recent and pre-bubble historic norms. The pre-bubble (1987-1999) average annual growth rate in home values was 3.6 percent, and since the recovery began in roughly January 2012, U.S. home value growth has averaged 4.5 percent per year.
But the experts were divided in their views on the exact pace of growth in coming years. The most optimistic quartile of respondents said they expected average annual growth of 4.6 percent through 2020, while the most pessimistic called for average annual growth of 2.1 percent.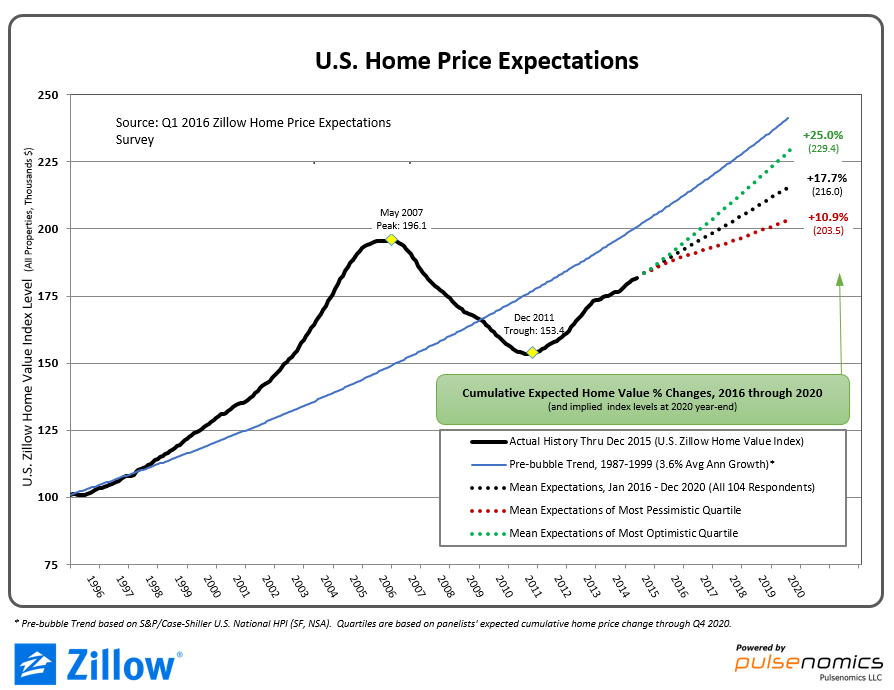 [i] This edition of the Zillow® Home Price Expectations Survey surveyed 104 experts between January 27 and February 9, 2016. The survey was conducted by Pulsenomics LLC on behalf of Zillow, Inc.
About the Author
Cory Hopkins is Managing Editor at Zillow.
>>>>> Scroll down to view and make comments <<<<<<
Click here for Historical News Post Listing
Make a Comment
Econintersect

wants your comments, data and opinion on the articles posted. You can also comment using Facebook directly using he comment block below.
---