posted on 28 February 2016
from Zillow
-- this post authored by Aaron Terrazas
Paying less in rent is no guarantee that households will save more of their income. But paying more sure makes saving difficult.
Saving is particularly important for renter households since for many, renting is a temporary phase of life during which they are able to save for a down payment to buy a home. But as the portion of a household's income that goes to rent increases - a growing concern as rent growth has soared past income growth in recent years - saving becomes more difficult.
But how much more difficult?
Data from the Federal Reserve Board's 2013 and 2014 Surveys of Household Economics and Decision-making (SHED), and the U.S. Census Bureau's 2013 and 2014 American Community Surveys (ACS) show that households with above-average rent burdens tend to save less. On average, among employed renters, an increase of five percentage points in the share of a household's income that goes to rent corresponds to a savings rate that is 0.8 percentage points lower. Put another way, if the typical renter needs to devote 30 percent of their income to rent instead of 25 percent, they should expect to save about $460 less per year. This is true for renters of all ages (figure 1).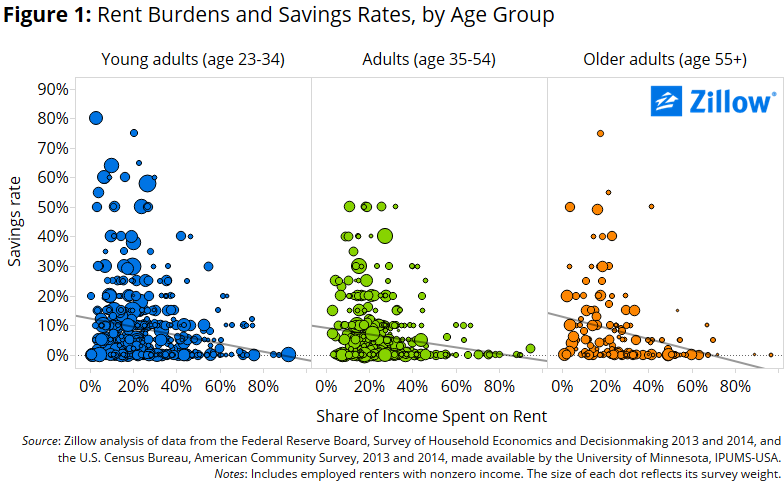 But the relationship between rents and savings is much weaker among households with lower-than-average rent burdens. A low rent burden is certainly no guarantee that a household will save: Even among those renters that devote the smallest share of their income to rent - less than 13 percent - 29 percent report saving none of their income. The share of renters that save nothing remains roughly stable through the third quintile of rent burdens, which corresponds to a rent burden of about 26 percent of income (figure 2).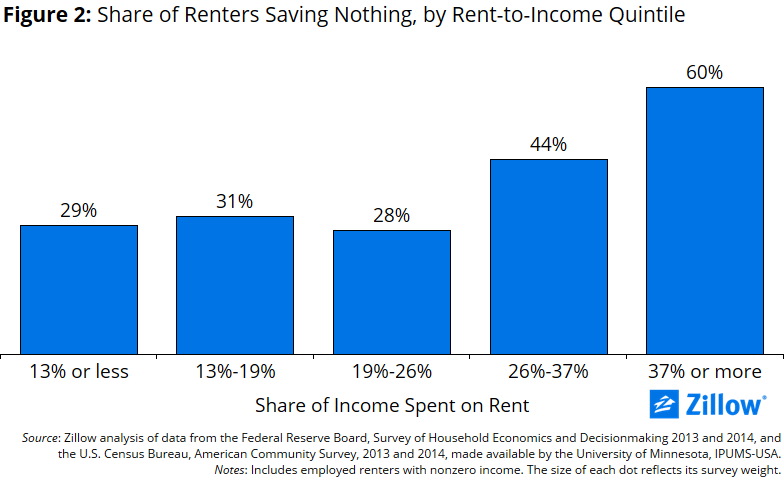 But a high rent burden does make it much more difficult to save: 60 percent of households in the highest rent-burden grouping - those paying in excess of 36 percent of their income on rent - report saving nothing at all. Among all renters, regardless of rent burden, more than a third (36 percent) report saving nothing.
Single, never-married renters, along with Asian-American [1] renters, both tend to have higher savings rates when controlling for other factors. [2] Older renters have lower savings rates, in part because of selection over time: Adults who continue to rent through midlife have historically tended to be less financially stable than their peers who became homeowners.
Methodology
The SHED does not include a precise point estimate of household income - only a range - so we estimate a household's income using data from the U.S. Census Bureau's 2013 and 2014 American Community Surveys.[3] Using the ACS data, we estimate median household incomes for subgroups based on the combination of age categories, Census regions, housing tenure and income categories reported in the SHED. We then merge these subgroup incomes onto the 2013 and 2014 SHED data and take the ratio of monthly rent to monthly income (annual income divided by 12) to estimate a household's rent burden and income.
Footnotes
[1] In the SHED data, this group is identified as "Other, non-Hispanic," which presumably includes groups beyond Asians exclusive of Hispanics, non-Hispanic Whites, non-Hispanic Blacks and non-Hispanic biracial individuals. Looking at ACS data, 83 percent of people who do not define themselves as either non-Hispanic white, non-Hispanic Black, Hispanic or non-Hispanic biracial define themselves as Asian.
[2] Explanatory variables include age, race and ethnicity, marital status, household income and monthly rent.
[3] Microdata made available by the University of Minnesota, IPUMS-USA.
About the Author
Aaron Terrazas is a Senior Economist at Zillow.
>>>>> Scroll down to view and make comments <<<<<<
Click here for Historical News Post Listing
Make a Comment
Econintersect

wants your comments, data and opinion on the articles posted. You can also comment using Facebook directly using he comment block below.
---