posted on 25 February 2016
Written by Econintersect
Early Bird Headlines 25 February 2015
Econintersect: Here are some of the headlines we found to help you start your day. For more headlines see our afternoon feature for GEI members, What We Read Today, which has many more headlines and a number of article discussions to keep you abreast of what we have found interesting.
Global
China shares tumble, as Asia markets trade mixed (CNBC) China markets tumbled Thursday, extending a long rout, but some Asian markets posted gains following Wall Street's reversal of sharp intraday losses overnight on the back of higher oil prices. Concerns were raised over China this week after the People's Bank of China set the yuan mid-point rate notably lower at 6.5273 to the dollar on Tuesday, down 0.17 percent from Monday's fix, indicating policymakers may want the Chinese currency to strengthen. Today's mid-point was set at 6.5318. China's Shanghai composite fell 4.32 percent, while the Shenzhen composite dropped 5.36 percent and Hong Kong's Hang Seng Index was down 1.25 percent. Meanwhile, in Japan, shares of Sharp tumbled 20.11 percent after Reuters and the Nikkei reported that the troubled electronics maker has decided to accept a 659 billion yen ($5.9 billion) takeover bid by Taiwan's Foxconn. Shares of Foxconn, also known as Hon Hai Precision Industry, were up 2.61 percent.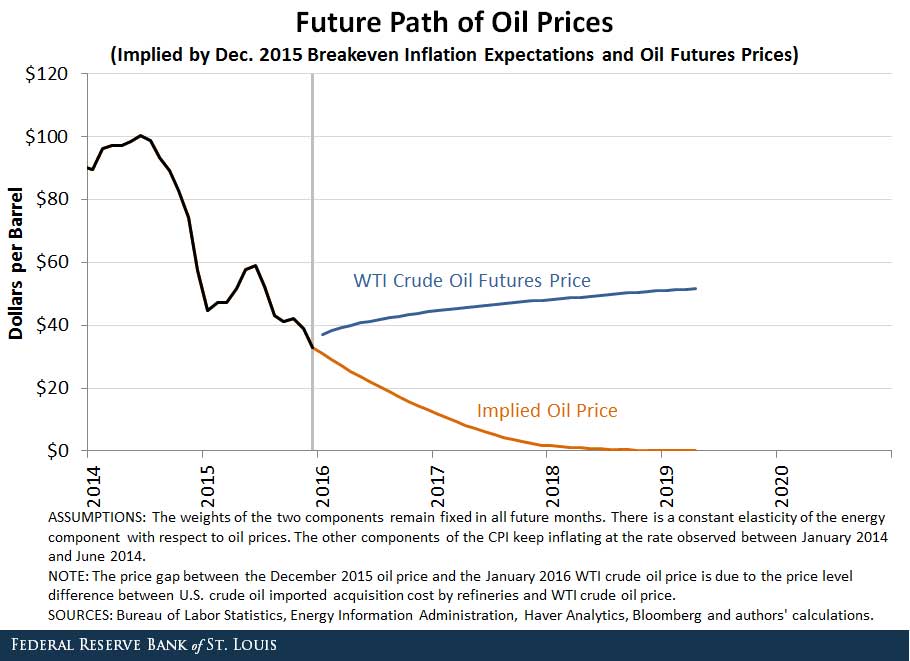 U.S.
St. Louis Fed's Bullard Discusses Falling Inflation Expectations and Monetary Policy Normalization (Federal Reserve Bank of St. Louis) Looks like at least one Fed Governor is trying to walk the Fed back from their forward guidance (more rate hikes this year). Federal Reserve Bank of St. Louis President James Bullard discussed "More on the Changing Imperatives for U.S. Monetary Policy Normalization" in a presentation Wednesday to the Money Marketeers of New York University. Bullard said that two pillars of the Federal Open Market Committee's (FOMC) 2015 case for monetary policy normalization have changed in 2016. In particular, he noted that market-based inflation expectations have fallen further and that the risk of asset price bubbles over the medium term appears to have diminished. He discussed whether inflation expectations have fallen too far for comfort and raised concerns about central bank credibility with respect to the inflation target. He cited the example of the euro area, where 10-year government bond yields have fallen to the levels of Japan and Switzerland, "arguably because the credibility of the inflation target has eroded". He also said.
"These data-dependent changes likely give the FOMC more leeway in its normalization program."
Watching Trump and Sanders, Mitt Romney says he gets it: 'We're just mad as hell' (The Washington Post) In his most extensive remarks yet on the 2016 presidential race, Mitt Romney on Tuesday said he shared the feeling of many Americans that Washington has failed them and urged national leaders to take on big problems, including issues that the GOP has rarely put at the fore during the past year, such as climate change, poverty, education and income inequality.

Donald Trump: Obama climate change remarks one of 'dumbest things' uttered in history (CNN) Donald Trump said Monday that President Barack Obama's comments that climate change poses one of the greatest threats to the U.S. is one of the "dumbest things" ever said. Trump made his remark on the same day last November that Obama addressed the global climate summit in Paris.

The TSA Releases Data on Air Marshal Misconduct, 7 Years After We Asked (ProPublica) Federal air marshals were arrested nearly 150 times between late 2002 and early 2012 and the records just released include an additional 58 cases of "criminal conduct". Hundreds of others were terminated for misconduct or resigned or retired while facing investigation. Why did it take the Transportation Security Administration seven and a half years to release the data? Here is some of what reporter Michael Grabell says about what he discovered before receiving the records:
While waiting for the data, I found dozens of air marshals who had been arrested for crimes ranging from aiding a human trafficking ring to attempted murder. One air marshal used his badge to smuggle drugs past airport security while another used his to lure a young boy to his hotel room, where he sexually abused him.

Air marshals had hired prostitutes in Barcelona and gotten into a fight with security guards after patronizing a brothel in Frankfurt.

Another marshal's in-air behavior concerned flight attendants so much that they reported it to the agency, saying "I can't believe he is able to carry a gun!" (That officer was later convicted of bank fraud for trying to cash a $10.9 million check that he said was a settlement after he was a scratched by a friend's cat.)
UK
EU membership: The true cost to Britain's economy - and the unrealistic assumptions you need to make the numbers net positive (City A.M.) Graeme Leach thinks that EU membership is an expensive option for the UK. The economic factors are direct payments to Brussells (0.5% to 1% of GDP, depending on account conventions); EU protectionist customs practices cost about 3% of GDP; advantages of a common market, which Leach says are about 2% positive; and finally he estimates that the burden of EU regulations (especially social welfare standards) cost up to 6.5% of GDP. But he then discounts most of the last 6.5% as costs redundant with what the UK would probably do on its own. That brings his estimate of cost for EU membership to about 2% of GDP. He plans to return next week to discuss the costs of Brexit.
Saudi Arabia
Saudi Arabia to U.S. Oilmen: Cut Costs or Exit the Business (Bloomberg) The world's most powerful oilman brought a harsh message to Houston for executives hoping for a rescue from low prices: high-cost producers -- many of them sitting in the room -- need to either "lower costs, borrow cash or liquidate". For the thousands of executives attending the IHS CERAWeek conference, the message from Saudi Arabia oil minister Ali al-Naimi means deeper spending cuts, laying off more roughnecks and idling drilling rigs.
Libya
Signs grow of new Western urgency to stop Islamic State in Libya (Reuters) There are signs of a growing Western urgency to stop Islamic State (ISIS), and Libyan commanders say Western weapons and air strikes will make a vital difference in the coming battle against their better-armed enemy. But Western officials say just as important is the need for a united Libya government to request more aid and for the Libyan forces ranged against IS to bridge their own deep divisions.
Syria
On cusp of planned Syria cease-fire, details on monitoring remain unclear (The Washington Post) Three days before a planned cease-fire in Syria, there is widespread uncertainty over how it will be implemented and monitored, and what is likely to happen if it does not hold. Russia and the United States are preparing by Friday to exchange maps delineating their separate assessments of where the Islamic State and al-Qaeda affiliate Jabhat al-Nusra are located in Syria. Both groups are excluded from the cease-fire and an end to Russian bombing.
North Korea
China
Chinese Finance Official Says World Economy Needs Fiscal Jolt (Bloomberg) Fiscal stimulus should be deployed to boost global growth, a Chinese official said Thursday as finance officials from the world's 20 biggest economies gather in Shanghai. Vice Finance Minister Zhu Guangyao's comments mirror calls by international bodies such as the Organization for Economic Cooperation and Development to unleash new spending to lift demand. How policy makers should respond to a weakening global outlook will dominate the agenda at the Feb. 26-27 meetings, people familiar with the talks have said.
>>>>> Scroll down to view and make comments <<<<<<
Click here for Historical News Post Listing
Make a Comment
Econintersect

wants your comments, data and opinion on the articles posted. You can also comment using Facebook directly using he comment block below.
---
Econintersect Contributors
---
---
---
---
---
| | |
| --- | --- |
| Print this page or create a PDF file of this page | |
---
The growing use of ad blocking software is creating a shortfall in covering our fixed expenses. Please consider a donation to Econintersect to allow continuing output of quality and balanced financial and economic news and analysis.
---
---
---
---
---
---
---
---