posted on 01 January 2016
from Zillow
-- this post authored by Aaron Terrazas
A steady increase in the share of U.S. homes that require monthly condo, mobile home or homeowner association fees (HOA) has important implications for the affordability of homes nationwide, particularly condos, which are an increasingly popular option for first-time homebuyers.
One in five American homeowners pays a monthly HOA, condo, or mobile home fee on top of their monthly mortgage payment with the median fee in the range of $50 to $59 per month.[1] These fees are much more common among homeowners in multifamily residences (i.e., apartment buildings with five or more units), where 75 percent of owners pay a monthly fee, compared to 15 percent of single-family residence owners.
What HOA fees pay for varies from association to association, but they typically provide for upkeep of shared spaces and occasionally cover property taxes, utilities and maintenance in multifamily properties.
New homes are much more likely than older homes to include monthly HOA fees. Just 1 percent of those living in a single-family home built in the 1950s or earlier pay a monthly HOA fee, compared to 41 percent of single-family residence owners in homes built since 2008 (figure 1). Among homeowners in multifamily residences, 58 percent of households living in buildings built in the 1950s have monthly HOA or condo fees, compared to 88 percent of households in buildings constructed since 2008.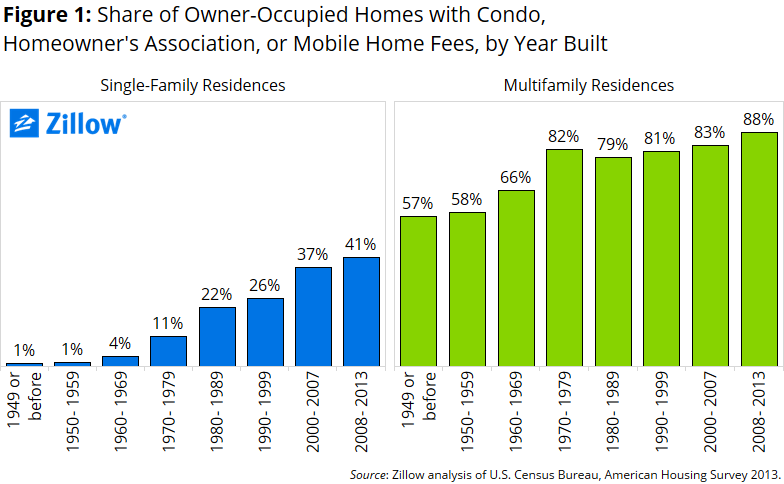 Fees tend to be much higher in multifamily units than in single-family residences, in part because they tend to cover more services. The median homeowner association fee for single-family residence owners is $40 to $49 per month, and 70 percent of single-family residence homeowners pay less than $100 per month in HOA fees (figure 2). Among homeowners in multifamily communities, the median HOA or condo fee is in the range of $300 to $309 per month, with 78 percent paying $200 per month or more.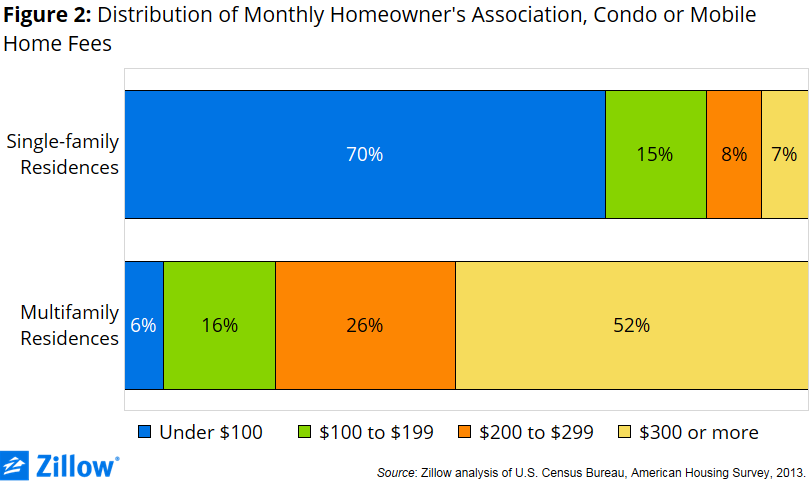 Condominiums are increasingly popular among first-time homebuyers - 42 percent of first-time homebuyers now opt for a condominium, compared to 28 percent in 2001. This makes HOA fees an increasingly important (if not always top-of-mind) consideration in determining a home's affordability.
Consider a hypothetical homebuyer armed with a 20 percent down payment and looking at a $250,000 condo. They've qualified for a 30-year, fixed-rate mortgage at a 4 percent interest rate, and have an annual household income of $50,000. This homebuyer's monthly housing costs would be about $955 for the mortgage payment alone, or about 23 percent of their monthly income. But adding the typical monthly condo fee of $305 on top of the mortgage payment brings the homebuyer's monthly housing costs to $1,260, or 30 percent of monthly income.
What may initially seem like an afterthought can make a substantial difference in affordability.
[1] This analysis is based on the U.S. Census Bureau's 2013 American Housing Survey.
About the Author
Aaron Terrazas is a Senior Economist at Zillow.
Source
http://www.zillow.com/research/homeowner-association-fees-11384/
>>>>> Scroll down to view and make comments <<<<<<
Click here for Historical News Post Listing
Make a Comment
Econintersect

wants your comments, data and opinion on the articles posted. You can also comment using Facebook directly using he comment block below.
---