posted on 15 November 2015
from Zillow
-- this post authored by Svenja Gudell
The recession impacted home values overall very hard, but condo values really bore the brunt: From peak to bottom, the median value of a typical condo in the U.S. fell by almost a third (33.2 percent), compared to "just" a 20 percent loss from top to bottom for single-family homes. Since bottoming, however, condo values have been on a tear.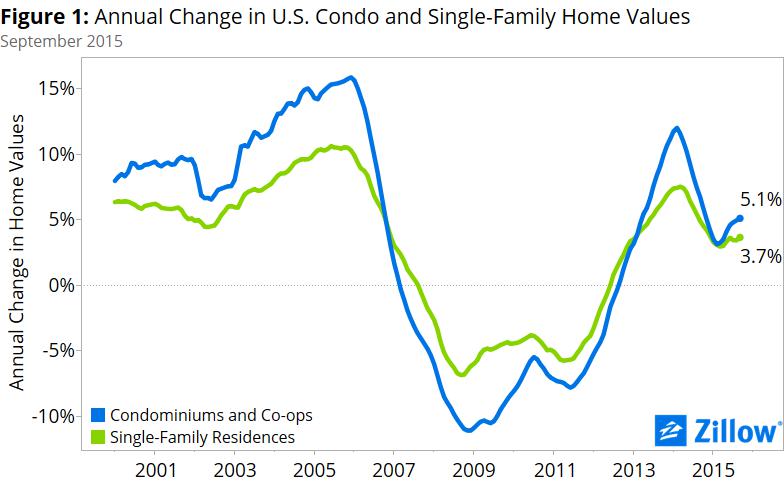 Nationwide, condo values [1] grew 5.1 percent year-over-year as of the end of the third quarter, compared to 3.7 percent year-over-year growth for single-family homes, according to Zillow's Q3 2015 Real Estate Market Report (figure 1). The typical U.S. condo is worth $191,300 as of September, compared to $181,500 for a single-family home. Overall, the median U.S. home value (condos, co-ops and single-family) rose 3.7 percent year-over-year, to a Zillow Home Value Index of $182,500.
Annual growth in median condo values has equaled or exceeded growth in single-family home values for 32 straight months. The last time single-family home values grew more quickly year-over-year than condo values was in January 2013.
As of September, condos were appreciating more quickly than single-family homes year-over-year in almost two-thirds of the nation's 35 largest metro markets with data available. Annual growth in condo values outpaced single-family home values the most in September in the New York City, Dallas, Houston, Boston and Denver metro areas.
In Philadelphia, single-family home values fell slightly year-over-year as of the end of Q3, but condos grew at 2.3 percent. But in the Miami area, where luxury condo towers dominate the skyline and condos make up 63 percent of the housing stock of the city, condo values are not rising quite as fast as single-family homes.
The surge in condo values is likely driven by a few factors. As housing preferences shift, particularly among millennials and other younger buyers, condos typically represent both a more urban and in many cases more affordable housing option for those looking to make the jump into homeownership. But this demand for more urban condos may not be met by adequate supply. Condos represent a relatively small share of the total housing stock in many of the nation's most populous cities.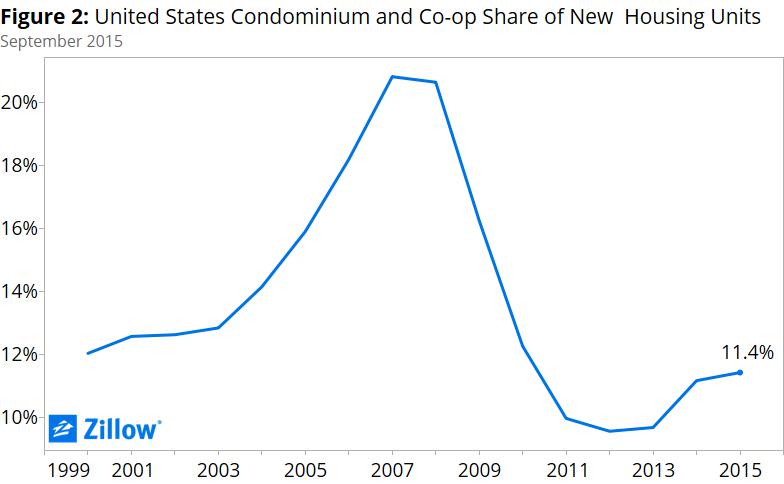 However, condo construction - along with single-family construction - has only increased modestly over the last few years. After plummeting from a high of more than 20 percent in 2007 to less than 10 percent in 2013, the share of new construction nationwide that is condos has risen only slightly in each of the past two years, to a little more than 11 percent currently (figure 2).
Condos are also currently less valuable (in other words, more affordable) than single-family homes in 22 of the largest 30 cities with data available, often by tens and even hundreds of thousands of dollars. The difference between median condo values and median single-family home values was largest in September in San Jose (median single-family homes were worth $328,300 more than median condos), San Diego ($209,400 premium for single-family homes), Long Beach ($205,900 premium), Seattle ($192,100 premium) and Los Angeles ($129,600 premium).
These value differences can be driven by many factors, including size, location and lot size. Nationwide, median condo values also remain farther off from their pre-recession peaks than single-family home values, and so could represent more of a bargain for certain value-seeking buyers.
Over the past few years, buying a condo hasn't always been considered an investment on par with buying a single-family home. Clearly, the most recent data indicate that notion may be due for a second look.
Home Values Rising Steadily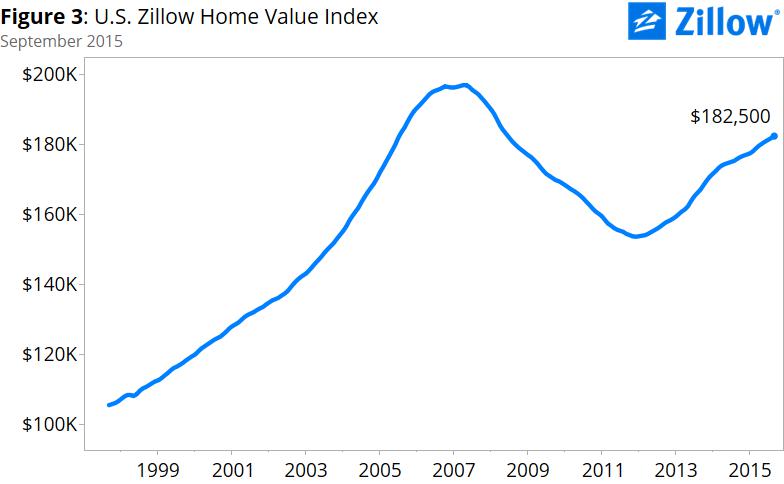 The third quarter Zillow Real Estate Market Report covers 545 metropolitan and micropolitan areas, in addition to thousands of cities, counties, neighborhoods and ZIP codes nationwide. As of the end of the third quarter, the median U.S. home value was $182,500, up 3.7 percent from the third quarter of 2014 (figure 3).
Of the largest 35 metro areas covered by Zillow, 22 had annual home value gains of more than 5 percent, including 7 that grew by double-digit percentages: Denver (17 percent), Dallas (15 percent), San Jose (12 percent), San Francisco (12 percent), Miami (10 percent), Portland (10 percent) and Austin (10 percent).
Nationally, median condo values appreciated faster over the past year (5.1 percent) than values for single-family residences (3.7 percent). Nationally, condominiums were hit harder by the bust in the housing market, falling 32 percent from their peak to their bottom, compared to 20 percent for single-family homes. While condos have bounced back strongly, up 24 percent from their trough, they're still farther from their peak values than single-family homes. Single-family home values are only 6 percent below their bubble-era peak home value, while condos are still 17 percent below peak value.
Rents Rising, Too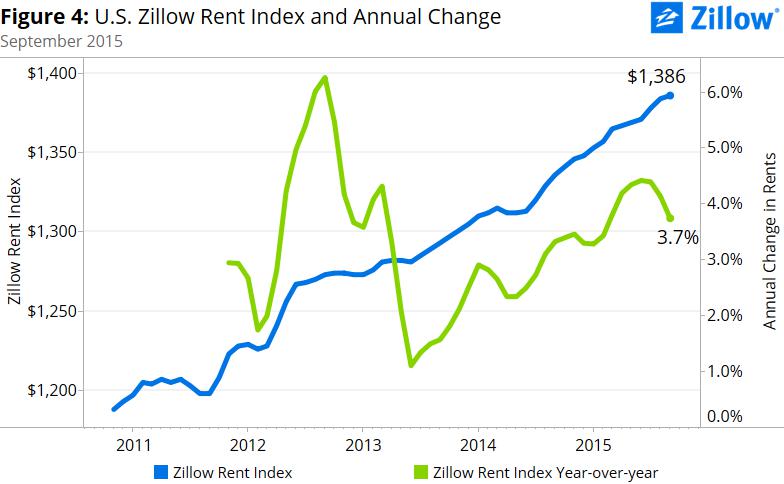 Nationwide, rents also grew 3.7 percent year-over-year as of the end of Q3, to a Zillow Rent Index of $1,386 (figure 4). Annual growth in rents has outpaced or equaled annual growth in home values since February 2015.
Many of the markets with the largest growth in home values over the past year are also markets with large growth in rents. The San Francisco, Denver and Portland metros all experienced double digit growth in the past year in both home values and rents.
But For-Sale Inventory Keeps Falling
The seasonally-adjusted number of homes for sale on Zillow has fallen year-over-year for the past eight months. There were 7 percent fewer homes listed for sale nationwide in September compared to the same month last year (figure 5).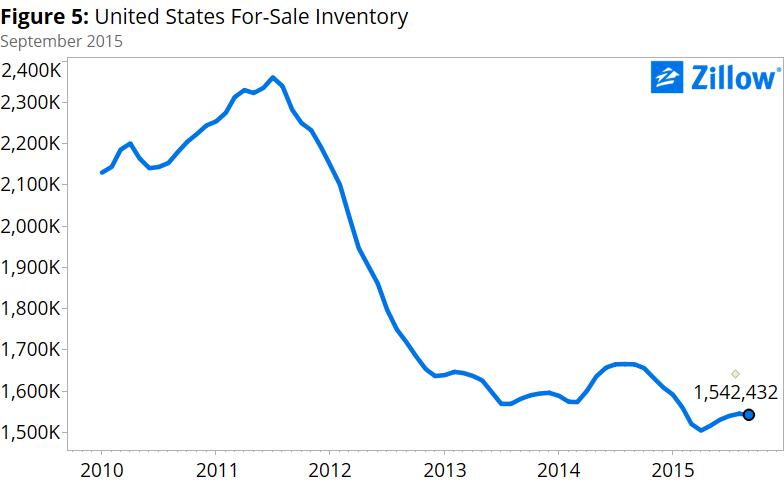 Of the nation's largest 35 metro markets, Atlanta, Austin and Washington, D.C., experienced the biggest increases in inventory over the past year. The Charlotte, San Diego and Seattle metros all experienced decreases in for-sale inventory of almost 30 percent or more. In Denver, where home values have grown the most in the past year, for-sale inventory declined 14 percent year-over-year in September.
Outlook
Over the next year, the pace of home value growth is expected to slow, growing 2.4 percent from September 2015 to September 2016, according to the Zillow Home Value Forecast. Over the past year, home values grew 3.7 percent. Of the largest metros covered by Zillow, median home values in Baltimore and Washington, D.C., are expected to fall over the coming year, while home values in Dallas-Fort Worth (6.2 percent), Seattle (5.7 percent) and Denver (5.6 percent) are expected to experience the fastest growth.
Condos represent a strong-performing, often affordable choice, particularly for first-time buyers (and, increasingly, their parents too) interested both in homeownership and in keeping a lower-maintenance, city lifestyle. However, as younger buyers compete for homes in urban neighborhoods, it's important to consider some of the additional costs of condo life, especially homeowner association fees, when weighing options.
Source
http://www.zillow.com/research/q3-market-reports-condo-values-11081/
References
[1] Includes condominiums and co-operatively owned homes.
About the Author
Svenja Gudell is Chief Economist at Zillow.
>>>>> Scroll down to view and make comments <<<<<<
Click here for Historical News Post Listing
Make a Comment
Econintersect

wants your comments, data and opinion on the articles posted. You can also comment using Facebook directly using he comment block below.
---